The Storj price has dropped in the past five straight days as investors continue focusing on the changing monetary policy framework and risks on Ukraine. STORJ is trading at $1.1188, about 22% below the highest level in February. It has crashed by more than 70% from the highest level in 2021.
What is Storj?
Storj is a blockchain project seeking to decentralize the file storage industry currently dominated by products like OneDrive, Box, and DropBox, among others. In addition, the network seeks to change how this process works.
For one, products like Box and OneDrive are highly centralized, meaning that individuals with a profit motive control them. In the past, we have seen many centralized platforms like Facebook, Twitter, and Spotify embrace censorship.
Storj solves these challenges using Decentralized Cloud Storage (DCS) that automatically encrypts files before they are uploaded.
STORJ is the native token for the ecosystem. It is used to secure the network, just as Ether is the coin for Ethereum's ecosystem. According to CoinGecko, it has a market capitalization of more than $161 million, making it the 323rd biggest coin in the world. STORJ has a total supply of 424,999,998, while the circulating supply is more than 173 million.
How Storj works
Storj is a blockchain storage network that uses eight key components: storage nodes, peer-to-peer communication, redundancy, metadata, encryption, audits and reputation, data recovery, and payments. These components are then incorporated into three segments: an uplink, storage node, and satellite.
When a user signs up, the first step is encrypting the objects before they are uploaded to the server. To ensure safety and security, the network breaks down the encrypted pieces into smaller pieces that are indistinguishable from any other object's pieces.
Next, the objects are globally distributed to a global network of storage nodes. The benefit of this is that an object is never in one place, and there is no downtime. Finally, you can access your files at any time.
Storj launched its Initial Coin Offering (ICO) in 2017. It raised $30 million, and each token was worth about $0.50. This means that people who bought the ICO have had positive results. According to Crunchbase, the developers have raised about $35.4 million from investors.
Storj price history
The STORJ price has had mixed results in the past few years. The coin initially dropped to its all-time low of $0.15 on October 6th 2020. Then, however, the coin surged to an all-time high of $3.8 in March 2021. At the time, the prices of most cryptocurrencies were in a strong bullish trend.
However, the STORJ price has dropped by about 70% from the all-time high, bringing the total market cap to about $161 million.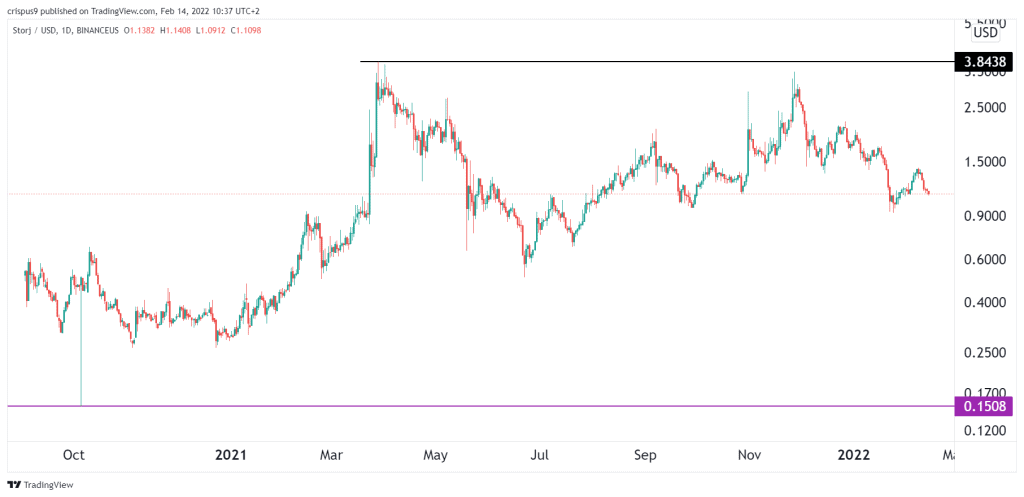 Is Storj a good investment?
Storage is a fast-growing industry that seems ripe for disruption as the world transitions to Web 3.0. Besides, the world is currently dominated by large companies like Microsoft, Box, DropBox, Amazon, and Google.
With the distrust for big tech companies rising, more people are getting more serious about decentralization—for example, the number of people using cryptocurrencies to avoid extensive censorship. People are also using decentralized social media platforms.
Therefore, a case can be made of people using decentralized storage platforms to avoid the big tech. While the numbers are hard to validate, it is estimated that Storj has more than 10 million users. But, of course, like all projects using a freemium model, only a tiny part of these are paying users.
Still, there are scalability problems when it comes to decentralized storage. However, I don't think people have an issue with their cloud file storage providers. That's because these providers have not been at the forefront of censorship.
Therefore, while a case can be made for decentralized storage, there are challenges about how big the industry can get. This explains why Storj is still a small blockchain project to date. Also, it explains why other decentralized file storage platforms like Filecoin and Siacoin have struggled in the past few months.
Storj price prediction 2022
The daily chart shows that the Storj price has been in a bearish trend in the past few months. As a result, the coin has moved below the 25-day and 50-day moving averages. That is a sign that bears are currently in control of the situation. Similarly, the MACD has moved below the neutral level.
Another thing is that the STORJ price has formed a head and shoulders pattern whose neckline is at $0.9480. Ahead and shoulders pattern is usually a bearish signal in technical analysis.
Therefore, there is a likelihood that the coin's price will have a bearish breakout in 2022. By measuring the distance between the head and shoulder, we can estimate that the coin's price will likely drop by about 70% to about $0.25. This view will be invalidated if the coin manages to rise to $2.50.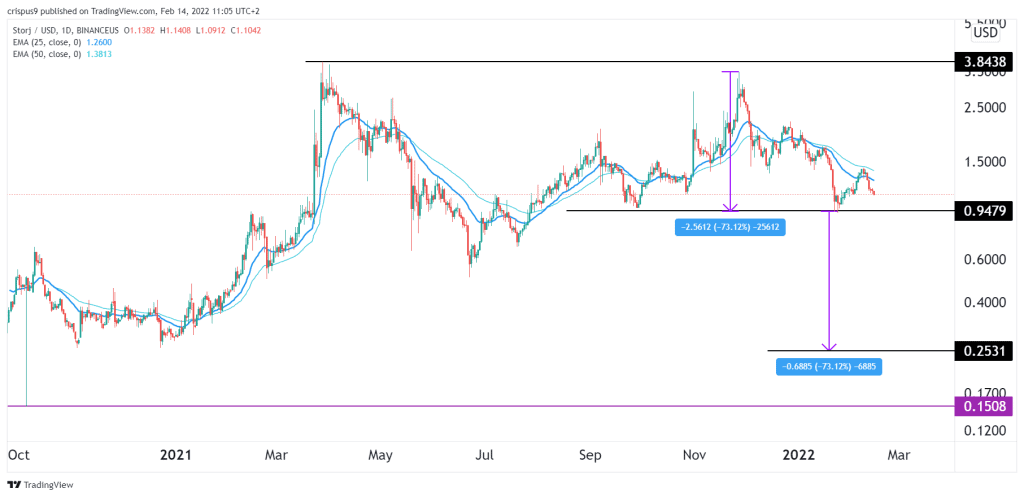 Storj price forecast 2025
Like most assets, it is always challenging to make a long-term prediction. The same situation is more difficult for risky assets like cryptocurrencies. It is even harder for a small coin in an industry that is no longer in a growth mode.
According to Digital Coin Price, the estimation is that the STORJ price will rise to $2.27 by 2025. Furthermore, the estimation is that the coin will soar to over $6 by 2031; obviously, these estimates should always be taken with a grain of salt.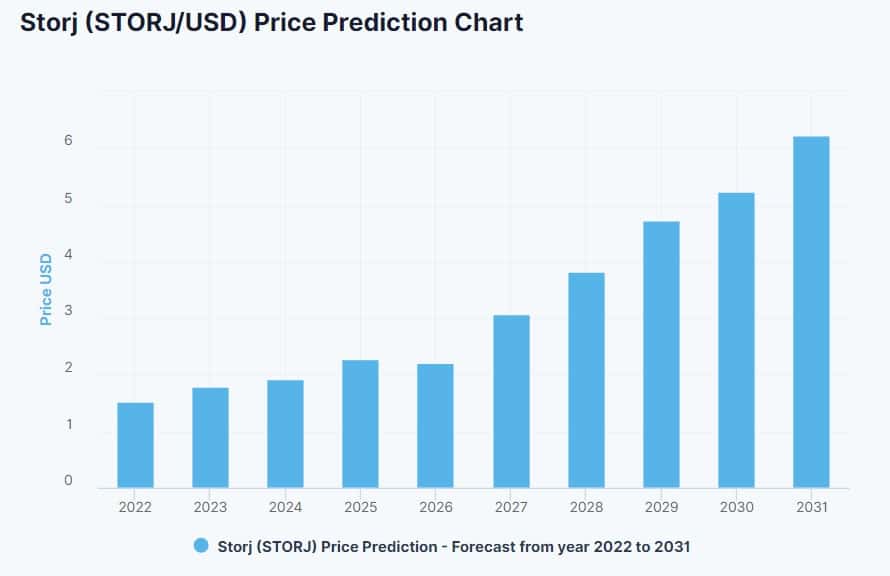 Summary
Storj is a blockchain platform seeking to disrupt the file storage industry. This article has looked at what STORJ coin is, how it works, and whether it is a good investment.