The crypto market has once again shifted towards a bullish sentiment, as the price of Bitcoin (BTC) gains strength above $22,000. This optimistic environment has also put the Shiba Inu coin price on an uptrend while also rejuvenating other dogcoins like Shiba Inu, Floki Inu, and Dogelon Mars.
Dogcoins, also known as Dogecoin-inspired cryptocurrencies, have been making headlines once again lately for their impressive price growth. SHIB, for instance, has seen its price rise by 76% since the start of 2023. At present, the price is facing resistance from the $0.00001512 level, but if this resistance is reclaimed, it could send the price up to $0.00001812, which represents a potential increase of nearly 30%.
Despite the positive sentiment in the crypto market, the macroeconomic scenario remains unfavorable for high-risk assets due to the current high-interest rates. However, as long as the price of Shiba Inu remains above the critical support level of $0.00001084, any dip in price can be considered a good buying opportunity.
Shiba Inu Coin Price Chart
Our SHIB price analysis has given us the key support and resistance levels as mentioned on the charts. Since the start of the year, the price has been constantly making higher highs and higher lows which shows a strong uptrend. However, the price has faced rejection from $0.00001512 level which is also the October 2022 high. A reclaim of this level can trigger an upward move targeting $0.00001812.
It must be noted here that any daily closure below $0.00001084 would invalidate this bullish Shiba Inu coin price prediction.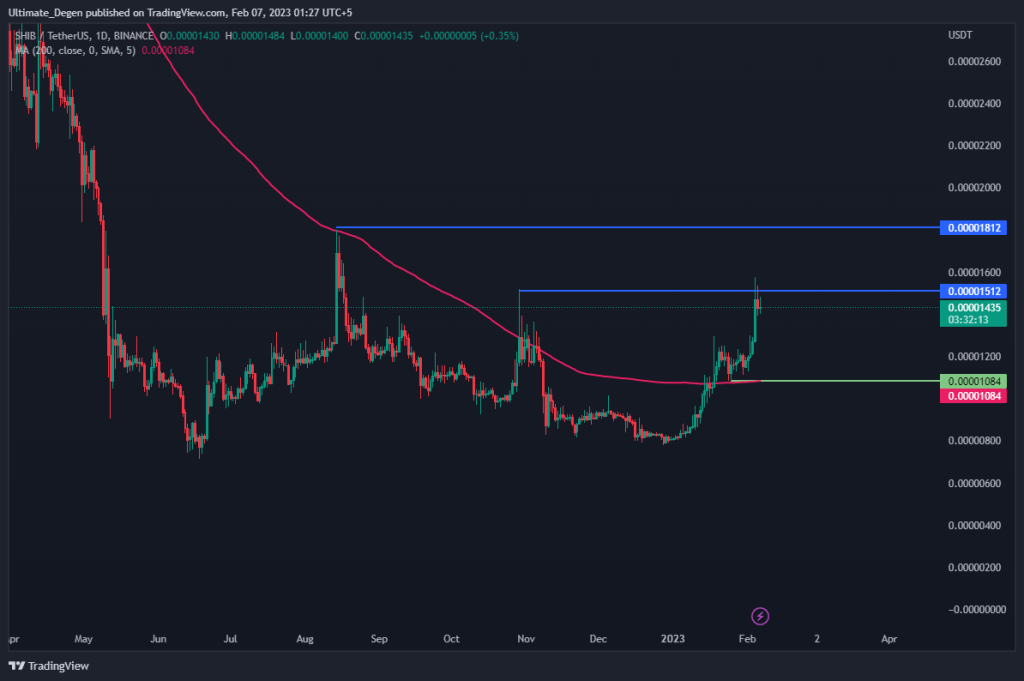 Bitcoin dominance reached 44.82% in January 2023. However, the dominance is coming down as the price faced rejection from $25,000 level. This has led to money flowing into altcoins such as Shiba Inu. If Bitcoin continues to experience sideways price action, it could result in significant growth for dogcoins like Shiba Inu. But a deeper correction in Bitcoin price would send the whole market into a downward spiral.
In conclusion, the crypto market remains optimistic, with dogcoins like Shiba Inu experiencing significant growth. Despite the challenging macroeconomic scenario, as long as the price remains above the critical support level, every dip can be considered a buying opportunity. Investors should, however, approach these high-risk assets with caution and thoroughly research their investment options before making any decisions.