Sandbox price has been in a downward trend in the past few months as its ecosystem growth slows. SAND dropped to a low of $0.9485, which was the lowest level since June 24. It has fallen by about 90% from its highest level in 2021.
The Sandbox is one of the biggest players in the metaverse industry. It operates a leading platform where people can play games, acquire virtual land, and mint and trade NFTs. The company also works with other corporations like Adidas and Renault which exhibit in its ecosystem. Periodically, Sandbox has a live event known as Alpha, where people play and win rewards. Alpha season 3 is currently underway.
Sandbox price has continued its bearish trend in the past few months as demand for metaverse, gaming, and NFTs wane. After peaking during the pandemic, the gaming industry has wavered since more students have gone back to school and workers have moved back to the office. This explains why gaming stocks like Electronic Arts and Take-Two Interactive have retreated.
In addition, the volume of NFTs traded on a daily basis have all declined. According to CryptoSlam, the growth in the NFT industry has slowed this year. As shown below, the volume of NFT sales in Sandbox has crashed in the past few months. After peaking at $158 million in November, it dropped to just $120k in August.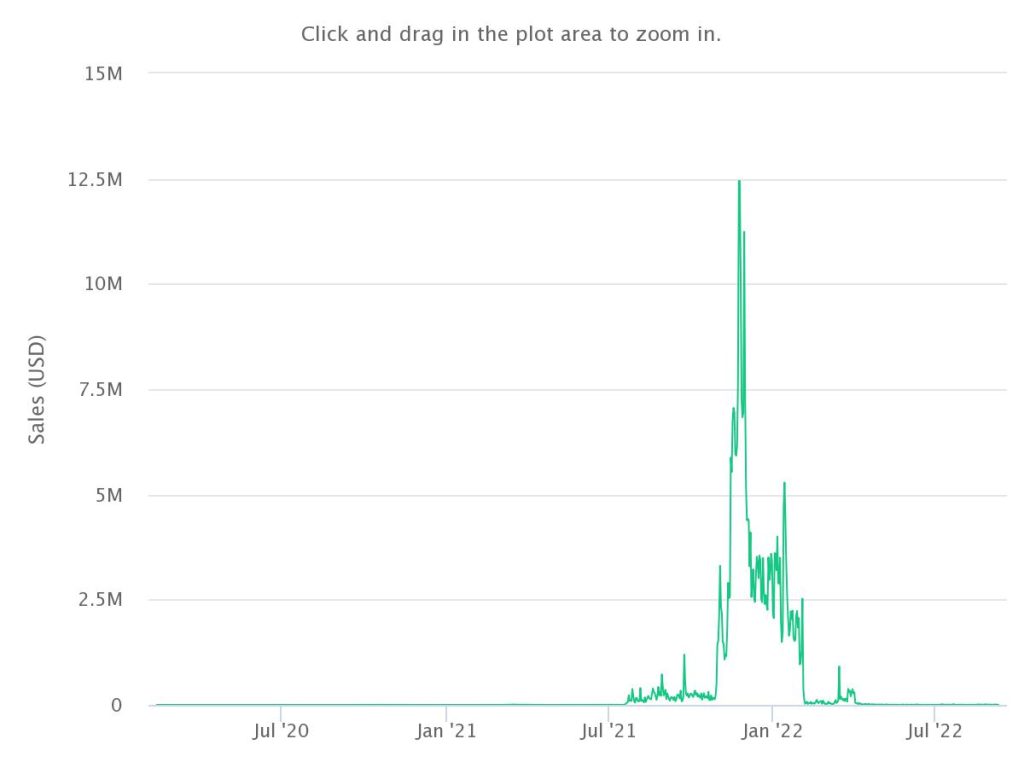 Sandbox price prediction
The SAND price has been in a strong bearish trend in the past few weeks. Its attempt to recover found a strong resistance at $1.6168 in August. Now, the price has moved to $0.9486, which was the lowest level on May 11. The downward trend is also supported by the 25-day and 50-day moving averages while the MACD has moved below the neutral point.
Therefore, the outlook of Sandbox price is bearish, with the next reference level being at $0.7356. A move above $0.9300 will invalidate the bearish view.