The Revain Price sprang back to life in August, jumping more than 220%. But will this month prove just as fruitful for REV holders? After spending two months in the doldrums, Revain (REV/USD), the Ethereum-based review platform, suddenly found itself back in the spotlight, surging from $0.0066 to $0.02259 in a three-week buying frenzy. However, there doesn't appear to be a clear bullish catalyst for the rally, which begs the question, will Revain be a good investment in September, or will its 15 minutes of fame fade into obscurity?
The Revain platform aims to shake up the huge user review industry. Offering a decentralized platform hopes to bring transparency to user reviews, promoting constructive feedback and honest critique. There are currently more than 13,000 company's on the Revain platform, and users have left tens of thousands of reviews. A quick scroll through the website shows that most of the reviews are presently for crypto-related products. Although, in theory, the platform could cater for a multitude of industries, and on that basis, the addressable market is potentially massive. However, the space is dominated by household names, such as Yelp and Tripadvisor, which have already earned the public trust. This could prove a considerable challenge for Revain's efforts to go mainstream.
REV Technical Analysis
The daily chart shows the Revain price has put on a good show over the last two weeks, with most of the gains coming in the last three days. This has resulted in a steep trend line forming at $0.0175. On Monday, after trading to a two-month high of $0.02260, the price dropped 27%, tagging the trend before jumping 18% to the current $0.0192. This confirms the trend's credentials, making $0.0175 the first line of support.
As long as Revain maintains the uptrend, the outlook appears positive and should REV continue to make progress on the upside, the first level of interest is Monday's high, followed by the 21st of may high at $0.02570.
However, failure to sustain trend support could force the Revain price to erase a considerable amount of the recent gains. On a decisive breach of $0.0175, the initial downside target is $0.01267, around 35% below the last trade.
In conclusion, REV could well continue to go higher in September, but it will so little to work from its difficult to give an accurate Revain price prediction for this month. However, considering the performance in the last few days, REV could be one to watch.
Revain Price Chart (Daily)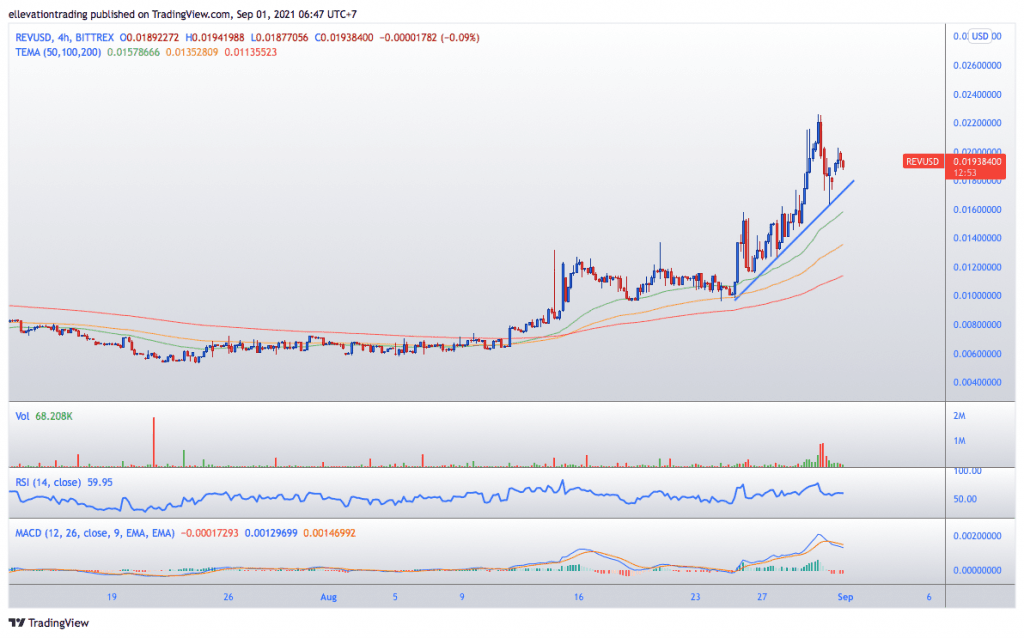 For more market insights, follow Elliott on Twitter.