Over the weekend, the MATIC price jumped 30% to a three month high of $1.8750. However, Polygon could not hold the gains and dropped 14% since. Quite why Polygon (MATIC/USD) surged 20% on Saturday is a mystery. Last week, while many altcoins were flying, the MATIC token was hardly moving. In fact, coming into the weekend, Polygon had given back almost 18% from the July high and lost ground to rivals. However, on Saturday, Polygon decided to play catch up.
The strength continued on Sunday, and the MATIC price finally managed to clear the strong resistance at $1.7580 on its way to the $1.8750 high. Although, the rally was met with selling which forced the price back below support to finish the day down -3.30% at $1.6816. Furthermore, 19th-ranked Polygon is the only cryptocurrency in the top 20 trading lower this morning, which could be a worrying sign.
Polygon Price Forecast
The daily chart shows that up until Saturday, the recovery had failed to clear $1.7580. But despite trading above it for the first time since June, Polygon closed the day below the resistance level. Therefore, $1.7580 is still the first level of resistance.
If the Polygon price clears $1.7580 on a closing basis, it should be set for an extension to $2.4800 high from the 26th of May. And beyond that, the All-time high at $2.8988 is achievable.
However, for now, $1.7580 is doing a good job of capping the price. Failure to punch through it could result in the MATIC price retreating to $1.53500, where trend support and the 50-day moving average meet. Below that, the 100 DMA at $1.2253 and the 200 at $0.9880 provide additional noteworthy support.
MATIC Price Chart (Daily)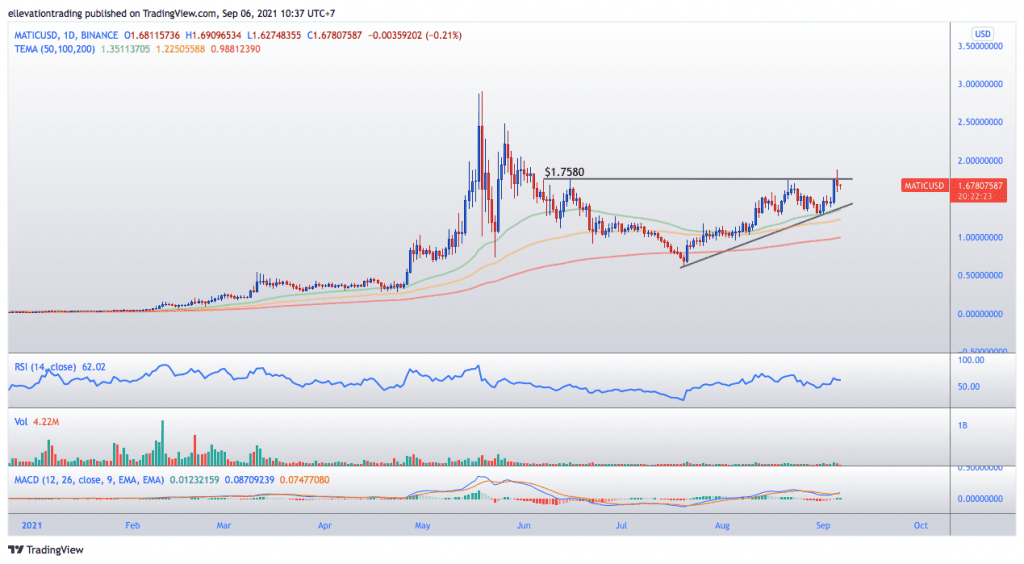 For more market insights, follow Elliott on Twitter.