Gold price (XAU/USD) activity has registered a huge intraday bounce, reversing earlier losses of the Asian session as the greenback took a hit from the prevailing budget crisis in the US.
USD bulls stepped back on Thursday as the impasse over raising the US debt ceiling continues. A US government shutdown is imminent, except there is an agreement on the debt ceiling to allow additional funding for the government until December.
A slightly higher-than-expected reading for the US final GDP (quarterly) was offset by higher initial jobless claims and a drop in the Chicago PMI data. First-time applications for unemployment benefits rose from 351K to 362K (consensus: 333K), showing that the US labor market was still not in very good shape.
Gold price is up 1.75% as of writing.
Gold Price Outlook
Following the resolution of the bearish flag and subsequent measured move, which terminated just above the 1719.13 support, Thursday's huge bounce has set up a potential break opportunity at the upper border of the falling wedge pattern. A break at this border targets 1763.30, with a measured move that should aim for the 1789.49 resistance. A further advance targets 1815.20, with a potential pitstop at 1800.00.
On the flip side, a rejection at the wedge's upper border could set up a retest of 1741.01. If this price level gives way, the wedge's lower border will come under challenge, as will the 1719.13 support. Only when the price action breaks below this level will 1699.43 become available.
Gold Price (XAU/USD) Daily Chart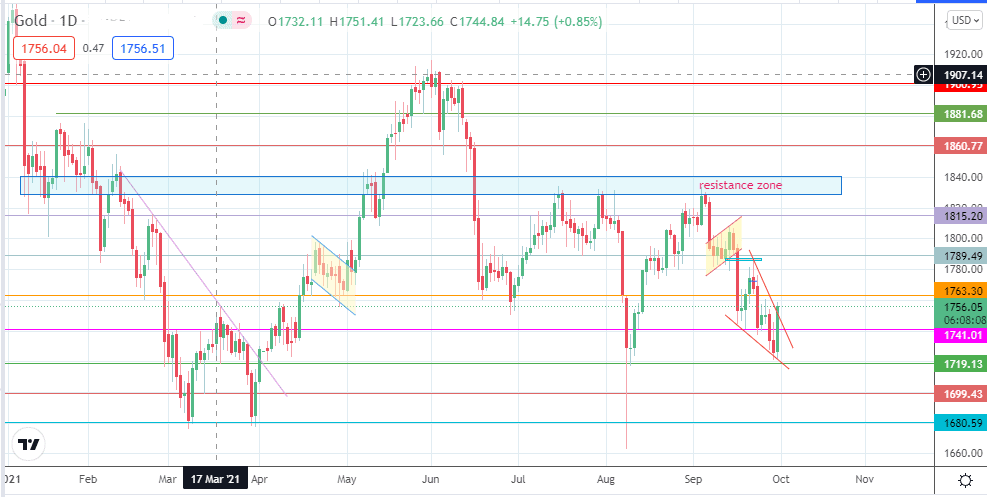 Follow Eno on Twitter.