The Fantom price has turned the corner and appears to be building pressure for an impulse move above $3.500. Fantom (FTM) is last at $2.947 (+1.40%), down around -3.3% in the last seven days, and +1,000% since July. Fantom's current market cap sits at $7.2 billion, ranking it the 32nd most valuable cryptocurrency behind Theta (THETA).
This morning a sea of green is washing over crypto land. Bitcoin (BTC) is trading at $65,00, and Ethereum (ETH) is printing a new high above $4,700, and several altcoins in including Avalanche (AVAX) have pushed to personal bests. As a result, the combined value of all cryptos has reached a record $2.85 Trillion and traded almost $100 billion this morning. However, Fantom is yet to crack $3.000.
Nonetheless, considering the rallies popping up around the market, the FTM could soon target its all-time high. Furthermore, Fantom continues to hold its ground as a bonafide DeFi blockchain. According to Defillama, the Total Value Locked (TVL) on Fantom is just under $5.8 billion, which places it above Polygon (MATIC). Notably, Fantom bulls will point to Polygon's $13 billion market cap as a sign the FTM Token has more upside potential.
FTM Price Analysis
The 4-hour chart shows the Fantom price turned higher after testing horizontal support at $2.466. Subsequently, the momentum has lifted the price towards the first resistance level at $3.040. Successful clearance of $3.040 should trigger an extension towards $3.488.
Furthermore, as we have seen previously when FTM makes a new high it tends to over-extend. On that basis, a close above $3.488 could bring $4.000 into view.
The bullish outlook relies on FTM holding above $2.466> As long as that remains the case, I expect an eventual test of $3.488. However, a close below $2.466 suggests a breakdown and therefore invalidates the bullish view.
Fantom Price Chart (4-hour)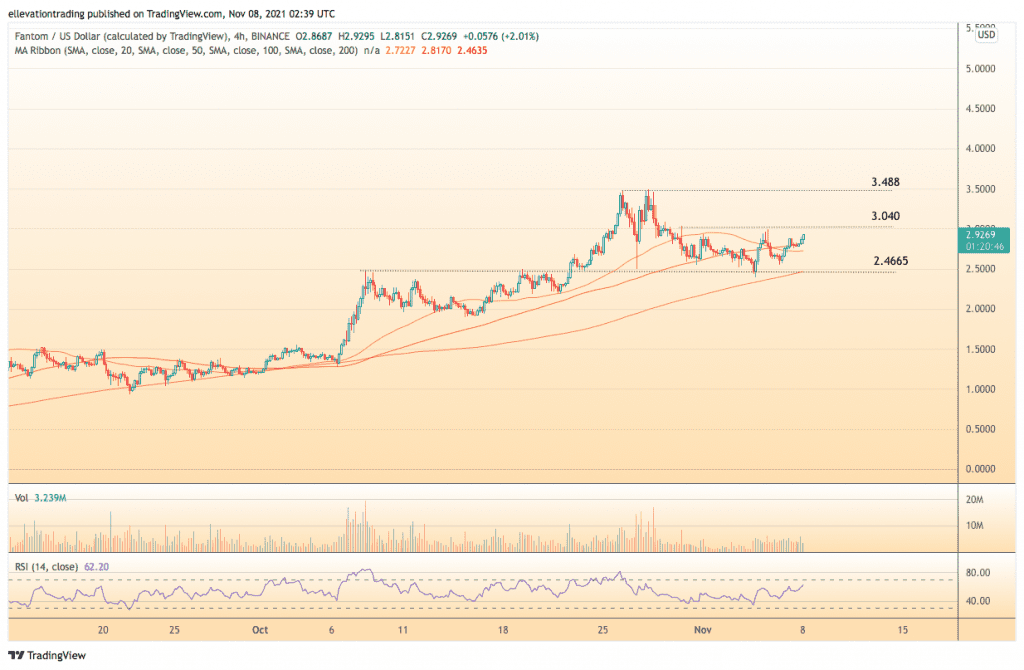 For more market insights, follow Elliott on Twitter.