The Fantom price is consolidating between $1.90 and $2.400, but a new high may be on the horizon if the technical analysis plays out. After a week of selling, Fantom (FTM) bounced 20% from the former all-time high at $1.9246. As a result, FTM may have a new record and a new big figure sometime soon.
Fantom is a Decentralized Finance platform that has undergone massive growth over the last few months. The platform's native FTM token has been one of the best performing cryptocurrencies in the previous three months, surging 1,500% between July and the 8th of October. The meteoric rise has lifted Fantom's market cap to $5.7 billion, ranking it the 34th-largest cryptocurrency, behind THETA. After the Fantom price reached a record at the start of the month, it did experience a week of consolidation, drifting lower. However, as we reported last week, the bullish momentum is intact as long as the token maintained the 9th of September high. Fortunately, the FTM token bounced perfectly from horizontal support and, last at $2.2360, and looking likely to test the 7th of September record at $2.445.
FTM Price Forecast
The daily chart shows Fantom is trending higher, supported by a rising trend line at $1.6000, which is significant long-term support. Above the trend, immediate support is seen at the former all-time high of $1.9246. As long the FTM token respects the rising trend line, the outlook is constructive. However, it's above $2.449 that things could get interesting.
The price action over the last week is similar to September when FTM retreated from the former ATH. When the price eventually, cleared $1.9246, it surged 27% to $2.449. If a similar scenario plays out now and the Fantom price clears $2.449, a 27% extension would take it above $3.00. Of course, there is no guarantee but the technicals are constructive. On that basis, I maintain a bullish stance, with a $3.00+ price target. However, if FTM falls below trend support at $1.6000 it will invalidate this thesis.
Fantom Price Chart (daily)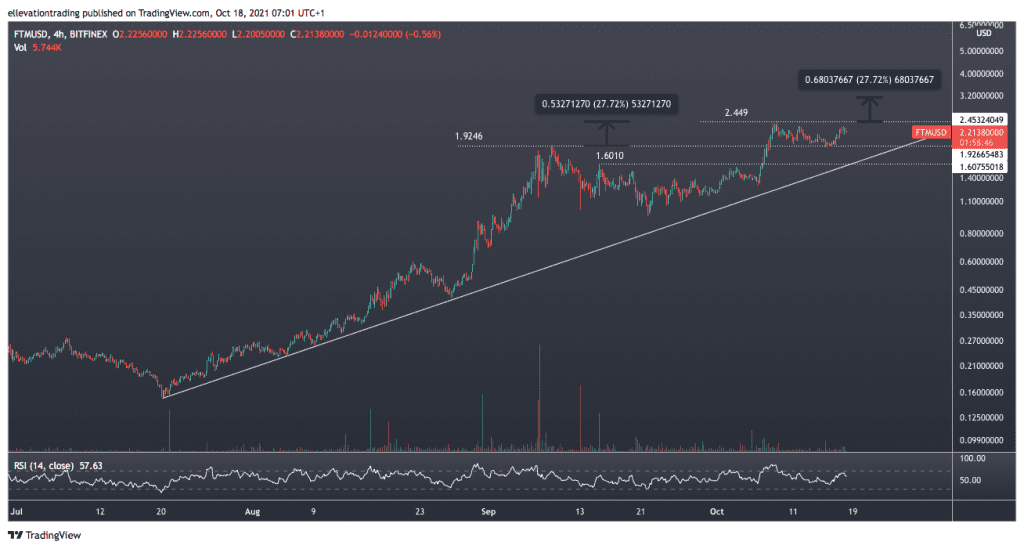 For more market insights, follow Elliott on Twitter.