The Facebook share price is up after it announced it had entered into a partnership with Coinbase to launch its new Novi wallet. The project will involve using Paxos Dollars (USDP) as a remittance currency, with funds warehoused with Coinbase.
Facebook's Novi replaces Calibra, the wallet that served the controversial Libra blockchain project. Libra was scrapped after global pushback from regulators and finance ministers. Facebook hopes to use the wallet to facilitate cross-border payments and remittances with zero fees.
As expected, the announcement has not gone down well with politicians at Capitol Hill. In response, the US Senate's Committee on Banking has written an open letter to Facebook, asking it to take down the Novi wallet project. The Senate Committee has also asked the company to suspend all development of the Diem stablecoin.
So far, investors seem to be on Facebook's side, driving the stock up by 0.39% as of writing.
Facebook Share Price Update
Tuesday's close above the 339.29 resistance and the consequent uplift in price on Wednesday put Facebook on the path of a break of that price level. This provides the Facebook share price with clear skies to target the 359.07 resistance (6 July and 21 September highs). 374.62 and 383.82 are additional targets to the north.
On the other hand, a resumption of the decline seen between 13 September to 12 October targets 329.32 initially. The 315.83 support and the 200-day moving average form additional targets to the south, with price support levels at 304.69 and 296.52.
Facebook: Daily Price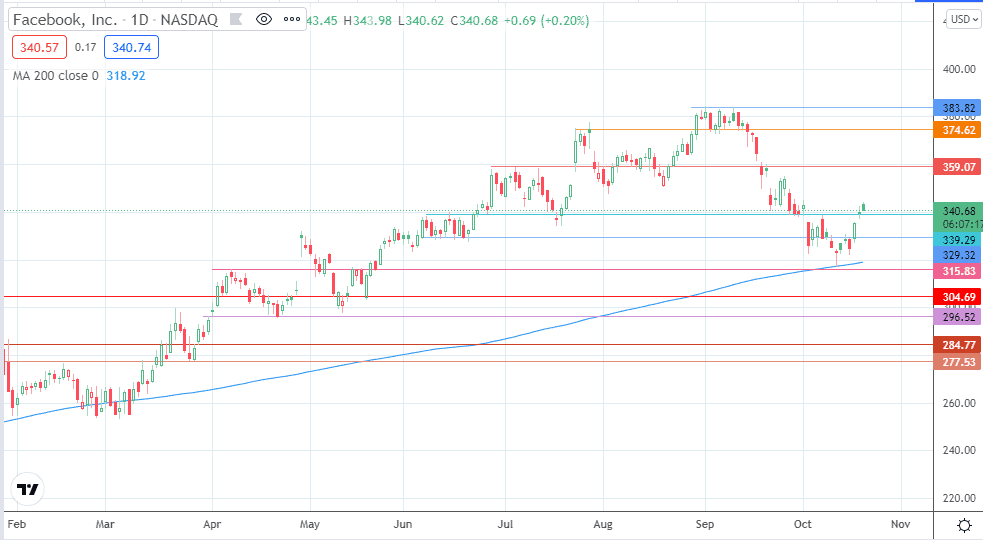 Follow Eno on Twitter.