The Ethereum price burst above the $3,400 resistance in spectacular fashion, surging 11% to $3,800, bringing May's record within touching distance. For the last two weeks, Non-fungible tokens (NFT's), altcoins, and ETH's rivals have grabbed the headlines. Although, today, Ethereum (ETH/USD) reminds them why it's the number two ranked crypto.
This morning, ETH is having its best day since the end of May, and there are signs the rally could take the price much higher. With Decentralized Finance tokens (DeFI) and NFT's pumping like crazy, it was only a matter of time before ETH made its move. For most of August, while rivals like Cardano (ADA/USD) and Solana (SOL/USD) ripped to new records, Ethereum was boxed in between $2,900 and $3,400. However, even as Ethereum was struggling for direction, several factors suggested the Ethereum price will soon play catch-up, putting May's $4,646 record under threat.
Derivatives Driving the Rally
While most cryptocurrency traders will be focused on the spot market, derivatives can sometimes provide clues about where the price is heading. One-month forward Ethereum futures are trading at a high premium to spot. This tells us that many institutions are predicting the Ethereum price will be substantially higher soon. Furthermore, a large number of bullish options bets have been placed recently. The call options, which will pay out if ETH is higher than $6,000 by the end of this month, could cause a gamma-squeeze. This would force dealers that sold the options to buy Ethereum as a hedge. Furthermore, the higher the Ethereum price, the more likely options dealers will start to short cover.
ETH/USD Price Forecast
The daily chart paints a very positive picture of the Ethereum price. The clearance of $3,400 resistance now makes the level robust support. And As long as ETH stay above $3,400, I expect to see a new-all time high soon. However, if ETH drops below this threshold, it will invalidate this thesis.
Ethereum Price Chart (Daily)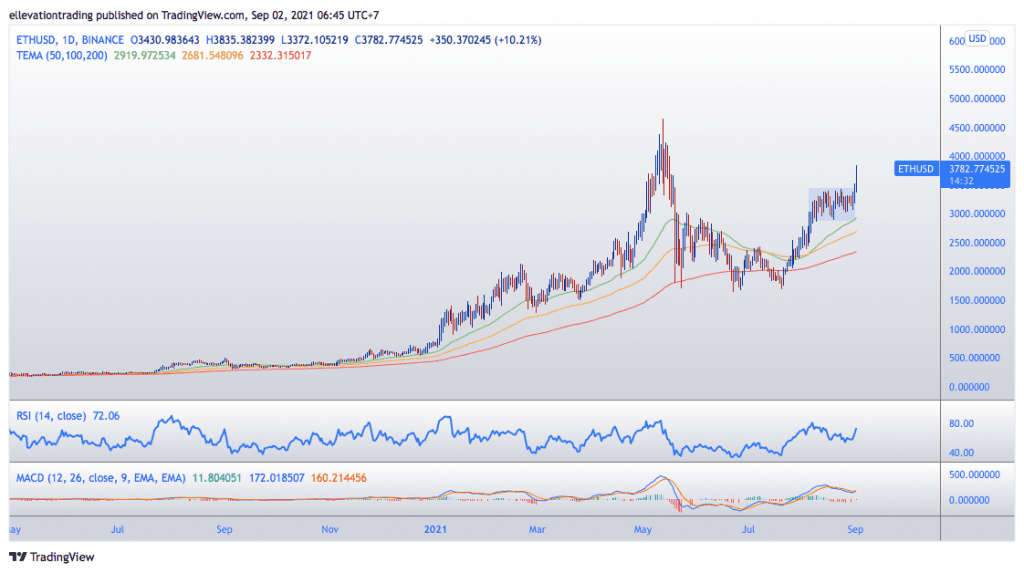 For more market insights, follow Elliott on Twitter.