EOS stands for Electro-Optical System and was launched in June 2018 by Dan Larimer. The project is an open-source decentralized operating system built using blockchain.
In the last few years, cryptocurrency investment has become very important, and EOS has separated itself from the herd to become one of the most futuristic cryptos in the market today.
EOS overview
EOS was developed by block.one and was released to the public on June 1, 2018, as open-source software. Developers also released one billion ERC-20 tokens of EOS during the launch to ensure widespread distribution of the crypto. This gave everyone the opportunity to own the EOS blockchain.
During its initial coin offering (ICO), block.one raised over $4 billion, which was a record for an ICO at the time.
Unlike other cryptocurrencies, EOS is created and earned in a distinct way. Users are rewarded with tokens each time they generate a block. The platform also allows users to publish their desired payment amount. This allows the platform to calculate the number of tokens they can be awarded by picking the median value of the likely amount that has been published by all other token block producers.
Users who earn EOS using this method can store their tokens in various wallets such as Etherium wallet, MyEtherWallet, and MetaMask.
EOS Price History
A few months after EOS was launched, the crypto was trading within the range of $0.4 and $5. However, by December of the same year, it was launched, the crypto had pushed past $10, hitting highs of $12.
You may like: Shiba Inu Coin Price Prediction.
By April 2018, EOS had managed to rally past $20, setting a new record high of $22.89. To date, this price remains its all-time high.
These record highs were followed by months of a price decline, and by December of 2018, the crypto was trading at $1.6.
EOS would recover again in 2021, hitting almost $15 before dropping again to the current prices of $2.3
Adoption
EOS has become very useful in the Decentralized Finance ( DeFi) domain. currently, there are tens of applications running on the EOS blockchain technology. This includes projects such as Bancor which enables automated, decentralized token exchange on Ethereum and across other blockchains.
Azarus, which is specifically built for the video games industry also runs on the EOS blockchain technology. It is very similar to Billionaire Token, which is also built on EOS blockchain technology and used in all types of games.
Other examples of applications built using EOS include Cards & Token, Carmel, Chaince, Chintai, EOS Gems, e.t.c.
EOS Price Prediction 2022
The cryptocurrency markets have been on a slump since the year started, including major coins such as Bitcoin which currently trades at nearly half its price.
EOS being an altcoin has followed the same trend. In fact, since May of last year, when the coin hit $14, the crypto has lost 85 percent of its value. This is important to note and will act as a reference to my EOS price prediction 2022, EOS price prediction 2025 and also EOS price prediction 2030.
Today, the markets opened at $2.3, reaching highs of $2.4 before dropping to the current price of $2.3.
With the prices for the past year ranging from $2 to $14.88, EOS is a very volatile cryptocurrency and anything can happen in the remaining 10 months of 2022.
However, my EOS price prediction 2022 is, I expect the prices to trade within the range of the lowest price level set in the last year. I also expect the prices not to aggressively enter a bull market.
Therefore, by the end of the year, EOS will be trading around $5.4. This is around the resistance level that was set on November 9th. I also expect the crypto to trade within the transparent blue area during that period. The growth for the year will therefore be a 225 percent increase on the current EOS prices. The rate of change is also an indication that EOS is highly volatile, and can double in prices within a year.
EOS Daily Chart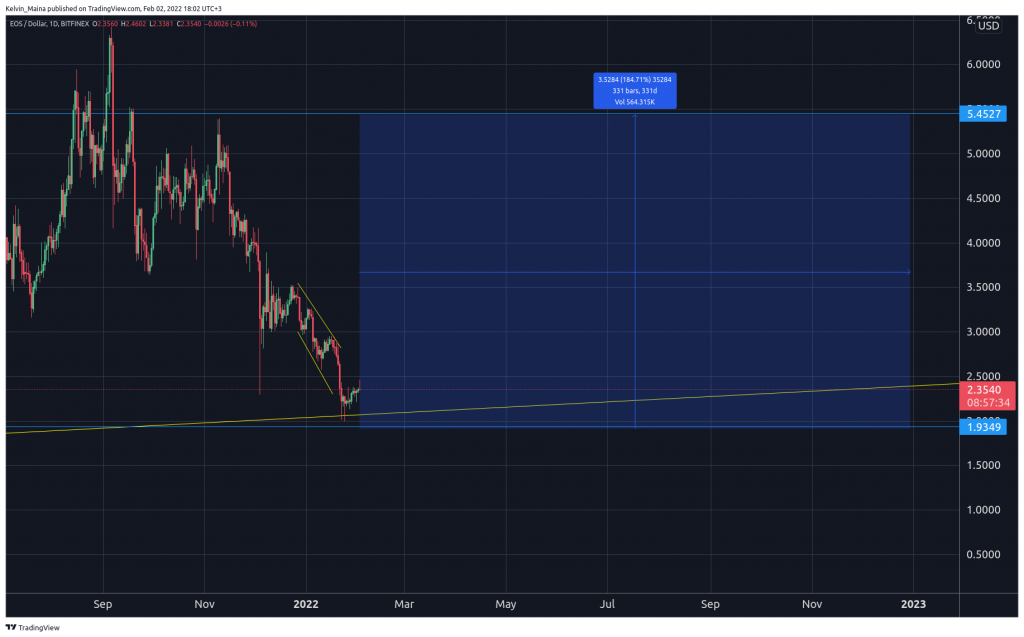 EOS Price Prediction 2025
My EOS prediction 2025 is based on the volatility of the crypto for the last few years, and also a comparison with other cryptocurrencies.
As highlighted in my EOS price prediction 2022 section, I expect EOS to close the year at 225 percent higher than the current levels. I also expect the cryptocurrency to be bullish in the next years of 2023 and 2024.
Now looking at past EOS data, EOS prices hit their lowest on Oct 23, 2017, when they traded at $0.48. They also hit their all-time high the next year at $22.89. In the past year, the crypto has also hit highs of $14.89. These numbers are very important for our EOS price prediction 2025.
Based on the above figures, it is clear that the range between the price lows and price highs are 4700 percent apart. In the past year, the price lows and highs range is 700 percent.
In 2022, using a very conservative method of determining where the prices will be, I found that the prices will close the year being 225 percent higher than they are currently.
Now putting all these data into perspective, I expect the prices for EOS to be around $14 in January 2025. This will be a 650 percent increase on the current price. This EOS price prediction 2025 is very conservative and is based on previous levels that the currency has hit in the past. The $14 value is derived from a previous price high that happened in November last year.
However, there is also a possibility that by 2025, the prices will be pushing to break the all-time highs of $22.89.
Between 2023 and 2025, I also expect the prices of EOS to trade within the brick red area shown in the chart below.
EOS Weekly Chart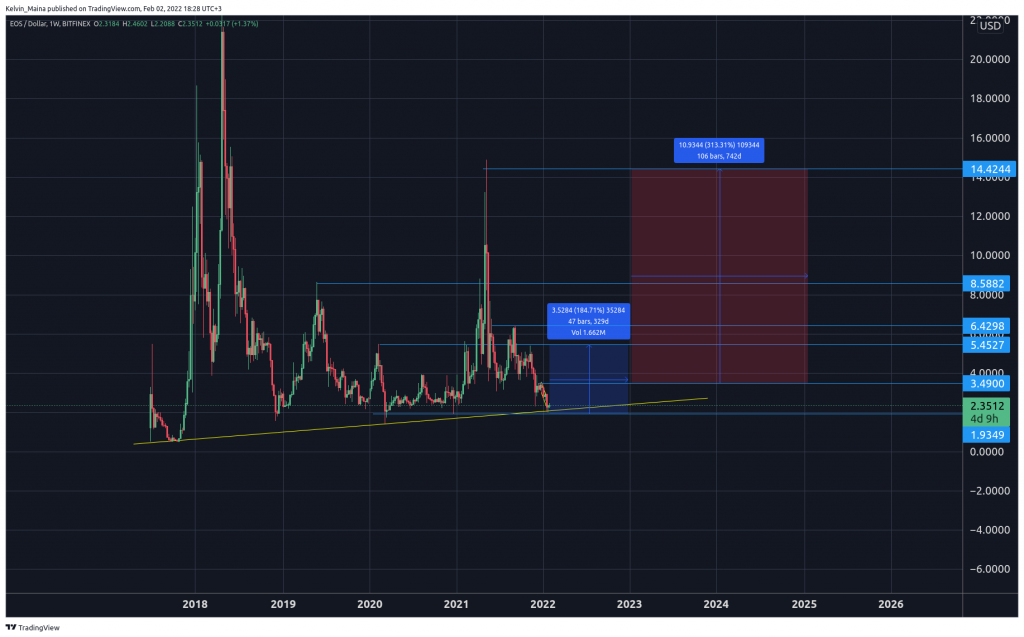 EOS Price Prediction 2030
My EOS price prediction 2030 will be very conservative, and I expect the crypto to be trading slightly above $40 dollars by 2030. This will represent a 1700 percent growth from its current price of $2.3 in the next eight years.
My analysis is based on the crypto's past growth data. For instance, the range between the all-time lows and all-time highs of EOS is 4,700 percent. However, the next range is only 700 percent, and with the crypto being almost 5 years, that data can offer insight into what will happen in the next eight years.
However, since my EOS price prediction 2030 is very conservative, there is also a possibility that the crypto will be trading past $50 by the time we get to 2030.
My analysis also shows that the prices will be trading within the transparent yellow region between 2025 and 2030 as shown in the chart below.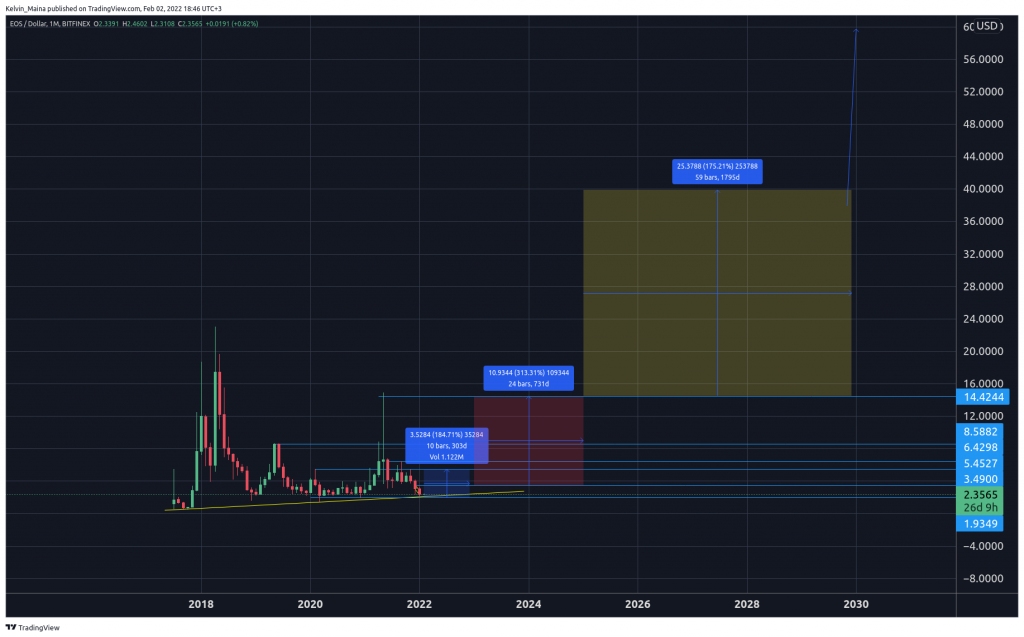 Is EOS a Good Investment
Based on my EOS price prediction 2022, 2025 and 2030, EOS is a perfect investment for traders looking for double-digit yearly growth.
In 2022, I expect EOS to yield 225 percent ROI. By 2025, the ROI will have grown to 650 percent based on current prices.
I also expect EOS to grow by 1,700 percent by 2030, beating almost all traditional investment opportunities by a huge margin.