The Enjin coin price correction gathered pace yesterday, driving the ENJ token 30% below last week's seven-month high. However, ENJ has climbed 16% from yesterday's low as the bulls fight to keep the rally on track. But for that to happen, the price must hold above critical support.
Enjin Coin (ENJ) is trading at $2.98 (+5.40%), up 15% so far this month and around +2,000% year-to-date. There are 834 million ENJ tokens in circulation, with a current total value of $2.58 billion, ranking Enjin Coin the 67th most valuable cryptocurrency behind BitTorrent (BTT).
Despite the pullback, ENJ is up 150% from the September low, and still in a strong uptrend. Furthermore, the altcoin market continues to outperform Bitcoin and is close to its highest ever valuation. However, Bitcoin's sudden 9% drop triggered a wave of liquidations in lower value assets last night. As a result, Enjin Coin slid 20% from the high before recovering to finish the session down 4.75%.
ENJ Price Analysis
The daily chart highlights the magnitude of the rally that into the start of this month. On the 6th of November, the Enjin coin price recorded its highest-ever closing price of $3.51. However, the next day marked the start of a four-day decline into yesterday's low.
As a result, the technical backdrop is deteriorating, suggesting the price may have further to fall. In that event, a logical target is the horizontal support level at $2.25. At the same time, a steeper decline could target the long-term moving averages between $1.70 and $2.00.
For now, the price appears to be holding up. However, the general price action looks bearish, in my opinion. As long as ENJ stays below $3.51, I expect it to track lower towards $2.25 and potentially into the $1.70-$2.00 range. However, a close above $3.51 would be highly constructive, invalidating my bearish view.
Enjin Coin Price Chart (Daily)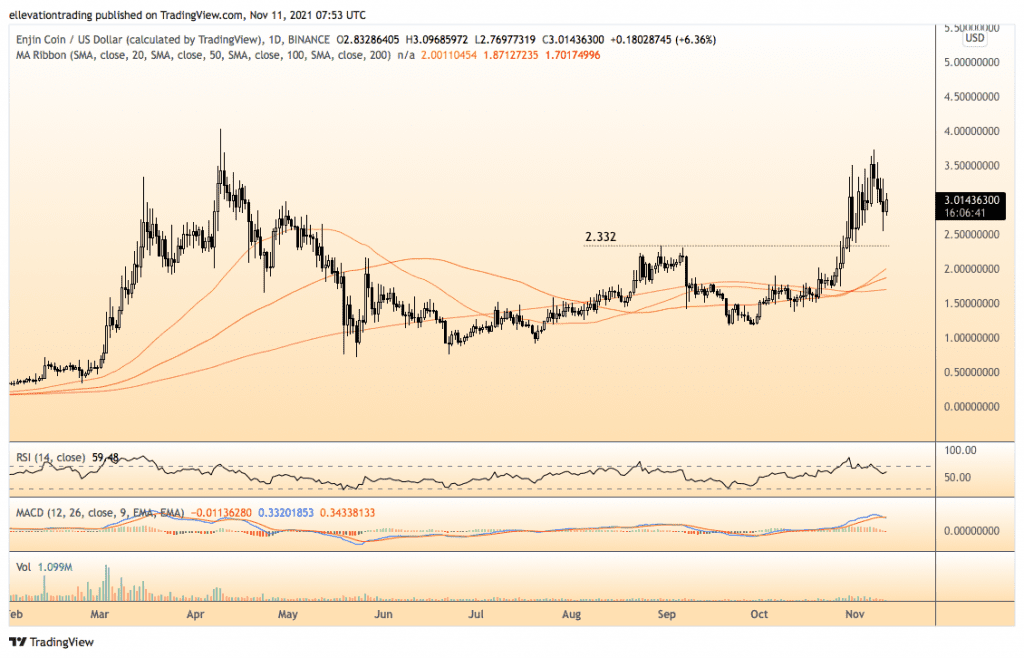 For more market insights, follow Elliott on Twitter.