Dogecoin (DOGE-USD) price appears to be lagging in the ongoing market recovery. While Bitcoin is currently trading 40% above its monthly lows, the DOGE coin is only 14.5% up. Most other altcoins are also falling in their BTC pairs. The reason is that the sound money narrative of Bitcoin is gaining strength amid ongoing global banking concerns.
On Tuesday, most cryptocurrencies showed sideways price action. During the London session, the DOGE price was trading at 0.072 after gaining 1.2% for the day. Bitcoin and Ethereum also remained green and were 1.14 % and 1.69% up till press time.
DOGE Coin Is On A Freefall In Terms Of Bitcoin
Most Dogecoin holders often neglect the significance of the DOGE/BTC chart. This chart shows the strength of the memecoin in comparison to the biggest cryptocurrency by market cap. The following chart shows that the Dogecoin price has tanked by more than 38% in 2023 when denominated in Bitcoin. This shows that the money is flowing from DOGE coin to Bitcoin.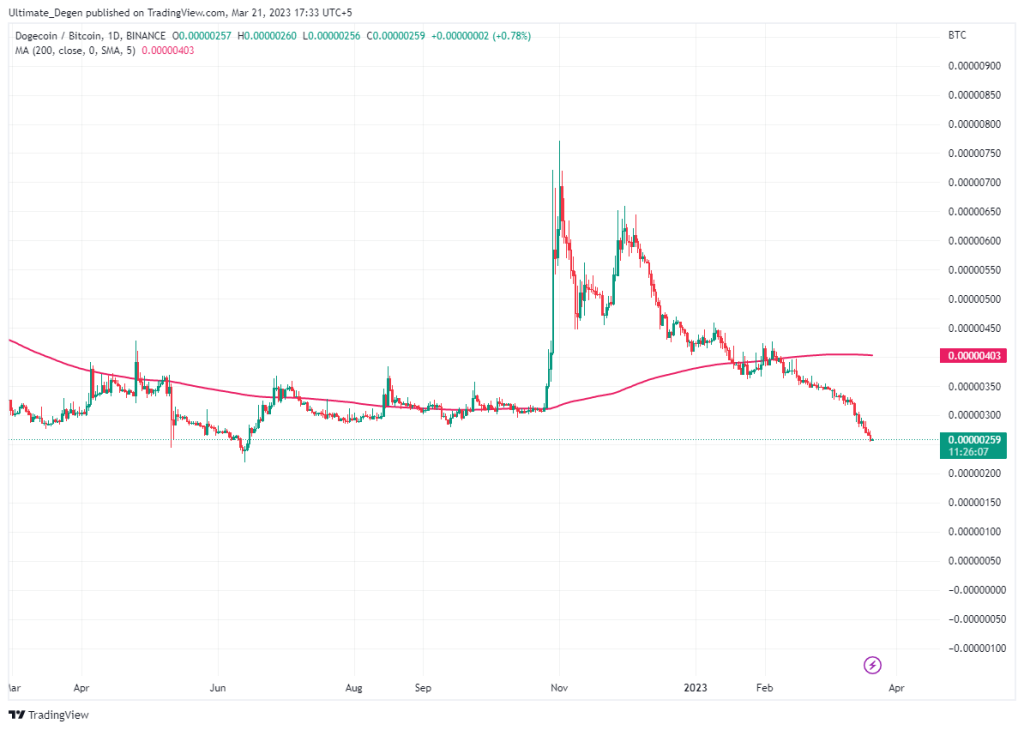 It is also worth mentioning here that Doge is not the only memecoin showing negative price action. Altcoins, in general, and memecoins, in particular, have been lagging behind Bitcoin as it surged above $28,000. Nevertheless, I still expect a nice altcoin rally as soon as the BTC price consolidates.
Dogecoin Price Needs To Break Above 200-day MA
On of the most significant indicators that traders use is the 200-moving average on the daily chart. This indicator acts as a line in the sand for many investors as it shows the direction of momentum. At the moment, 200-day MA on the DOGE coin chart lies at $0.079, which is 8% above its current price.
As long as the price remains below 200 MA, our Dogecoin price prediction will remain bearish. The outlook will flip neutral if the price reclaims this level and bullish if it breaks above $0.10 price level. Both of these levels have become strong resistances for the bulls.