Despite the upside move of the last two trading sessions, bullish Chainlink price predictions remain truncated by a lack of convincing buying volume on the LINK/USDT pair.
The LINK/USDT pair added 3% on Monday but still lacks sufficient buying volume. The lack of demand caused Chainlink HODLers to miss out on the recent crypto rally, creating a source of frustration for them.
The Chainlink project has inked several meaningful partnerships recently. Apart from the Associated Press, which will provide Chainlink with sports and election data, the project has also signed agreements with WOO and CRD Network. WOO is to use Chainlink's Oracle backbone to create customized market data using its high liquidity strategies. CRD will work with Chainlink to make its KYC data transferable between DeFi networks integrated into its platform.
The impact of these partnerships may yet be felt down the road. Currently, LINK/USDT continues to be limited by near-term resistance just under the $32 mark.
Chainlink Price Prediction
The bounce of the LINK/USDT pair on the 28.76 support maintains the price oscillation within the ascending channel. This could spur new bullish Chainlink price predictions, but only if the bulls can breach the 31.74 resistance level. 34.00 is a psychological resistance mark that comes in slightly higher than the previous high of 27 October. Clearance of this barrier brings in the 6 September high at 36.34 as the new upside target.
On the other hand, a breakdown of 28.76 is what ushers in a new corrective move, with 26.27 and 24.00 serving as the immediate downside targets. The 200-day moving average could prove to be a solid barrier to this move. However, a break of this dynamic support opens the door for this drop. This move also brings additional targets at 22.47 and 20.12 into the picture.
Chainlink: Daily Chart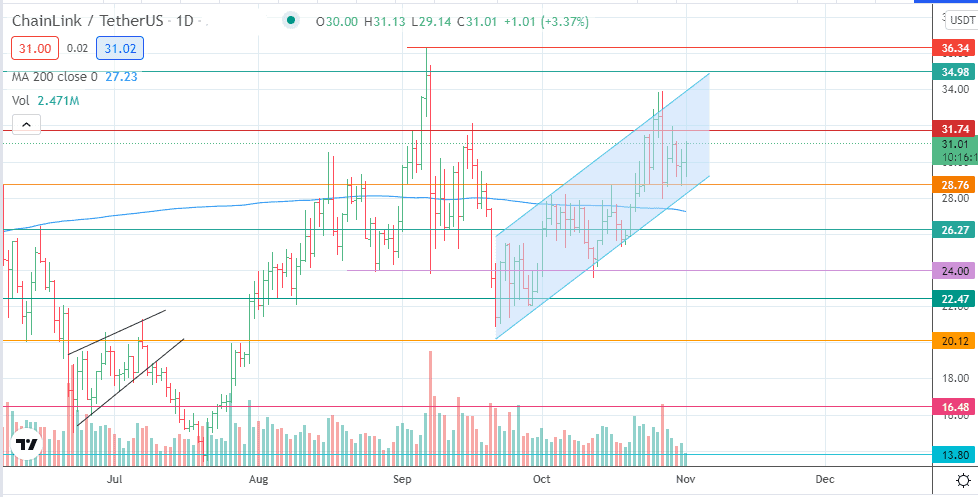 Follow Eno on Twitter.