The Legal and General share price is trading lower following the 760 million pound pension buy-in with the Sanofi Pension Scheme. According to details of the buy-in, this is the first Pension Risk Transfer transaction that the Sanofi Pension scheme will enter into with Legal and General.
While the news did not lift the sour investor sentiment on the stock, some pointers could generate new demand. Annual revenues have been rising over the last five years, and shareholders received more than £150million in dividends and buybacks. A rise in UK interest rates may also benefit the company by boosting its fixed-income investments.
The company has set a target to generate £500million – £600million in operating profits from alternative investments by 2025. These factors may enable the Legal and General share price to push up from its current levels. The stock is down 0.85% on the day.
Legal and General Share Price Outlook
The intraday violation of 280.6 has brought the price action in contact with the channel's lower edge. A breakdown of this area targets 275.0 initially, with 268.7 and 260.3 forming additional price targets to the south.
On the other hand, a bounce from the channel's lower edge has to cross beyond 280.6 for 286.0 to become the new target. A break of this resistance ushers in 293.3, with 289.2 serving as a pitstop. A further advance sees 299.1 coming into the fray as a new target.
Legal & General: Daily Chart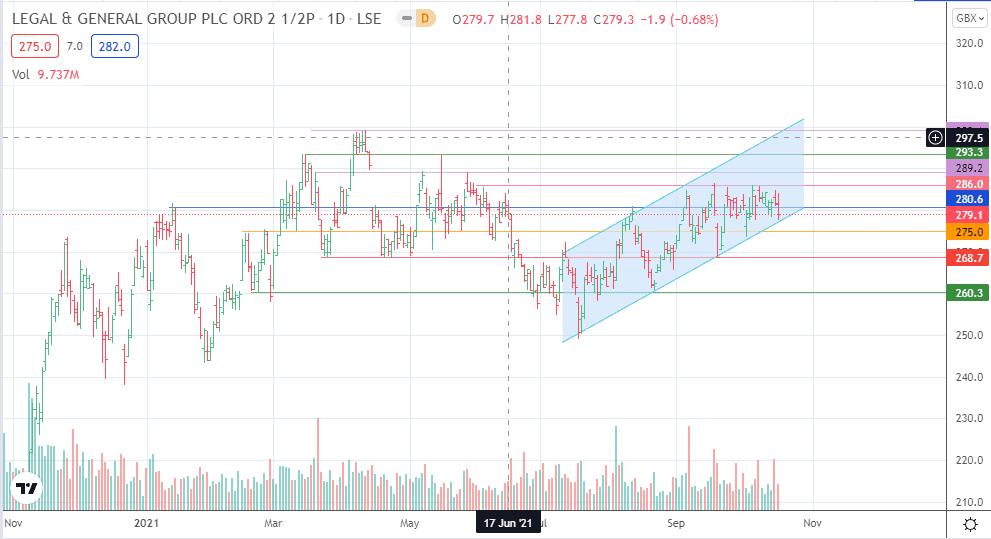 Follow Eno on Twitter.