Bitcoin price tilted upwards on Tuesday morning as investors bought the coin's dip. As a result, the BTC/USD price rose to a high of 20,318, the highest point since July 1st of this year. However, it is still substantially lower than its all-time high of almost $70,0000. 
Bitcoin and US stocks correlation
The BTC price rebound is happening as American shares make a slow comeback. On Friday, the Dow Jones, Nasdaq 100, and S&P 500 index rose by more than 1%. The same bullish trend is continuing in the futures market, where the three have risen by 0.50% as investors position themselves for the new quarter.
Bitcoin and American indices have had a close correlation in the past few months. In most periods Bitcoin rises when these indices are rising and vice versa. This explains why many Bitcoin investors are holding on to their positions. Their argument is that Bitcoin will bounce back when stocks find a bottom.
Still, there are concerns about Bitcoin's demand. For one, the number of Bitcoin buyers has declined as exchanges come under strain. In addition, some of the top companies that are currently under pressure are Celsius, Voyager Digital, KuCoin, and Vauld. Therefore, there are concerns about future demand for Bitcoin among investors who have lost a fortune in the industry.
On a positive note, some of the biggest players in the Bitcoin industry have not exited their trades. These holders include the likes of Tesla, Square, and MicroStrategy.
Bitcoin price prediction
The four-hour chart shows that the BTC price has been crawling back in the past few days. The coin has moved above the important support of $18,800, which was the lowest level last week. In addition, Bitcoin has moved above the 25-day and 50-day moving averages, while the Relative Strength Index (RSI) has moved close to the overbought level.
Therefore, the Bitcoin price will likely continue rising as bulls target the key resistance level at $21,800, which was the highest point last week. A move below the key support at $19,000 will invalidate the bullish view.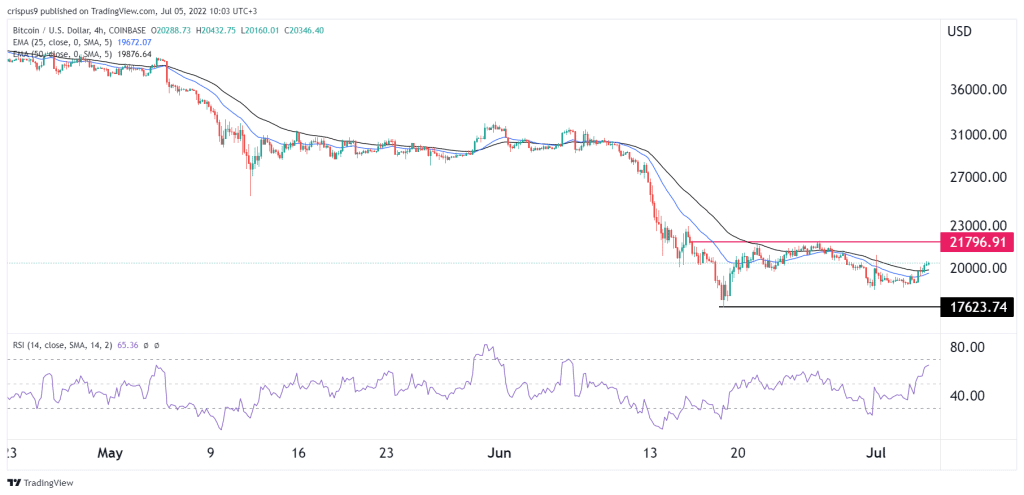 BTC/USD S&R levels
My view is relatively different from that of InvestingCube's S&R tool. The highly-popular indicator says that the Bitcoin price is still bearish. The initial target for this trend is $18,888, followed by the next at $17,890. On the flip side, the stop-loss for this trade is $20,888 and $22,117.