The Binance Coin price is consolidating above the former resistance at $520, which suggests more upside is possible in the near term. Binance Coin (BNB) is slightly softer at $548 (-1.67%) this morning, up around 35% over the last four weeks and almost +1,400% year-to-date. There are currently 168.8 million BNB tokens in circulation with a total value of $91.29 Billion, ranking Binance Coin as the 3rd-biggest cryptocurrency behind Ethereum (ETH).
The exchange token has made a remarkable recovery following China's enhanced ban on cryptocurrencies. When the Peoples Bank Of China (PBoC) banned exchanges from offering services in the nation, BNB suffered more than most. The Binance exchange immediately withdrew support for Chinese citizens following the announcement. As a result, Binance Coin dropped to a two-month low of $316.50. However, over the last five weeks, BNB has rallied 84% to a five-month high. And despite the impressive performance, the technical backdrop remains constructive and potentially points to further gains ahead. As a result, market watchers are becoming increasingly optimistic that the token could replicate Bitcoin and Ethereum and reach a new record price.
BNB Price Analysis
The daily chart shows that BNB is trading above the former resistance level of $520, now the first support. Notably, the Relative Strength Index (RSI) of 67.07 is approaching an 'overbought' signal, although it can run higher from here. The 50, 100 and 200-day moving averages are supportive, plus the 50-day has crossed over the 200. Therefore, the technicals indicate growing bullish momentum. An obvious target for the bulls is the May high of $705. However, for a 25% rally, the planets must align perfectly.
Later today, the FOMC will meet to discuss monetary policy. The likely outcome is that the Fed will reduce asset purchases by $15 billion per month whilst sticking to the 'transitory' inflation narrative. However, the meeting poses an obvious risk to markets in general and, particularly, cryptocurrencies. Therefore, despite the constructive technical outlook, buying Binance coin does carry risk.
Nonetheless, as long as BNB stays above $520, the immediate outlook is bullish, potentially targeting a new ATH. On that basis, a close below $520 invalidates the bullish view.
Binance Coin Price Chart (Daily)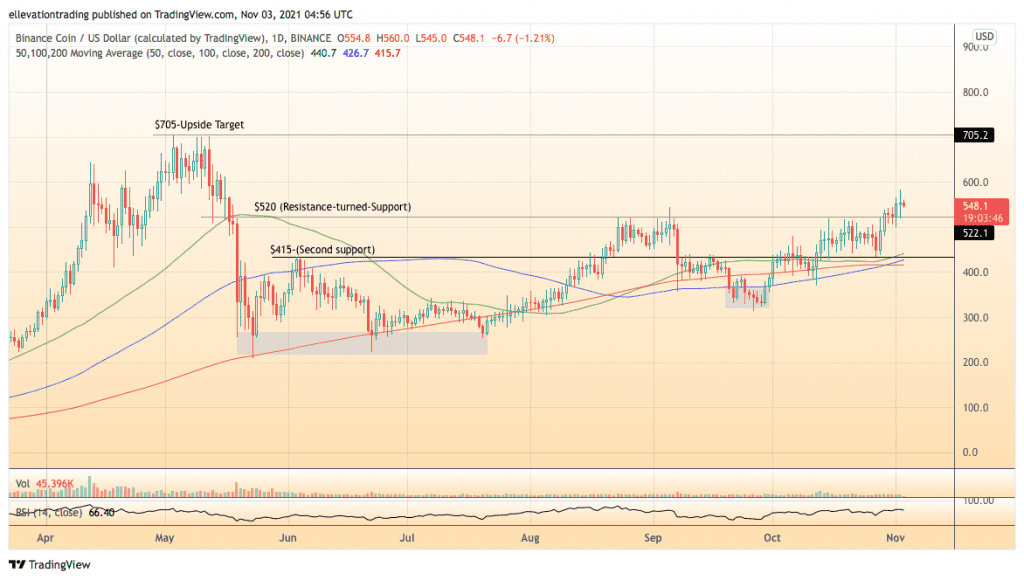 For more market insights, follow Elliott on Twitter.