The ANKR price is currently showing promising signs for the bulls as the cryptocurrency successfully re-enters the $0.0233-$0.058 trading range. Earlier in August, the Web3 crypto coin slipped below its long-time trading range back in August but managed to reclaim it, thanks to a 34% rally in Bitcoin.
On Thursday, Bitcoin reached its 18-month high level fueled by heightened anticipation of the US Securities and Exchange Commission approving Bitcoin spot ETFs this year. A Bloomberg article which was posted today, hinted at a 90% chance of approval for the ETF by January 2024.
According to Defillama, the ANKR crypto has seen an uptick in its TVL(total value locked) statistics in the past few months. At the time of writing, the Web3 ecosystem had about $76 million locked in its network, a notable increase from the October low of $60.8 million.
Earlier in October, ANKR and XDC Network announced their partnership where Ankr will offer its Remote Procedure Calls (RPC) service. The main purpose of the RPC network is to provide a reliable and cost-effective way for developers and users to access various blockchain networks, such as Ethereum, Binance Smart Chain, Polygon, and Solana.
At press time, the ANKR coin is priced at $0.0245 and is down 3.8%. It showed resilience as the crypto markets experienced a flash crash on Thursday as the investors sold their altcoins for Ethereum amid rumors of BlackRock filing for a sport ETH ETF.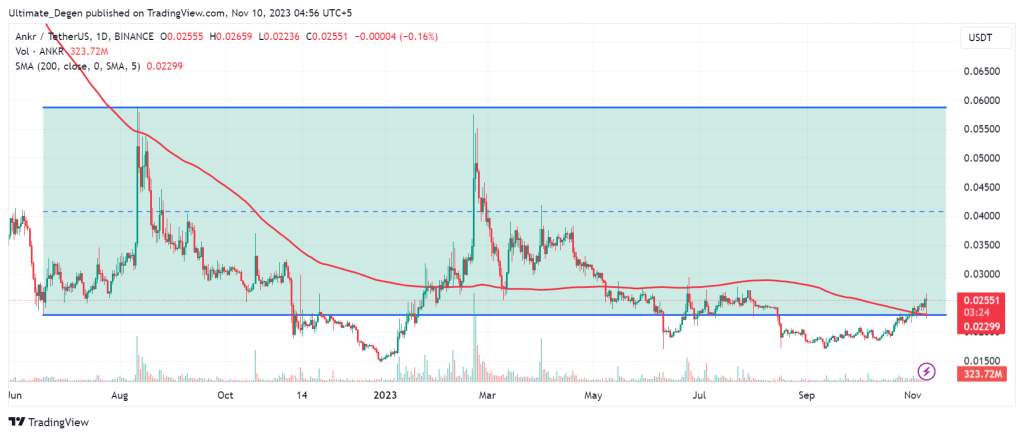 ANKR Coin Price Prediction
The outlook for Ankr coin is looking pretty bullish after giving strong bullish reversal signals aided by the break above the 200 MA level and a reclaim of the previous range lows. Consequently, the initial bullish target will be a June 2023 high of $0.03.
A successful break above this level could lead to a retest of the middle of the trading range at $0.04. However, a surge toward the range highs of $0.058 could also be possible, provided Bitcoin maintains the upward momentum in its price.
The bitcoin pair of ANKR is also displaying strength after a breakout from its downtrend. As a result, I expect the pair to retest its 200 MA, which lies at $0.00000081. The bullish momentum in this pair will also leave a very positive impact on the ANKR/USD pair.