Algorand (ALGO) price is once agains trending lower after a strong upward rally in June. ALGO crypto price has broken the bullish market structure on lower timeframe and technically aiming for more downside. However, the indicators are pointing toward a relief rally after 2 weeks of downtrend.
On Wednesday, altcoin price are experiencing very high volatility due to the release of June CPI report. Most altcoins are showing a positive price actin as BTC price broke above $30,500 onve again. Consequently, ALGO price also rose 1% during today's trading session.
When Will ALGO Crypto Price Recover?
The downtrend in Algorand price intensified when it was labeled as a security by SEC in the recent lawsuits against exchanges. The US regulator recently sued Binance and Coinbase for allegedly breaking securities laws. ALGO was among the digital assets which were mentioned in the legal filings by the SEC.
Another concerning thing that no analyst is talking about is the shocking TVL decrease. I have just noticed a more than 60% decrease in the total locked value on Algorand blockchain in the past two weeks. This suggests that the whales are moving their funds off this layer 1 platform.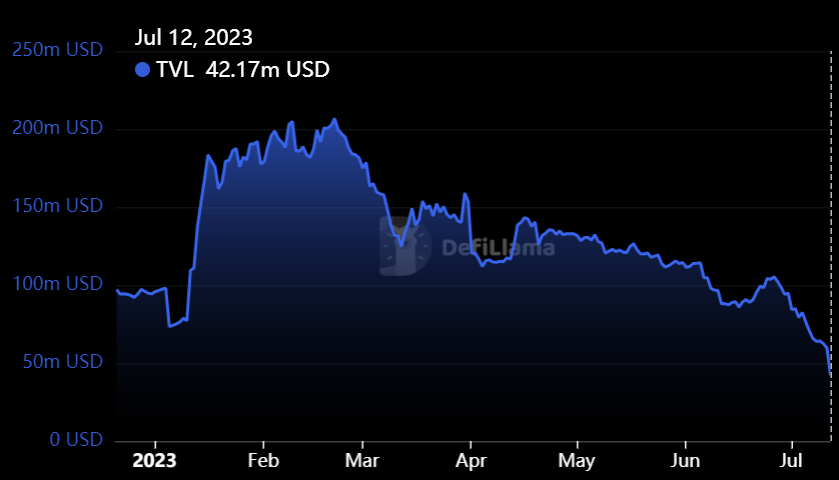 Algorand Price Prediction July 2023
Considering the overall market structure, Algorand price prediction is looking very bearish. However, due to the recent breakdown below 2020 low and the reclaim, I'm not that bearish on ALGO crypto anymore. If th price flips $0.10 level into a support then ALGO could sky rocket to $0.16 within no time.
Therefore, a retest of this level in the coming days will be a key event to watch for Algorand holders. The BTC price action and this month's FOMC may act as a catalyst for this move. If BTC breaks above $31,000, I expect altcoins to follow after some time.
I'll keep posting my updated ALGO analysis and my personal trades on Twitter, where you are welcome to follow me.