Fears over flaws in the Alonzo upgrade have taken the shine off of Cardano (ADA/USD) recently. The ADA price has lost around 20% in value in the last few days after critics revealed users faced issues using the Miniswap decentralized exchange. Following the launch of smart contracts on the testnet, a user revealed an error message when attempting to swap tokens on the Miniswap DEX.
As a result, investors have rightfully started to take some money off the table in the fear that next week's launch with not provide the fireworks once hoped. However, Cardano founder Charles Hoskinson hit back and suggested the criticisms we an unfair representation of the projects' progress. Nonetheless, the price action is starting to turn decidedly negative.
Cardano Price Analysis
The daily chart shows this morning the ADA price has tracked back to the support of the former all-time high at $2.5100. Although, for now, Cardano has found a bid at this level, a drop below it could have serious consequences. In that event, I would expect to see some of the recent longs stopping out of positions. This could potentially force the price to the 100-Day moving average that sits at the horizontal support at around$1.8800.
However, should that prove true, it would represent a 40% drop from the $3.1600 all-time high set earlier this month. And unless the cryptocurrency market suffers a severe meltdown, a move of that magnitude should find willing buyers.
Of course, the upgrade may be a resounding success. And if that's the case, Cardano could go on to set a new record price sometime soon. Although until September the 12th, we won't' know. And therefore, only those with an extremely high risk tolerance should consider buying ADA at this price.
ADA Price Chart (Daily)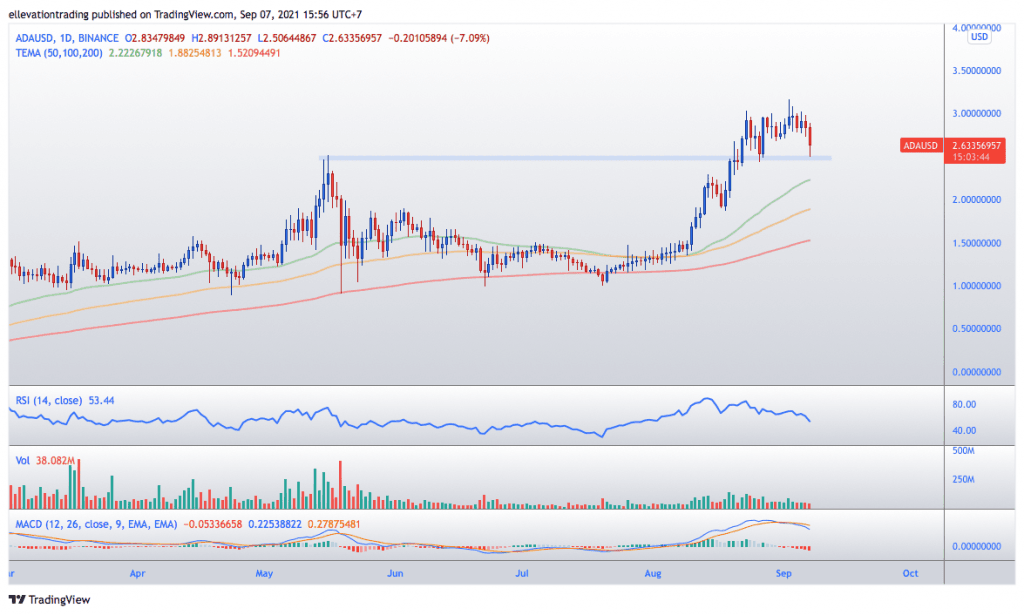 For more market insights, follow Elliott on Twitter.