For those hanging on to bullish Ethereum classic price predictions, the situation on the charts does not give room for cheery news. Price activity faltered on Tuesday, dropping 0.49%. The doji candle has been followed by a 1.15% drop on Wednesday as bullish momentum dries up. With a lack of bullish market fundamentals at the moment, the Ethereum Classic price predictions appear muted.
Holders and miners of Ethereum Classic would soon face an upcoming reduction in the block rewards available to the Ethereum Classic miners. The block reward was last reduced in 2020 when it was cut from 4 ETC to 3.2 ETC after 10 million blocks were created. That reduction followed the adoption of the Ethereum Classic Improvement Proposal 1017, which called for a 20% reduction in block rewards after every 5 million blocks.
Consequently, there will be a downward review of the reward for generating a new block on 3 May 2022, after which mining a new block of ETC would yield 2.56 ETC. Time will tell if this event induces a change in the market sentiment around Ethereum Classic.
Ethereum Classic Price Prediction
The descending trendline on the daily chart and the 33.88 resistance (13-20 December 2021 lows) are the immediate barriers that must be surmounted before the price activity can ascend to the 11 February 2022 peak at 37.80. Clearance of the latter allows for clear skies to navigate towards 44.00. 48.06 and 50.73 are additional price targets for the bulls if the advance continues.
On the flip side, rejection at the 33.88 resistance is an impetus for the bears to charge towards 28.51 (4 December 2021, 11 January/18 February 2022 lows). A continued charge brings 25.10 into the picture, while 21.23 (22 January low) may be an appropriate harvest point for short orders which bet on the degrading of the 25.10 support.
ETC/USDT: Daily Chart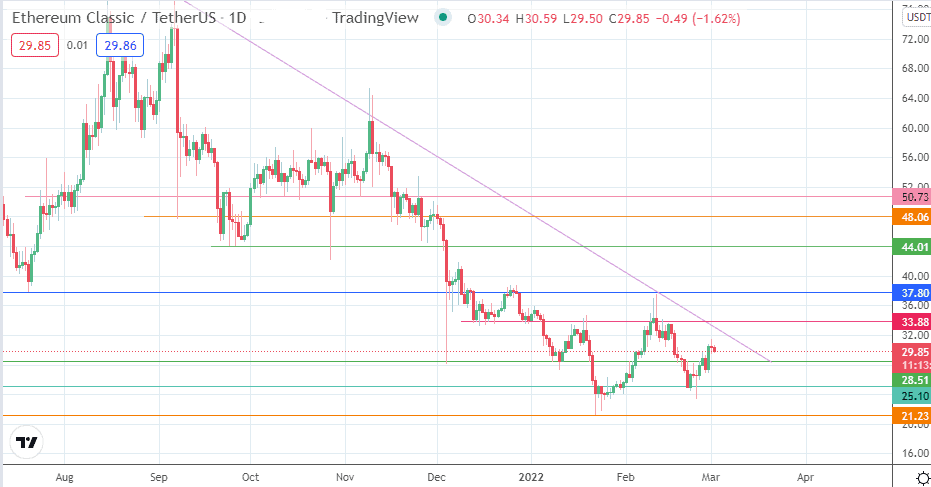 Follow Eno on Twitter.