BNB price predictions appear to be heading in a bearish direction once more after the BNB/USDT pair fell 4.15% on Monday.
The drop comes as the major cryptos continue to struggle for momentum. The BNB/USDT pair had gained modestly for three days in a row, bouncing back from Thursday's selloff. However, Monday's selloff has effectively wiped off these gains.
Binance continues to launch new products and is also set for an Initial Game Offering (IGO) on 27 January. This IGO will feature The "Game of Truth", a blockchain-based esports game that combines the best of E-sports and blockchain gaming to produce an "EsportFi" ecosystem. Era7 and some big names in the industry are behind Game of Truth.
BNB Price Prediction Outlook
Monday's decline, which came off the descending trendline, has violated the 481.2 support. However, this violation must lead to a 3% penetration close below this support to confirm the breakdown. A successful breakdown opens the door towards 450.9, with 427.6 and 388.3 lining up as potential targets to the south.
On the flip side, a successful defense of 481.2 allows for a potential recovery bounce that targets 511.3. Above this level, 532.6 and 558.1 are additional targets to the north. If the bulls cross above the descending trendline that intersects the 511.3 resistance, the sentiment could be bullish.
BNB/USDT: Daily Chart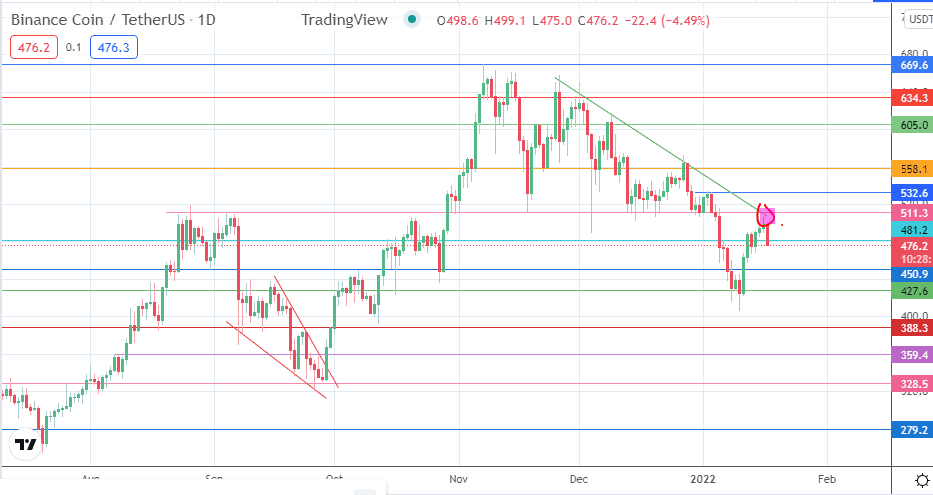 Follow Eno on Twitter.