The Shiba Inu price predictions continued to take a turn to the downside as the token fell 5.24% in Friday's trading. This decline followed a price rejection at the 0.00003092 resistance, after a violation of this level was quickly beaten back by the bears on Thursday.
Despite 27.6 million Shiba tokens burned in the last 24 hours, data from the WhaleStats whale purchase surveillance platform indicates that Shiba Inu whales were still amassing new tokens. The top 100 whales are said to have raised their holdings by nearly 2.3% in the last 24 hours. However, the average value of these holdings has dipped 4.5% due to the market selloff.
The Shiba Inu community continues to grow. Indian crypto exchange Koinbazar has added support for the SHIB/USDT pair, allowing traders from all over the world (including the US) to purchase Shiba Inu at the current prices, which to the whales are bargain prices.
Shiba Inu Price Prediction
The failed attempt to recover beyond 0.00003092 has precipitated the renewed selloff from this price rejection. This decline is expected to touch base at the 0.00002715 support level. If this support fails to hold, 0.00002381 becomes the new target. 0.00002034 may become more visible as the price declines further, marking the lowest the token will get to since 7 October if it does get there.
On the flip side, any recovery on the Shiba Inu token must be preceded by a breakout from the 0.00003092 resistance. Only when this happens can 0.00003553 and 0.00004054 become available as new northern targets. A break of the latter changes the Shiba Inu price prediction sentiments, allowing for a further advance towards 0.00004574 and 0.00005001. 
SHIB/USDT: Daily Chart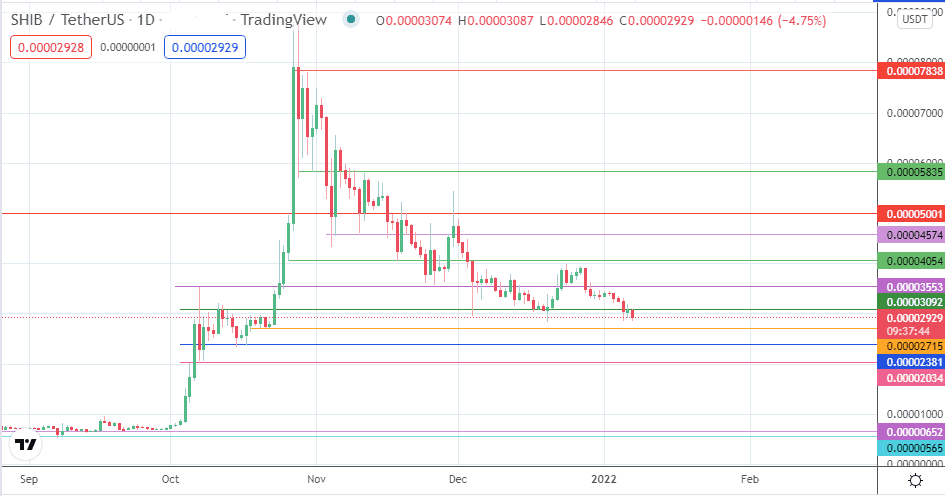 Follow Eno on Twitter.