A relatively old cryptocurrency, Neo GAS has suddenly resurrected from its own ashes. It seems to be unstoppable due to persistent demand from a South Korean exchange. Consequently, GAS crypto has surged 323% in the first 10 days of November after posting 162% gains in October.
Bitcoin price surged to $38,000 on Thursday on the news of BlackRock's spot ETF filing. However, the market had a sharp rejection from that level and has been consolidating around $36,500 since then. However, GAS price remained strong and outperformed most of its peers.
While the exact reason behind the ridiculous surge in the GAS crypto price is not known yet, it is quite evident that most of the volume is coming from just a single Korean exchange. Data from Coingecko reveals that the Upbit crypto exchange is responsible for almost 69% of the GAS trading volume.
Korean crypto exchanges have a history of market manipulation and such giga pumps. This was quite common during the bull run of 2016-17. Nevertheless, I am still amazed how a dormant cryptocurrency has skyrocketed to such an extent without any major fundamental change.
One possible reason behind the bullish price action could be the recent announcement of an MEV-proof sidechain from the NEO founder. Since GAS token is the native asset of NEO ecosystem, its demand may increase if the sidechain gets widely adopted.
GAS Price Prediction & Technical Analysis
As shown in the chart below, GAS to USD price is now targeting the next resistance level of $32. This price level is very significant and has been acting as a pivot since 2017. The same chart also reveals that the price has soared to its highest level in the last 5 years.
While GAS crypto price prediction is looking very bullish at the moment, I won't be chasing this pump. This is because the price has had an exponential surge in the last few weeks and such parabolic runs often end with intense price reversals.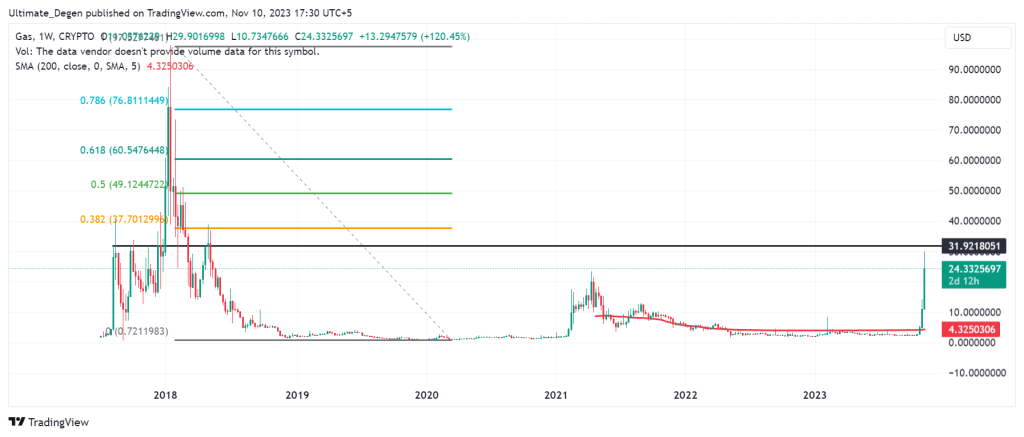 Article Sources
Chart and technical analysis performed on Tradingview.com
GAS trading volume and latest stats from https://www.coingecko.com/en/coins/gas#markets
NEO TVL, https://defillama.com/chain/NEO