Jasmy coin price performed very well at the beginning of 2023, but the bulls failed to maintain the momentum. The price peaked at $0.0083 in February 2023 and has been downward since then. The latest analysis reveals that JAMSY coin price prediction is not looking very bullish for long-term investors.
What Is JASMY Coin?
Jasmy was first registered in 2016 as an IoT company. The company aims to democratize the data of IoT devices to foster and accelerate innovation. Most of the IoT data is being stored on centralized servers. This practice makes it quite vulnerable to hacking and other similar incidents.
Jasmy secures this data by storing it on IPFS instead of centralized servers. Iotex is another cryptocurrency focused on IoT. Before moving on to our Jasmy coin price prediction, let's have a look at the biggest holders of JASMY crypto.
When Did Jasmy Coin Come Out?
JASMY coin started to trade on exchanges on February 2021. Since then, the coin has been listed by almost all the major exchanges in the world, including Binance and Coinbase. Currently, it has a market capitalization of $204 million, which makes it 164th biggest digital asset in the world.
Who Owns JASMY Coin?
According to Etherscan, there are currently 51,684 holders of JASMY coin. This makes it one of the most popular cryptocurrencies. The major holders include exchanges like Binance, MEXC, Gate.io, Crypto.com, and Coinbase. The JASMY Deployer address currently holds 4.8% of JASMY.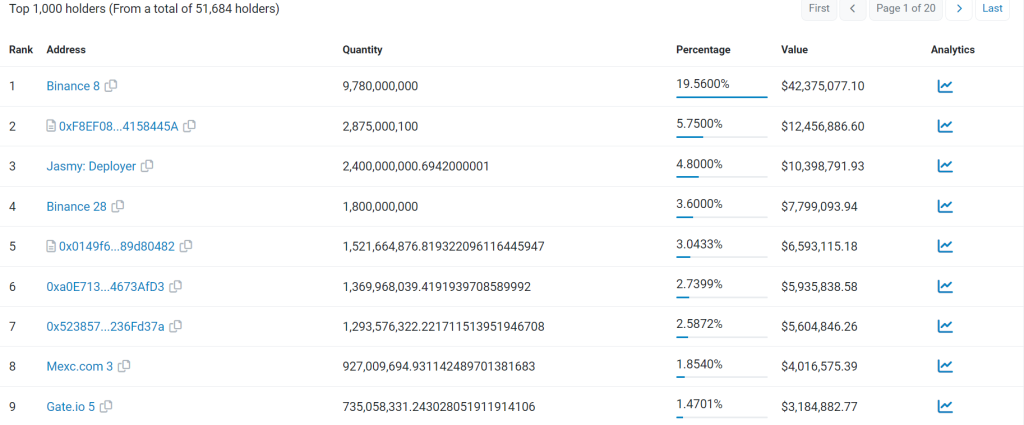 I'll keep posting my updated analysis on JASMY & my personal trades in my free Telegram group, which you're welcome to join.
Jasmy Coin Latest News
According to the latest JASMY coin news, the project has unveiled a blockchain PC. The computer known as AVITA will be blockchain applications ready and was first unveiled at the COMPUTEX TAIPEI in Taiwan. JASMY is yet to be integrated into the newly announced product.
Jasmy Coin Chart
Jasmy price has been in a tailspin since its all-time high of 4.79 in February 2021. The Binance listing also failed to result in a significant recovery for the price. Consequently, one of the most popular cryptocurrencies in Japan is now 99.9% down from its all-time high.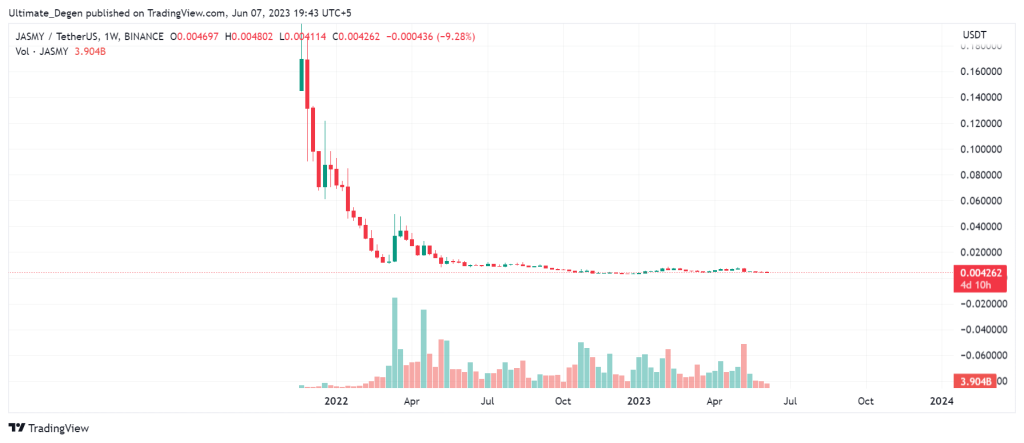 Jasmy Coin Price Prediction 2023
As mentioned, JASMY crypto price started 2023 with a 188% surge in the initial few weeks. However, the price action reversed as the leading exchange Binance moved the cryptocurrency into innovation zone. The leading exchange cited a lack of any significant development by the JASMY team for this downgrade.
This resulted in a sell-off which made JASMY coin price prediction 2023 very bearish. Considering the downward momentum, I expect JASMY to keep trading below $0.005 in 2023.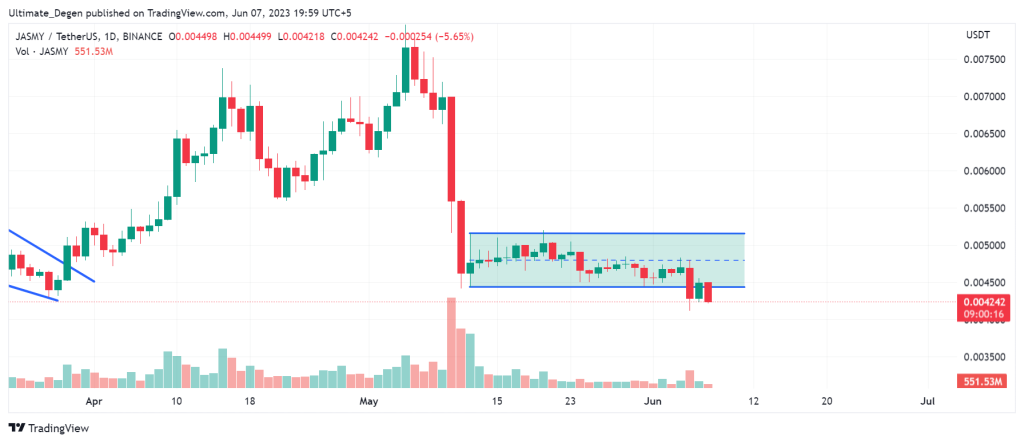 Jasmy Coin Price Prediction 2025
The price action of any cryptocurrency in the next 3 years is very difficult to predict. Actually, two many red flags for JASMY crypto got validated by the recent action by Binance to move it to the innovation zone. Therefore, it is very unlikely that JASMY will see new highs in the next 2-3 years.
Jasmy Coin Price Prediction 2030
In the next seven years, thousands of new cryptocurrencies will be launched. JASMY coin is not the first IOT crypto, and it is not going to be the last. Therefore, I'd be surprised to see JASMY/USD still trading on major exchanges in the next 5-7 years. Therefore, the Jasmy coin price prediction 2030 is also looking bearish to me.
Where To Buy Jasmy Coin?
You can buy JASMY coin on almost all the major global exchanges. You have to see which exchanges are appropriate for you, depending on your geographical location. Generally, ByBit is one of the best exchanges to buy JASMY, where I personally trade as well.
How High Can Jasmy Coin Go?
The market cap of JASMY makes an exponential upside almost impossible for it. It is highly unlikely that the coin will reach $1 once again as this will put it at a market capitalization of around $5 billion. Fundamentally, JASMY doesn't appear to have that much worth in the crypto industry with so many major players.
How Many Jasmy Coins Are There?
According to the crypto data tracking website Coingecko, the maximum supply of JASMY coin is 50 billion coins. However, only 47.5 billion coins are currently in circulation. Such a high circulating supply of JASMY coin makes a significant increase in price very difficult due to its high market capitalization.
How To Trade Jasmy Coin?
JASMY coin can be traded on Binance, ByBit, Coinbase, and many other exchanges. You just need to signup on to an exchange like ByBit and buy JASMY with your credit card within a few minutes by following a few simple steps.
Conclusion
The recent action of Binance to move JASMY crypto to the innovation zone is very alarming for the long-term holders. If you are familiar with all the latest developments of the project and believe in its future only, then you should be buying it for the long term. To me, this project has too many red flags to consider it a long-term investment.