In this article, we'll be analyzing different scenarios to develop Internet computer price predictions for the next few years. ICP coin was launched in May 2021 and the ICP price went bonkers immediately due to its Coinbase and Binance listing. On the listing day, ICP price traded above $400 while some exchanges even reported an all-time high of over $700. However, the initial pump was unsustainable and the price crashed with the rest of the crypto market in the same month. Currently, Internet computer price is trading at $19.86.
What is Internet Computer and How does it Work?
As the name suggests Internet Computer aims to become a decentralized Internet-based global computer. Unlike Ethereum whose ambition is to become the application layer of the internet, Internet Computer aims to replace the entire internet. This makes the project one of the most ambitious crypto projects.
Internet computer works by establishing a series of data centers around the world. Each data center consists of multiple nodes while nodes from multiple data centers are grouped into subnets. All the subnets act as proof of stake blockchains with a novel consensus mechanism known as Threshold Relay. Instead of conventional smart contract functionality, Internet Computer claims to have canisters which are like smart contracts on steroids. The project has its own programming language called Motoko for building next-generation distributed applications on the network.
Founder of Internet Computer
Internet Computer is the brainchild of veteran computer scientist Domini Williams, who conceptualized it after learning about Ethereum. Although the project had been in development before 2016, the first seed round happened in 2017. During this public seed round, the company raised $4.1 million in exchange for around 25% of ICP's total supply. Around 500 investors, mostly from the Ethereum community joined this round and their allocations were vested across 4 years. Internet Computer price is currently trading at $19.86.
The team conducted a private round in 2018 and sold 7% of the total supply at $0.63 per ICP token. Around $20.5 million was raised in this round. Investors in a second private sale later in the same year had to pay $4.5 per ICP coin. In this way, the project raised a total of $100 million during the second round by selling nearly 5% of ICP's total supply.
Latest ICP News and Roadmap
In January 2021, Internet computer founder Dominic Williams announced the project's roadmap via a long medium post. This could be termed as the longest roadmap by any crypto project to date. The Dfinity Foundation aims to spread adoption and double its team of experts within the next 4 years. Dominic seems to be pretty confident that the Internet Computer will become a viable alternative to the traditional internet within 10 years. He also believes that the project could potentially replace the current internet within the next 20 years. These ambitious and forward-looking statements from the founder if realized could send Internet Computer price to the stratosphere. This could also give us a better shot at ICP's price prediction.
Internet Computer Price Prediction 2022
ICP price is currently more than 90% down from its all-time high. Internet Computer price peaked from $400 to $800 on different exchanges at its listing date. At the time of writing, the ICP coin price is trading at $19.86. The chart shows that the price is hovering inside a falling wedge after hitting a high of $87 in September 2021. The price made new lows of $18.06 on 22nd January 2022 but bounced off the bottom of the falling wedge.
Since the falling-wedge is a bullish pattern, we can easily consider a higher high in the ICP price. Consequently, our Internet Computer price prediction 2022 also looks slightly bullish. If the ICP price can break out of the falling wedge pattern, then our ICP price prediction 2022 is going to be $60-$80 by the end of the year. $80 is only possible if the price holds above the key 0.618 Fibonacci retracement level of $60 in the short term and the upside continues.
ICP Price Chart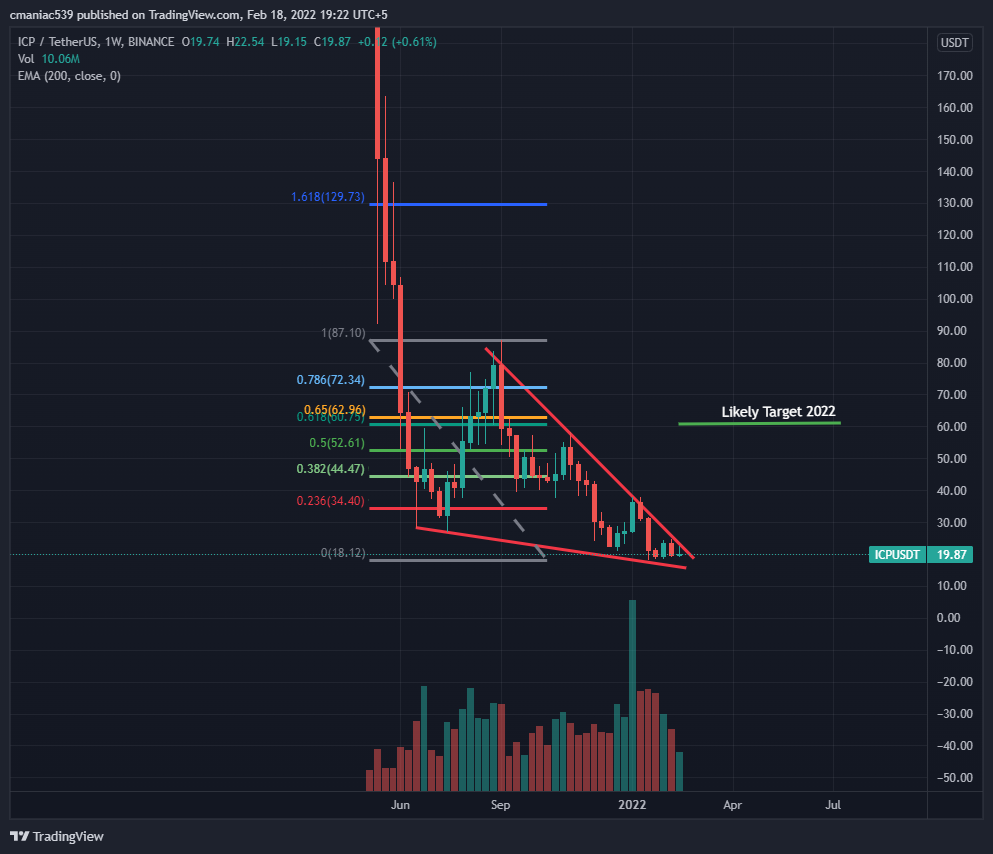 Internet Computer Price Prediction 2025
The native coin of Internet Computer ICP is already the 36th biggest cryptocurrency by market cap. It boasts a huge market cap of over $4 billion which is way more than its current adoption stats. This huge market cap makes any distant upwards price target very difficult for the ICP price. Nevertheless, considering both bullish and bearish scenarios we can analyze our Internet Computer price prediction 2025.
If the network gains considerable user adoption while also developing key protocols on its network, then the price could increase significantly. In such a bullish scenario $130 could be a valid ICP price prediction 2025. However, this would mean a market cap of a whopping $30 billion which could only be justified by a much wider global adoption. Similarly, if the project fails to deliver and the global macro-economic situation deteriorates, then the ICP price could plummet to a couple of dollars.
Internet Computer Price Prediction 2030
If the Internet Computer really becomes a viable alternative to the modern internet by 2030, then the holders could really make a fortune. For this to happen, ICP would need to flip Ethereum and become the biggest decentralized smart contract platform. Putting ICP at the current market cap of Ethereum i.e. $347 billion gives us an ICP price prediction of $1722. However, this eye-popping Internet Computer price prediction is based on the forward-looking statements from Dominic Williams. While these statements look more like a dream than an ambition, it's up to the community to decide the project's worth in future.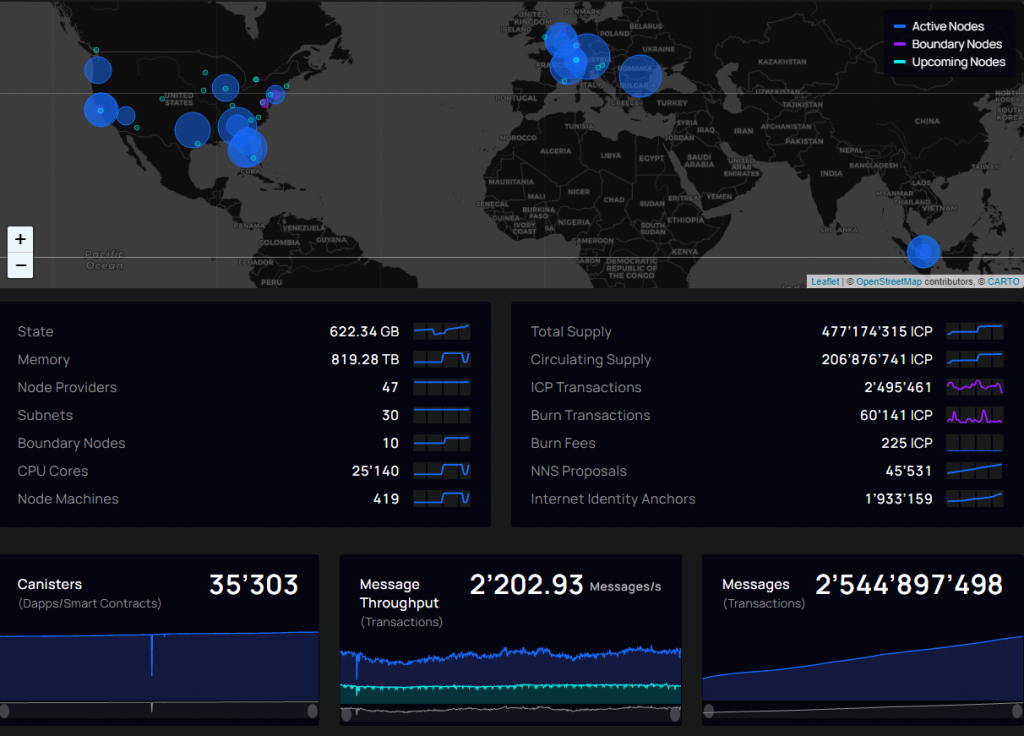 Is ICP a Good Investment?
Before you ask 'is ICP a good investment?', you must be clear about your investing targets. If you're looking for a quick profit then ICP price could easily double in 2022 from the current price level. However, a different approach is required for a long-term investment perspective. If one wants to invest in Internet Computer for the long-term then many better entry points are expected to arrive within the next few years. This is due to the fact that its market cap is already way more than the platforms with much more user adoption.