Brent crude oil price started the year on a positive note amid rising optimism of elevated demand. It rose to a high of $86, which was the highest level since December 5 of this year. It has risen by more than 14.7% from the lowest level in December.
Oil demand and supply 2023
Crude oil prices are usually determined by supply and demand dynamics. 2023 will be characterized by rising global demand and supplies for oil. Most of this demand will come from China, which is unwinding its restrictive Covid-19 policies.
Demand in other countries will continue ramping up and possibly soar to the highest level on record. For example, in the United States, the Biden administration is expected to start buying back oil for its strategic petroleum reserves. This could lead to a demand for almost 200 million barrels of oil.
Oil supplies is also expected to remain at an elevated level in 2023. Most of this supply will come from the United States, where the number of active rig count has continued rising. Data published by Baker Hughes shows that the active rig count rose to a high of 622 in 2022, which was a remarkable increase from the 2020 low of 176.
US rig count rising
Therefore, analysts believe that the number of rigs will likely rise to the pre-pandemic high of 885. A higher rig count is a sign of increased supplies. The only factor that could push oil supplies lower in 2022 is if OPEC+ decides to tighten its supplies. The cartel will be inclined to do that in a bid to boost oil prices.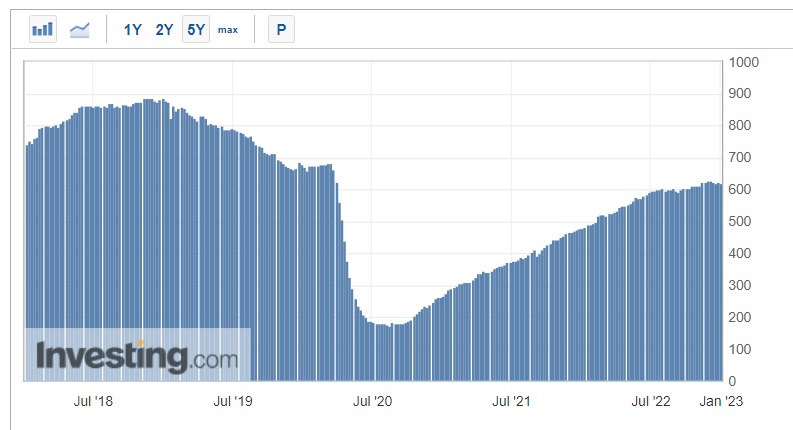 Another supply issue is Russia. Russia banned the sale of oil to countries that were complying with EU and US sanctions. Such a measure will likely lead to lower supplies and possibly higher prices in the near term.
Goldman Sachs, Citi, Morgan Stanley oil forecast
Therefore, Brent crude oil price will react to the rising demand and supply in 2023. This could lead to a surplus, which will affect prices. Analysts at Goldman Sachs expect that demand will soar by 2 million barrels, which will see Brent average about $98 in 2023. The analysts expect that the commodity supercycle will push Brent to $105 in Q4.
Morgan Stanley, on the other hand, sees oil averaging $110 in 2022. On the other hand, Citi expects that oil will end the year at $76, which is higher than the previous estimate of $60.
Brent crude oil price forecast
The daily chart reveals that oil prices have formed a descending channel shown in black. It has now moved to the middle of this falling channel while the sell-off is being supported by the 50-day and 100-day moving averages. The Commodity Channel Index (CCI) has moved close to the overbought level.
Therefore, I suspect that Brent crude oil price will remain under pressure until it moves above the upper side of the descending channel. It will also continue falling as long as it is below the two moving averages. As such, a move below $70 cannot be ruled out.