The recovery move on the CRO/USDT pair following yesterday's crypto market bloodbath has allowed for a reprieve for the bulls. However, a lot still needs to happen for bullish Crypto.com price predictions to return to the market in full force.
Crypto.com has been on a steady decline in the last nine trading days, with only three of those sessions showing very mild bullish action amid heavy selling on the other days. The trigger for the decline was the banning of two ads by the Advertising Standards Authority in the UK. The UK's advertising regulator had deemed the ads as misleading. 
Not deterred, crypto.com is pushing ahead with plans to expand its footprint in the market among institutional customers. It has just increased monthly and daily fiat bank transfer limits, allowing deposits of up to $10m a month with zero fees. Users can also exchange the PAX Dollar for other stablecoins such as USDC, TUSD and BUSD at zero conversion fees.
Crypto.com Price Prediction
The brief recovery seen on the active daily chart now forms a bullish harami along with Monday's candle. This pattern needs validation from a bullish outside day candle, which should ideally take out the resistance at 0.4846 for price recovery towards 0.5200 (15 November 2021 high). Above this level, 0.5408 and 0.5882 are additional price targets to the north whose attainment extends the advance on the CRO/USDT pair.
On the flip side, a failure to validate the pattern due to a lack of bullish momentum may allow the price to dip further, touching off support at 0.4224. Below this level, additional targets are found at the 0.3847 and 0.3151 price levels.
CRO/USDT: Daily Chart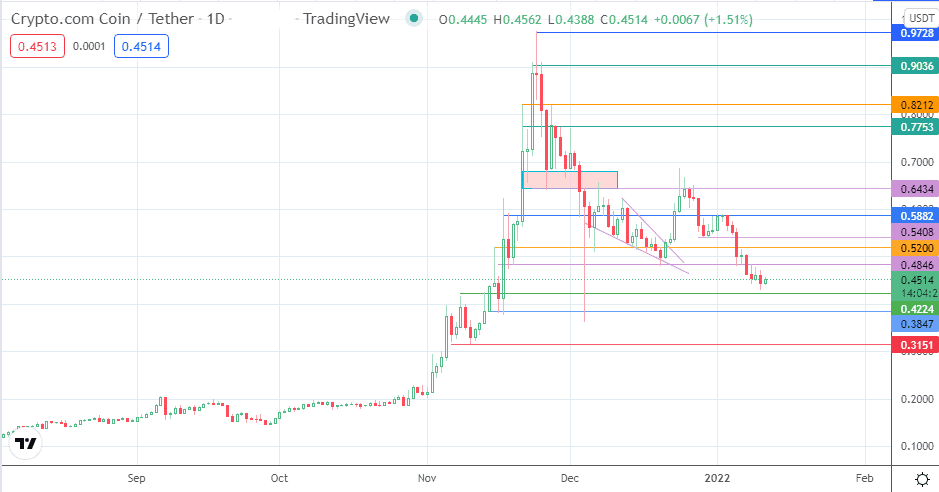 Follow Eno on Twitter.