The price of Chainlink (LINK) has shown a very strong recovery in the last few weeks. The native asset of the biggest oracle network has risen more than 28% during this time. However, the cryptocurrency has now hit a major resistance, and the next few days are going to be very critical.
Bitcoin price turned negative on Tuesday as the pioneering crypto token retraced from its Monday highs. Altcoins investors remained cautious as they waited for the next Bitcoin breakout. At the time of writing, Chainlink price was down 1.12% after a 7.49% surge in its last trading session.
Despite all the bullish news in the market, Bitcoin price is still struggling to gain strength. On Monday, MicroStrategy CEO Michael Saylor announced that the company had bought 5,445 BTC for $147 million.
The latest purchase put the company's total BTC holdings at 158,245, making it one of the biggest institutional holders of the cryptocurrency. However, the crypto markets remained unfazed by the bullish news apart from a minor uptick in Bitcoin price.
The reason behind today's correction in the Chainlink price could be the recent change in its Multisig requirements. The project faced a backlash at the start of this week as a Twitter user pointed towards a reduction in the number of signatories. The previous 4/9 requirement for Multisig was changed to 4/8.
Will Chainlink Price Make New Highs In 2023?
Considering the past few month's price action of LINK crypto, the price is unlikely to breakout from the $5.5-$9.75 zone. This zone has been acting as an accumulation range since May 2022. Chainlink price prediction can only turn bullish on a higher timeframe if it breaks above the $9.75.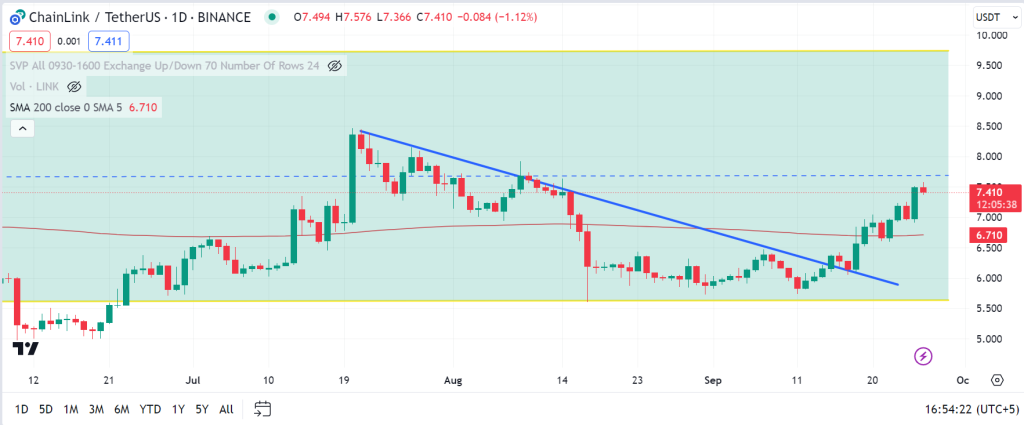 However, the LINK/BTC chart has hit the resistance level of 0.00028, as visible in the chart above. If Bitcoin price fails to gain strength above $26,500, LINK may experience a major correction in the coming weeks. In case the price breaks above 0.00028, I expect the LINK/USD pair to retest $9.75.