In the past few months, the Cardano price had slumped to about $0.97 and dropped over 68% from its all-time high of about $3.17. ADA is now trading at the lowest it has been since May 2021, bringing its total market cap to about $30.97 billion.
In this Cardano price prediction report, we will explain what ADA is, why it has dropped sharply lately, and what to expect in the coming months. We will also share our short-term outlook for intra-week traders.
What is Cardano and what does it do?
A common question among many cryptocurrency enthusiasts has been what is Cardano and what does it do. For a long time, that was a valid question considering that there was nothing to see in Cardano other than its website, which also has its roadmap.
Cardano describes itself as a peer-reviewed blockchain project for changemakers, innovators, and visionaries.
The project's goal is to solve the top challenges that are associated with Ethereum and other layer-1 networks.
For example, while Ethereum is a popular platform, the fact is that it is not the most ideal project for both blockchain developers and users. Users often complain that projects built on Ethereum are significantly slow and expensive. For example, the average cost per transaction of an Ethereum app is more than $30.
Therefore, at its core, Cardano is a project where developers can build high-performing decentralized projects that are both faster and cost-efficient.
A good analogy of what Cardano is is that it is like Android, the company that is owned by Google. Using Android, developers can build apps such as Whatsapp and Facebook.
Latest Cardano Prices Today

Cardano Price
$0.2687
Price Change 24h
-$0.03257
24h Low: / 24h High:
$0.2304 /

$0.3015

Trading Volume 24h
$1,302,604,772
Market Dominance
0.89%
Market Rank
#7
Market Cap
$9,380,423,461
Fully Diluted Market Cap
$12,093,717,092
7d Low: / 7d High:
$0.2304 /

$0.3817

30d Low: / 30d High:
$0.2304 /

$0.3859

All Time High: Sep 02, 2021 (2 years ago)
$3.0992
All Time Low: Oct 01, 2017 (6 years ago)
$0.01735
Last Update
2023-06-10 21:31
Cardano ecosystem: Which projects are built in Cardano?
One of the main reasons why the Cardano price has struggled in the past few months is that there have been concerns about the projects built in the platform. This is not a question that only novice developers ask. As shown below, in 2021, Mike Novogratz of Galaxy Digital was one of the people who asked about this.
The main reason why there were no projects built on Cardano was that for a long time, the project did not have smart contract features.
This situation changed last year when Cardano implemented the Alonzo hard fork as part of its Goguen era. Gogue was the third phase of Cardano's roadmap after Byron and Shelley.
Today, there are several projects that have been built on Cardano. For example, last week, one of the most trending DeFi apps was SundaeSwap, which is a DEX that is similar to Uniswap and PancakeSwap.
There are other DeFi projects built on Cardano. For example, AdaSwap is a platform that creates a bridge, swap, and trade platform between tokens. Other upcoming DEFI projects are DOEX, Cardano Mixer, Cardax, and ADAX among others.
Further, the Cardano price has declined even as the number of NFT projects on the ecosystem increased. Some of the most popular NFT projects built on Cardano are Artano, ADANFT, Artifct, and Lavada among others. The chart below provides a summary of the Cardano ecosystem, including its metaverse projects like Pavia.
Cardano ecosystem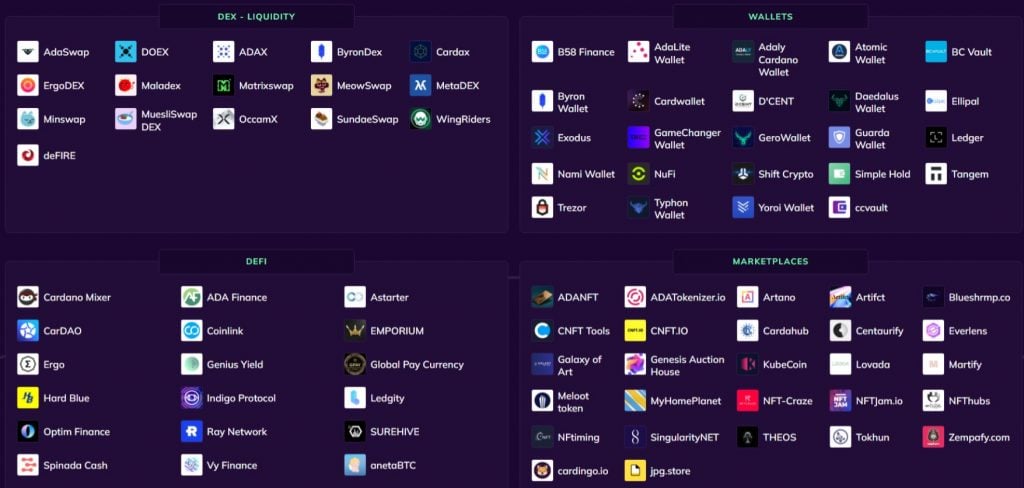 Cardano metaverse projects
The metaverse is one of the most interesting topics in the blockchain industry lately. The ecosystem's goals is to create a virtually immersive platform where people can meet and interact. Gaming is one of the industries that the metaverse platform is seeking to disrupt. Some of the best-known metaverse platforms are Decentraland and Axie Infinity.
Cardano hopes that it will be a major force in the metaverse. However, most of the metaverse projects built in Cardano are currently in their development phase. Some of these projects are Cardano City, Cardano Village, Spacetime Meta, and Reach Metaverse as shown below.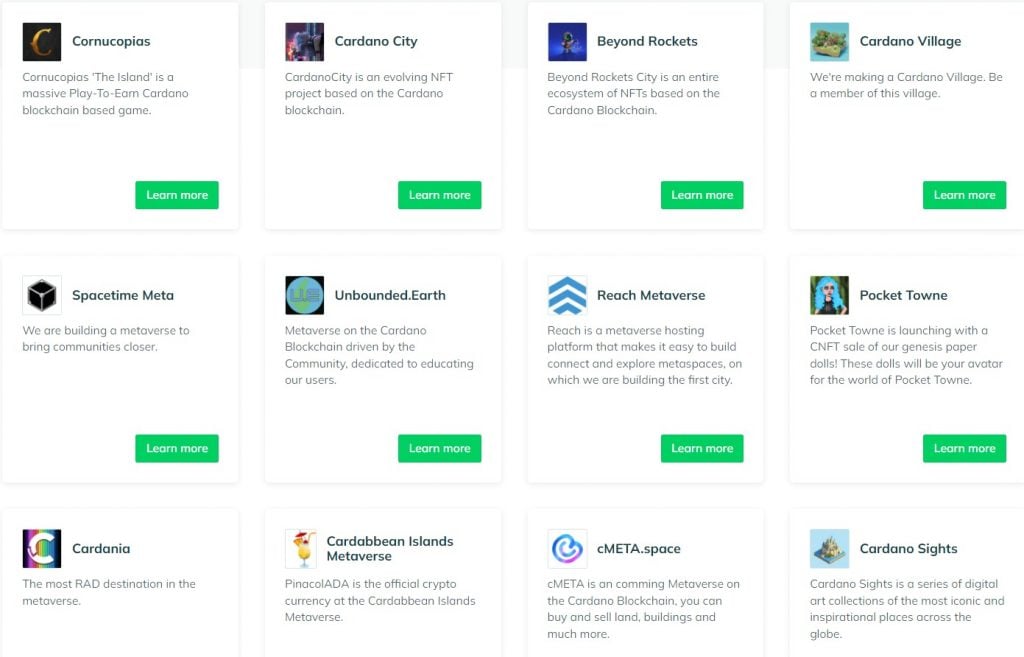 ADA price history
The chart below shows the long-term Cardano price chart. As you can see, the ADA price was received well by investors when it became available in Binance. In 2017, during the cryptocurrency rally, the price of Cardano jumped to an all-time high of $1.40. As you recall, this was during the period when the Bitcoin price jumped to almost $20,000.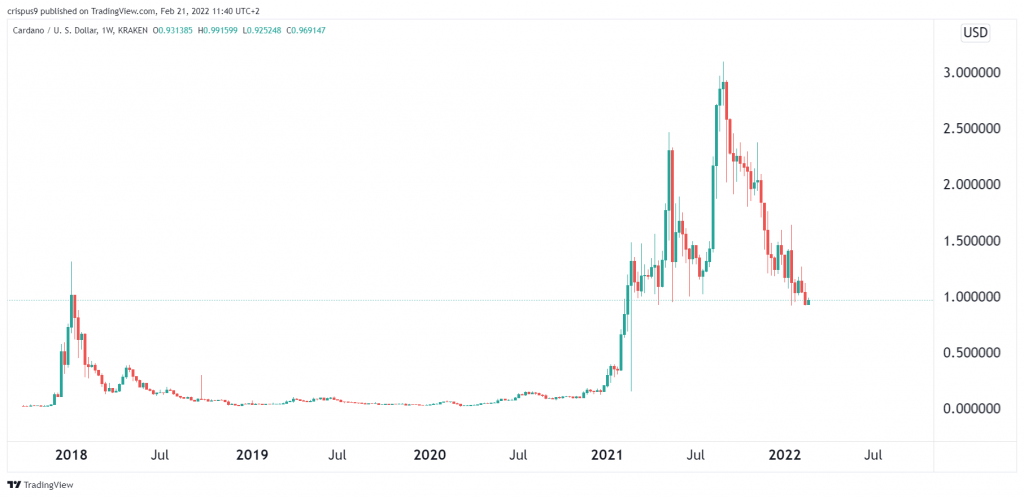 2018 was a difficult year for Cardano and other cryptocurrencies as the Federal Reserve decided to implement high-interest rates. In a bid to fight inflation, the Fed boosted rates by 100 basis points, which dragged cryptocurrencies and stocks
In 2018 and 2019, Cardano remained in a tight range during the biggest crypto winter of all time. The situation changed in 2020 amid the Covid-19 pandemic.
At the time, the ADA price started a bullish trend that saw it jump from a low of $0.035 to an all-time high of $3.20 in 2021. That was a 19,820% increase, which pushed its total market capitalization to more than $90 billion.
Between August 2021 and today, the Cardano price has slumped by over 67% and erased more than $56 billion in value.
Why has Cardano declined?
There are several reasons why the price of Cardano has declined in the past few months. First, this decline is in line with the performance of other cryptocurrencies. Indeed, the total market capitalization of Cardano has slumped from over $3 trillion to $1.6 trillion.
Second, there are fears that the Federal Reserve will embrace a more hawkish tone this year. It has already hinted that it will implement three to four rate hikes this year. As you can see below, some analysts expect that the Fed will implement about seven hikes this year.
Third, the ADA price has slumped because of the overall competition in its industry. Today, platforms like Terra, Solana, Binance Smart Chain, and even Polkadot have gained traction in the industry.
Latest Cardano news
There has been no major Cardano news lately. The most important is the fact that Cardano has entered its Basho phase, which means that developers will focus on scaling the platform. Basho is the fourth phase of Cardano's roadmap.
The second major Cardano news is that activity in the network has jumped to an all-time high as the number of projects in the ecosystem rise. Still, it is worth noting that this all-time high is coming from a low base.
Will Cardano soar to $10 in 2022?
Will the Cardano price soar to $10 in 2022? This is a commonly asked question. Analysts at LongForecast believe that 2022 will be another difficult year for the Cardano price. They expect that its price will continue dropping in 2022 and end the year at $0.55. The earliest that the coin will come back to $1 will be in October 2023.
Meanwhile, analysts at Wallet Investor expect that the ADA price is close to its bottom. As such, they expect that its price will rebound and end the year at about $2. Therefore, it is unlikely that Cardano will jump to $10 in 2022.
ADA price technical analysis: Should I invest in Cardano?
The daily chart shows that the Cardano price has been in a strong bearish trend in the past few months. As a result, the coin is now sitting at a key support level, where it struggled to move below several times in 2021. The ADA price has moved below the 25-day and 50-day moving averages. It has even formed a death cross. Therefore, I suspect that the coin's price will keep falling as bears target the key support at $0.50.
However, if the price fails to trade below the April 2021 low of $0.89, and the price manages to establish itself above the moving averages then the price might be able to reach the January 2022 high of $1.62. I then expect the price to trade sideways between $0.890 and $1.62 level before traders try to force one of the two price levels, with a break to the lower level triggering a push to $0.50, and break to the upper level, possibly lifting the price to $2.34.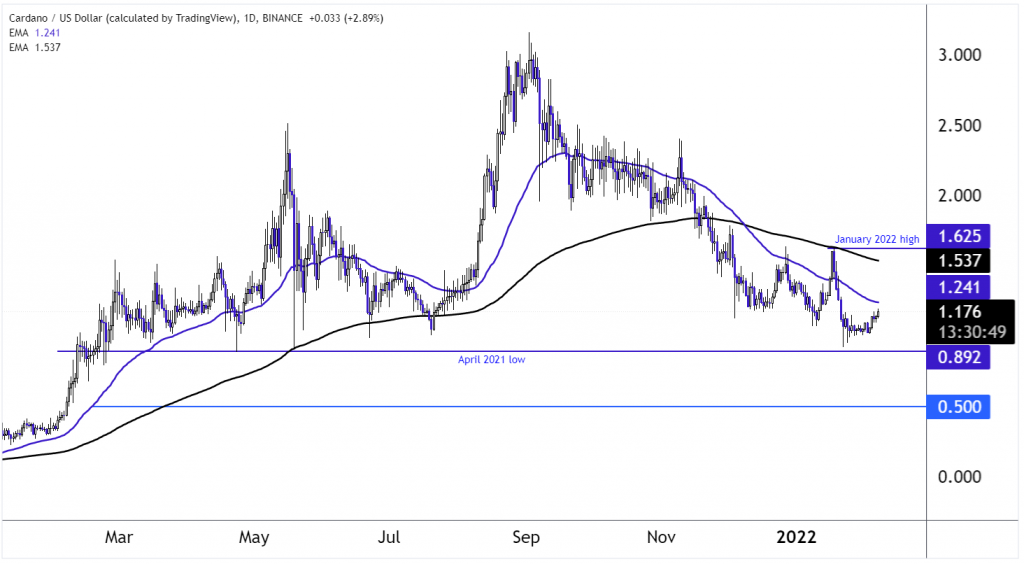 Cardano Price Weekly Outlook
Traders will note that the price is in an uptrend above the February 6 low of $1.09, and as long as we trade above this level the price might be able to reach the February 8 high of $1.26, followed by the January 20 high of $1.426.
Buying dips in the Cardano price is the most interesting trading strategy right now, as the push towards the 2022 high will probably be choppy. Investors and traders alike, looking for a good risk-reward ratio will probably turn bullish in the $1.09 to $1.167 interval.
However, if the price trades below the February 6 low the trend will once again turn short-term bearish. The big levels of $0.892 and $1.62, mentioned above, will once again come into focus.
ADAUSD Four-hour chart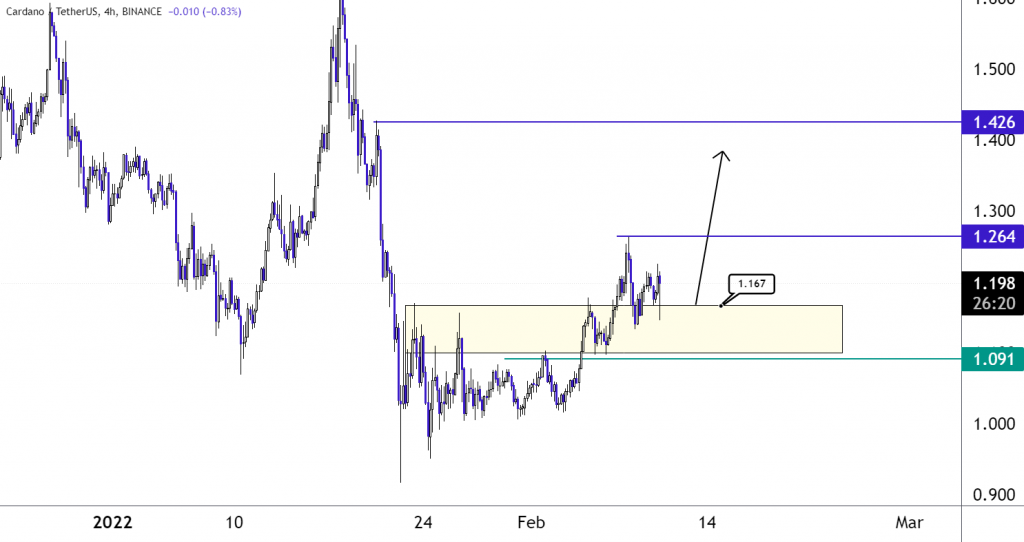 What will Cardano be worth in 2025?
For now, it is difficult to have a good Cardano price prediction for 2025 because of the volatility of the cryptocurrency industry. It is even more challenging because the Cardano network is under pressure from its much younger rivals that have managed to produce many more DApps and interesting usabilities.
For now, ADA has been able to maintain its ranking amongst the top coins, but it is unlikely that they will keep this relative ranking if we have yet another year of little progress.
Famed strategist "Plan B," and his stock-to-flow model has a target for Bitcoin at $120,00 to $300,000 by the end of 2024 and the start of 2025. The model has done well in the long run, and we can use the $120,000 estimate to get a rough understanding of where the Cardano price might be in 2025.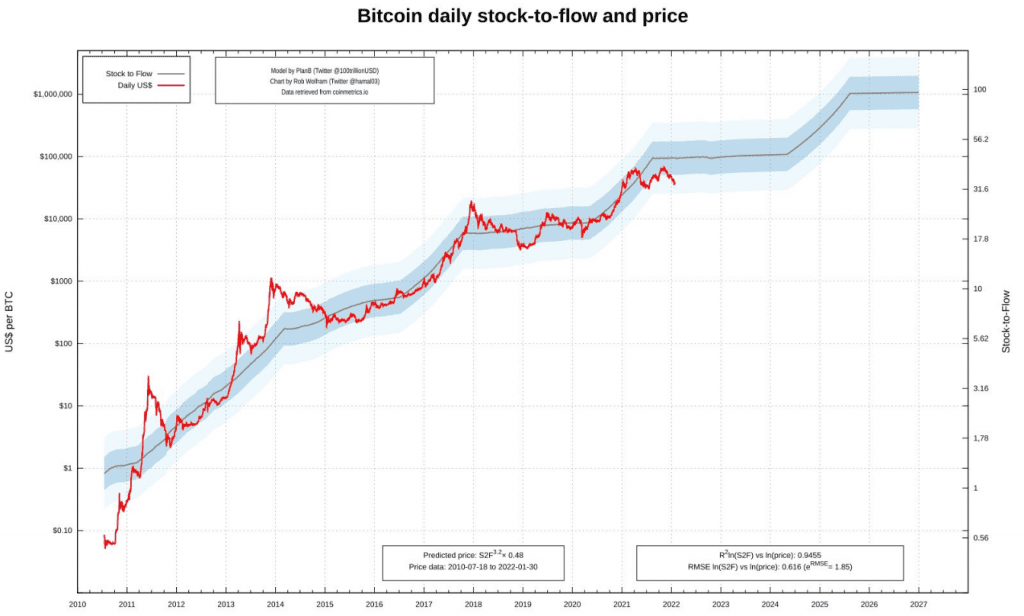 If we take the lower estimate at $120,000 and assume that the relationship between Bitcoin and ADA will remain the same, then the Cardano price should be at $3.31.
However, as seen in the ADABTC ratio chart below, the are huge uncertainties around Cardano.
If Cardano can return to be in the forefront and really challenge ETH, Solana, and AVAX, then Cardano price might be at $7.49 with Bitcoin at $120,000.
However, as seen in the chart below if the disappointment in Charles Hoskinson's Cardano persists, we might find ADA in the lower end of the chart below and could be worth $2.13, or $0.66 if the coin falls into oblivion like some of the top coins of 2017 did in the 2020 to 2021 bull cycle.
Scenarios if BTC at $120,000 at start of 2025
| | |
| --- | --- |
| ADA beats ETH and other top competitors | $7.49 |
| ADA unchanged vs. BTC | $3.31 |
| ADA underperformance vs. BTC | $2.13 |
ADABTC Ratio, Weekly Chart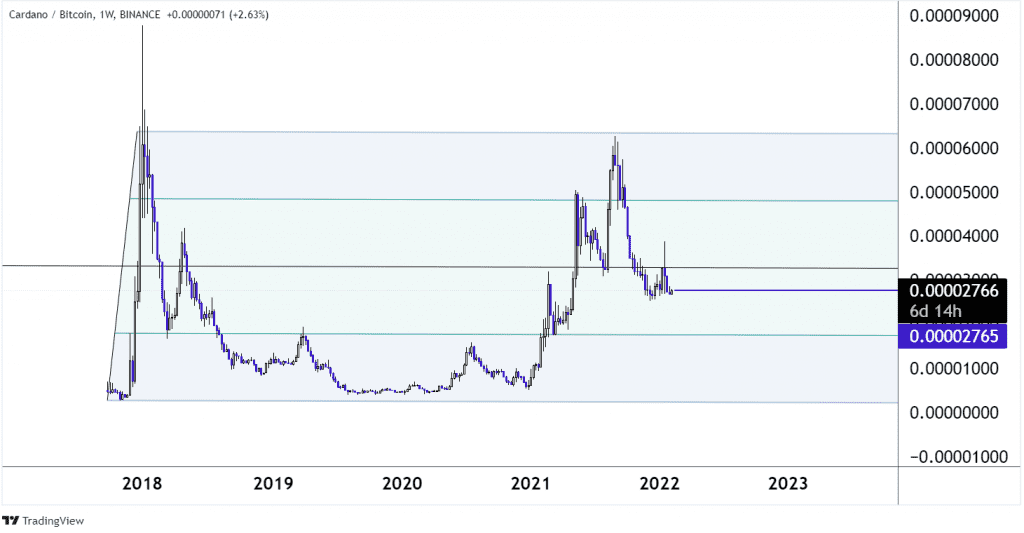 How much is Cardano coin worth?
According to CoinGecko and CoinMarketCap, Cardano has a market cap of about $34 billion, making it the sixth biggest cryptocurrency in the world.
Where can I buy Cardano?
Cardano is a very popular cryptocurrency, meaning that you can find it in most exchanges like Binance, Coinbase, and Kraken. You can also buy Cardano CFDs on platforms like ATFX.