Bonfida price has been in a consolidation phase in the past few days as investors worry about the crypto industry. FIDA was trading at $0.4507, which was significantly lower than this month's high of $0.8702. This price is about 126% above the lowest level this year, giving it a market cap of over $20 million. Serum, on the other hand, has seen its market cap crash to about $63 million.
Is FIDA a good buy?
Bonfida is a leading blockchain platform on Solana's network. It has several use cases, including the Solana Name Service, which is similar to Ethereum Name Service (ENS). Bonfida is the flagship Serum GUI and data analytics in the industry. It has several uses, including Serum API, Serum Dashboard, and Bonfida Bots.
FIDA price crashed earlier this month after the collapse of FTX. Its collapse led to a major contagion in Solana's ecosystem since FTX was a big investor in Solana's ecosystem. As such, most investors sold both FIDA, Serum, and SOL. Most recently, FIDA surged after Serum formed a hard fork and Bonfida resumed staking of FIDA. So, what next for FIDA prices?
Bonfida price forecast
The four-hour chart shows that the FIDA price made a strong recovery in the past few days. It surged to a high of $0.8740, the highest point since May 2022. At its peak, the coin surged by more than 350% from its lowest level this month.
Recently, it has pulled back and moved below the important support level at $0.4846, the highest point on November 5. The coin has moved slightly above the 25-day moving average while the Relative Strength Index (RSI) moved slightly above the neutral point.
Therefore, I suspect that the Bonfida price will resume the bullish trend as investors buy the dip. If this happens, the next key resistance to watch will be at $0.60. A drop below the support level at $0.40 will invalidate the bullish view.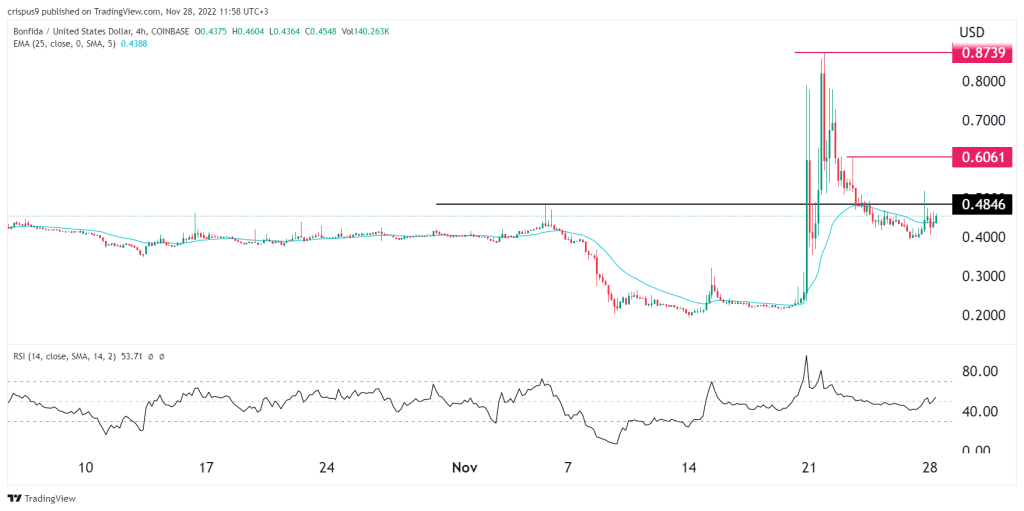 FAQ
Is Bonfida a good investment?
Bonfida is a relatively risky investment. For one, it is a highly illiquid asset that has a significantly low volume. Therefore, there is a possibility that it will have pump and dumps in the near term. Bonfida is also not offered by most exchanges.
Will Bonfida price go up?
As mentioned, in the near term, there is a possibility that FIDA will have some short-term gains. If this happens, it will likely keep rising to about $0.60. However, in the long term, Bonfida will likely remain under pressure.