Bitcoin prices continue to face bearish pressure following last week's market correction induced by China's warning against Bitcoin mining.
More importantly, a notice of confirmation order for the rehabilitation plan filed at the Tokyo District Court by the Rehabilitation Trustee of the Mt.Gox exchange has become final and binding. This paves the way for the Trustee to repay the creditors whose claims are recorded in the Rehabilitation Plan. In other words, the repayments to those whose BTC holdings were trapped in Mt. Gox's wallets when the exchange went under may soon start receiving their holdings.
Given that these are holdings that pre-date 2015 when Bitcoin prices were still in three-digit territory, there could be a flood of these holdings to exchanges to cash out nearly 150,000 BTC at record-breaking profits. This event could impact BTC prices significantly, which is why buying pressure appears to be drying up.
Bitcoin Price Prediction
Last week's recovery from the 56927 support following the rejection at 60745 lacked bullish conviction, which paved the way for the current downside move. A breakdown of this price level opens the door towards 53841, with 50755 serving as an additional move to the south.
On the other hand, a break of the 60745 resistance opens the door for the price to ascend towards the 64,000 resistance (2 November high). This ascent may have to contend with an additional barrier at 66917 if the all-time high at 69,000 is to become visible.
BTC/USDT: Daily Chart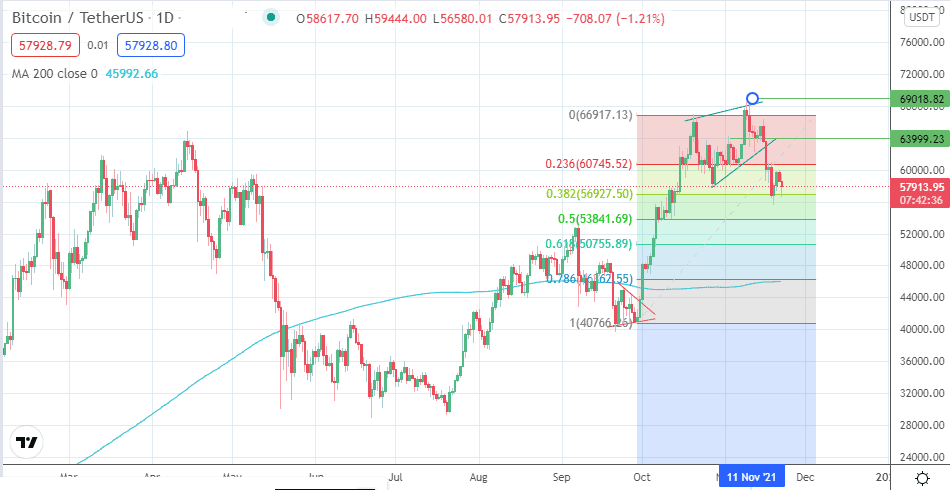 Follow Eno on Twitter.