Badger DAO price is attempting a major breakout, which may potentially double the price in the coming weeks. However, it is too soon to jump on the bandwagon as the breakout is not yet confirmed.
At the time of writing, BADGER price is hovering around $3.66 after a 0.27% gain on Monday. Most of the other altcoins are also showing minor gains after a correction in the last week. This was due to the dip in Bitcoin price which took it below $36,000.
In the past 24 hrs, $14.6 million worth of Badger DAO has changed hands across all the centralized and decentralized exchanges. There also seems to be an increase in trading volume since the weekend which shows an increased investor interest.
Despite an 86% surge from its last month's lows, BADGER coin remains 95.85% down from its all-time high which it made back in February 2021. The downtrend could be attributed to the decreased adoption and the decreasing TVL on the DeFi platform.
BADGER Coin Price Prediction
As the name suggests, Badger is the native asset of the BADGER DAO which is a decentralized community developing the tools to make Bitcoin DeFi-friendly.
After a phenomenal rally from its October lows, the cryptocurrency is now respecting a downward trendline. This price action can be seen on the following chart on a 4-hour timeframe.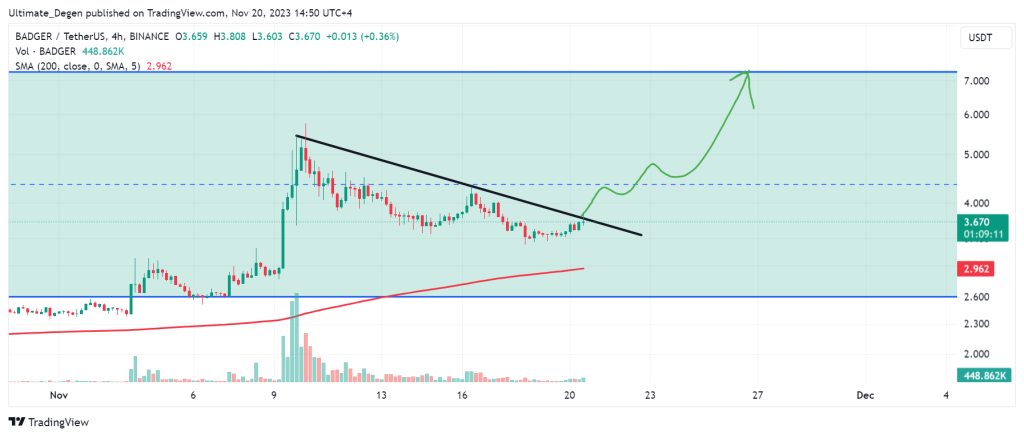 Badger price prediction depends on the bull's ability to break out of this downward trendline and reclaim of the $4.36 level which is the middle of the current trading range. If this occurs, a retest of the range highs around $7.3 could only be a matter of time.
This will be an almost 93% price increase from the current prices. However, the $3.66 level may present a strong resistance in the coming days. Therefore, I will be personally watching this breakout very closely. However, the invalidation of this bullish prediction will be a rejection from the downward trendline.
You can now also follow me on Twitter to follow my personal stock and crypto trades.