Recent higher lows on the AVAX chart are giving a bullish Avalanche price prediction for the rest of the year. AVAX is the native token of the Avalanche ecosystem and it is currently trading at $84. It is nearly 42% down from its November 2021 all-time high of $144. As compared to most other L1 platforms, the AVAX price is looking much stronger.
What is Avalanche Crypto?
Avalanche is a layer 1 smart contract platform that has seen a huge wave of network adoption in 2021. The network uses a modified version of Ethereum Virtual Machine (EVM) and also differs from Ethereum in architecture. Avalanche network consists of 3 blockchains which are called Exchange (X) Chain, Platform (P) Chain, and Contract (C) Chain.
All tokens on the Avalanche ecosystem are issued on X chain which is a DAG-based blockchain. It can process up to 4500 transactions per second. P chain is used to stake AVAX crypto tokens for securing the network. It is a conventional EVM-compatible blockchain with a throughput of 1500 transactions per second. C Chain is the default chain for the creation of Ethereum compatible smart contracts. The transaction speed at the C chain is also 1500 tps. Before taking a look at Avalanche price prediction, let's learn about the project's history.
Project History and Founder
A Cornell professor and a computer scientist Emin Gun Sirer launched Avalanche in 2018. It was built by Ava Labs which is a for-profit company registered in the USA. A non-profit Avalanche Foundation also coordinates the project's development. The project raised around $60 million in different token sales which were concluded in 2019 and 2020. In September 2021, Avalanche raised another $230 million in another private sale that included funding from several top crypto VCs.
Latest Avalanche News Today
AVAX crypto price is currently trading at $84. DeFi Lama shows that the TVL on the platform is rising once again after dropping nearly 30% in January 2022. The current Total Locked Value on the platform is $10.87 billion. It is still 20% down from November 2021 all-time high value of $13.7 billion. Dapp Radar shows that Trader Joe and Pangolin Exchange are the Dapps with the most user activity on the platform.
Both of these Dapps are decentralized exchanges and prove that DeFi is thriving on Avalanche. Due to this increase in network activity and rising TVL, Avalanche price prediction is looking quite bullish for this year.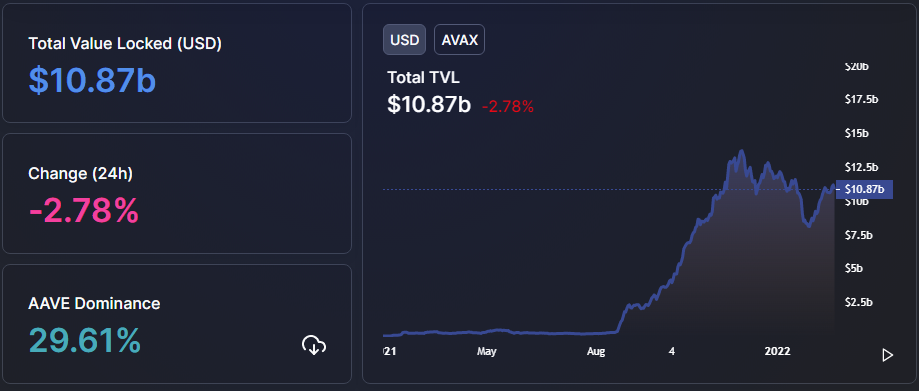 Avalanche Roadmap
Although Avalanche crypto first went live in September 2020, technically it is still under development. One of the few milestones which the founder has mentioned himself during this time is Pruning. This update is supposed to decrease the size of the Avalanche blockchain and it was initially scheduled for 2021. Another feature that is still missing in Avalanche is a good wallet. The existing official wallet is a web-based wallet. It is not suitable for interacting with Dapps on the network's C Chain. Therefore, the launch of mobile wallets and a browser extension is also a part of Roadmap.
Avalanche Price Prediction 2022
The native asset of Avalanche AVAX coin price is trading at $84 at the time of writing. It is more than 40% down from its all-time high of $144. While most of the cryptocurrencies' charts are giving a bearish outlook, AVAX price hasn't gone below its October 2021 lows. This higher low has given bulls enough confidence to aim further upside. A simple pitchfork analysis connecting Feb high to the July lows gives us an ascending channel.
If AVAX price reclaims the $111-114 region in short term then our conservative Avalanche price prediction 2022 will be $200. This also matches with the 1.618 Fib level of November 2021 highs and January 2022 lows. This conservative price estimate also aligns with the mid of the pitchfork. If Bitcoin price makes new ATH in 2022, then AVAX can also target $250. However, any lower lows than $52.95 can put the price in a severe downtrend, throwing all predictions out of the window.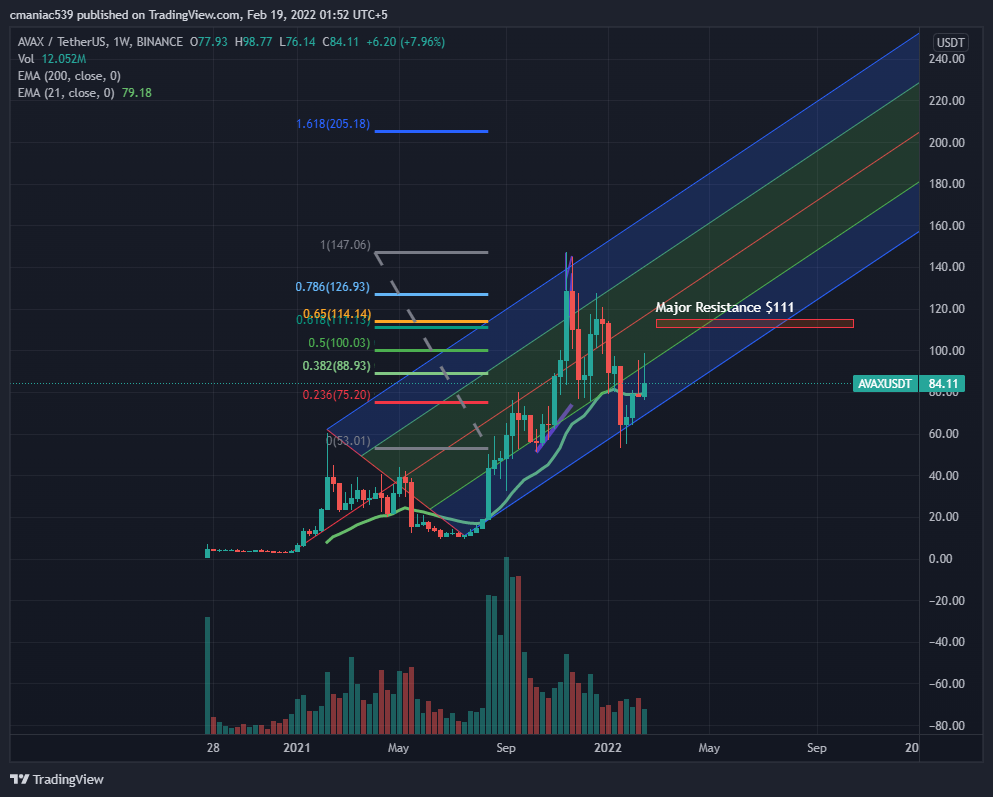 Avalanche Price Prediction 2025
AVAX is currently the 9th biggest cryptocurrency with a market cap of $21 billion. Ethereum is the leading smart contract platform sitting at a market cap of more than $335 billion. The second major smart contract platform is Binance Smart Chain with a valuation of $67 billion. If Avalanche keeps growing faster than Binance Smart Chain then it could really become the 2nd biggest L1 by 2025. In such a scenario $393 seems to be a valid Avalanche price prediction 2025. This level is also 3.618 Fib extension level of recent retracement from November 2021 highs.
Avalanche Price Prediction 2030
The macro-economic scenario and geopolitical environment of 2030 are very hard to predict. Nobody could predict how the traditional markets would look like 9 years from now. Still if crypto gains massive worldwide adoption by 2030, the prices of all major smart contract platforms would also increase. Most of the Fintech analysts are predicting nearly 10 times higher prices for Ethereum in 2030. If AVAX follows Ethereum's growth then, $800-1000 could be a valid Avalanche price prediction 2030.
Is Avalanche a Good Investment?
As the AVAX coin price hasn't made any lower lows on the weekly chart, so currently it is giving a bullish outlook. The outlook might change if the price breaks the support at $50. If one can manage the risk accordingly, then Avalanche still seems to be a decent medium to long-term investment. However, before asking 'Is Avalanche a good investment?', one must do their own research as well.
Where to Buy AVAX?
Avalanche has been trading on Binance since its initial days. Binance is the largest and more liquid market of AVAX. Nevertheless, if you live in the US and can't trade on Binance, then Coinbase Exchange could be a much better option. Although Ava Labs are based in the USA, still AVAX Coinbase listing took more than a year. AVAX began trading on Coinbase in September 2021.