The decline in the crypto market has brought on new bearish Astar Network price predictions. This follows the 15.82% decline in the ASTR/USDT pair in Monday's trading session, which leads the pair to the 4th day of declines. The steep drop seen on Monday rivals 21 January, 11 April and 5 May. Moreover, the recent spate of price declines follows the topping pattern seen on the daily chart on 10/11 April, where the bearish engulfing pattern signalled the end of the recovery of early April.
Coincidentally, the drop seen in the ASTR/USDT pair follows the announcement that a Singaporean GameFi platform provider had penned a partnership deal with the Astar Network. This deal aims to broaden the GameFi reach of the Astar Network. Under the arrangement, the Digital Entertainment Asset Pte. Ltd is to put out its product line and its PlayMining ecosystem on the Astar Polkadot parachain.
This is a deal which ordinarily should have spurred bullish Astar Network price predictions. But in the crypto market, it is hard to get any positive triggers from in-happenings within a project once the market sentiment is bearish. This is what has happened to the ASTR/USDT pair.
But following the steep drop, there could be a silver lining that boosts the Astar Network price predictions. El Salvador has made a significant move at buying the Bitcoin dip. It made a $15m BTC purchase late in Monday's session, at an average price of $30,744.
The country's President Nayib Bukele announced the purchase on his Twitter account. Naturally, this move affects Bitcoin prices, which are now off session lows at 31280. So what is the Astar Network price prediction now that El Salvador and other whales are buying the dip? 
Astar Network Price Prediction
It is all about catching the rebound following the dip. With BTC undergoing a bounce, it is possible that the ASTR/USDT pair could experience this at the support level of 0.0991. This bounce would enable the pair to aim for the 0.1305 resistance (1/6 May lows in role reversal). Above this level, a recovery takes the price activity towards the 0.1508 resistance (19 February and 2 May highs) before the 0.1693 and 0.1868 (31 March and 6 April highs) resistance levels enter the picture. Finally, an additional jump in price could attain 0.2108, but this remains an ambitious target.
On the flip side, a decline below the 0.1070 price mark (6-9 March lows) brings the price activity towards the support at 0.0862 (25 January 2022 lows). A descent below this mark sends the ASTR/USDT pair towards new lows, with potential candidates for new support targets seen at 0.0580 (100% Fibonacci extension) and the 127.2% Fibonacci extension level at 0.0275.
ASTR/USDT: Daily Chart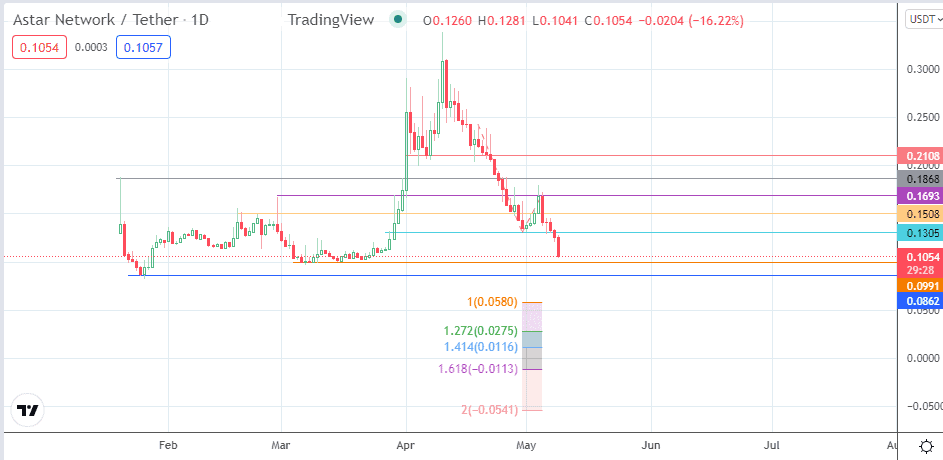 Follow Eno on Twitter.