Our AIOZ network price prediction suggests that the price may correct another 30% before another leg up. Last week, AIOZ crypto price failed to close above the $0.35 level. As a result, it faced severe rejection and the price is now correcting along with the rest of the market. Even a more concerning thing for bulls is the recent breakdown from the falling wedge. This breakdown might take the AIOZ coin price to $0.17, where lies a strong support area.
Latest AIOZ News
The network has processed 20,245 transactions till this date. The project ran a successful IDO on Ignition Launchpad in 2021 and the price soared right after the IDO. Although the coin is 91% down from its $2.65 ATH, it is still 16x from its IDO AIOZ price of $0.015. As per the latest AIOZ news, it is now also available to Coinbase users. The project must gain some more network activity to increase investor interest and to meet our AIOZ network price prediction.
AIOZ coin is the staking and governance token of the AIOZ network. The project aims to disrupt the legacy content streaming services via its scalable content delivery solution. It uses a global network of peer to peer nodes and has its own Layer 1 blockchain. AIOZ tokens are available as ERC-20 and BEP-20 assets on Ethereum and Binance Chain respectively.
AIOZ Network Price Prediction
At the time of writing, AIOZ is trading a $0.24 and still 91% below its April 2021 ATH of $2.65. There has been an increase in trading volume since the Coinbase listing. After bottoming around $0.11 in February 2022, the price gained more than 200% but failed to close above $0.35 level. AIOZ price formed a falling wedge pattern and has also broken down signalling another bearish move. It needs to hold the $0.20 level or the bears could send it to $0.17 support.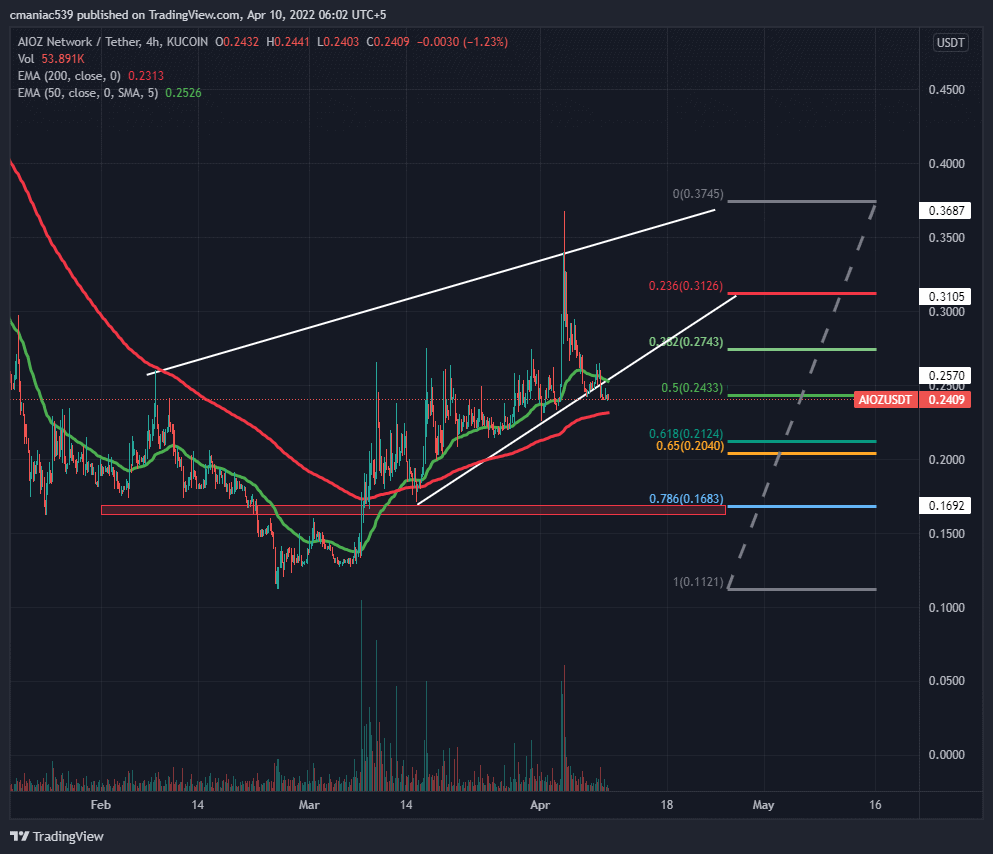 The native asset of the streaming platform needs to close above $0.35 level to meet our bullish AIOZ network price prediction. Such a move could take its price to the $0.53 region which perfectly aligns with the 0.382 Fib retracement level. This level comes into play by connecting April 2021 ATH of $2.65 to the February 2022 lows of $0.11.