The XLMedia share price has risen sharply in the past two consecutive days after the company published welcoming results. The XLM stock is trading at 37p, which is about 57% above the lowest level this year. Its market cap has grown to about 97 million pounds. Its year-to-date performance is on par with that of the FTSE 100 and FTSE 250 indices.
What is XLMedia, and why is its stock rising?
XLMedia is a small British company that operates a number of most visited websites globally. Some of its top publications are websites like Money Under 30, DoughRoller, InvestorJunkie, and Young&Thrifty, among others. Its verticals are in the finance, sports, and gambling sectors.
The XLMedia share price rose sharply after the firm published strong results. In a statement, the firm said its revenue jumped to $66.5 million in 2022 from the previous $54.8 million. This performance was mostly driven by the sports vertical, which brought in $31.4 million, followed by the European casino business. As a result, the firm's adjusted profit rose sharply to over $3.9 million, while profit before tax was $4 million. The firm also almost doubled its cash, and short-term investments rose to $24.6 million.
In addition to the strong results, the XLM share price jumped because of the company's commitment to the American market. In a statement, the CEO talked precisely about the business, saying: "We set out to become a significant player in North American Sports – in line with our strategy to pursue high growth, large, regulated markets – we're now in really good shape, with strong geographical coverage and capability, ready to fully exploit this significant market opportunity."
So, is XLMedia a good small-cap to invest in? As a relatively small firm, XLM is not followed by most City analysts. As such, it is a bit difficult to predict how its performance will be this year. However, a closer look at its website traffic shows that its growth is slowing. For example, according to SimilarWeb, InvestorJunkie's monthly traffic has slowed from 320k in December to 226k in February.
The same trend has happened in other websites like MoneyUnder30, as shown below. Therefore, its revenue growth may slow this year.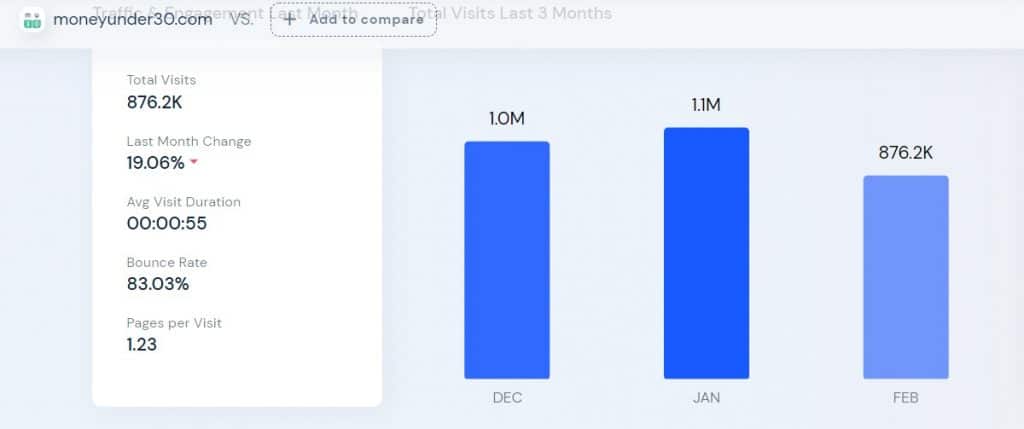 XLMedia share price forecast
The XLM stock price has been in a strong bearish trend in the past few months. First, it moved from a high of 70p to a low of 24.5. Then, it has bounced back in the past few days after the firm published strong results. As a result, the price has moved above the 23.6% Fibonacci retracement level. It has also risen above the 50-day moving average.
Therefore, the stock will likely keep rising as bulls target the 50% retracement level at 47p. However, a pullback cannot be ruled out in the long term because of its slowing growth.