Gold price gapped up on Monday morning as investors reacted to the latest announcement by G7 member countries. The XAU/USD price also tilted upwards as the US dollar and VIX index retreated. Gold is trading at $1,835 ahead of the upcoming US consumer confidence data that is scheduled for Tuesday this week.
US consumer confidence data
Gold price rose after the Group of 7 decided to ban all Russian gold imports because of the country's invasion of Ukraine. This was a notable announcement since Russia is one of the biggest players in the gold industry. Its central bank is also one of the biggest holders of gold.
The announcement came a few days after a mysterious Swiss buyer bought a large consignment of gold from the country. Still, analysts believe that the move by the G7 is mostly symbolic and that it will not have an impact on gold prices.
The XAU/USD price is also rising as asset prices jump. Key indices like the Dow Jones, Nasdaq 100, and the DAX index have all bounced back in the past few days. The S&P 500 put and call ratio has dropped while the fear and greed index has risen from the extreme fear zone. Therefore, investors believe that signs of bottoming have emerged.
The next key catalyst for gold prices will be the upcoming consumer confidence data. Analysts expect the data to show that the country's consumer confidence slumped sharply in June as inflation continued rising. Gasoline prices have risen to more than $5 while mortgage rates have risen to 6%.
Gold price prediction
The hourly chart shows that the XAU/USD price has moved sideways in the past few days. It made a small bullish gap on Monday morning because of the new announcement by the G7. As a result, the 25-period and 50-period moving averages have made a bullish crossover.
Therefore, at this stage, gold will likely remain in this range as investors wait for US consumer confidence data. The outlook is neutral with a bullish bias. As such, the next key resistance to watch will be at $1,840.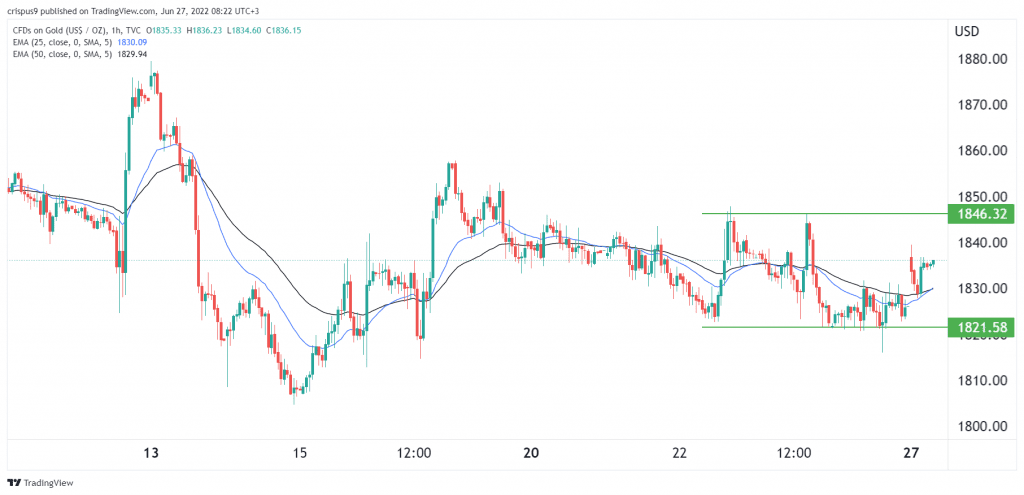 XAU/USD support and resistance levels
This neutral outlook is in line with what InvestingCube's S&R indicator is predicting. The highly accurate indicator has identified the key support levels to be at 1,796 and 1,772. Its resistance levels are at 1,879 and 1,920.