FTSE 100 has performed relatively well in the past few weeks as investors have shrugged off the rising inflation. The Rolls-Royce share price has been one of the best performers in the past few days. Its stock is trading at about 100p, above this month's low of 83p. However, the price is still about 11.35% below the highest level on Friday.
Is Rolls Royce a good acquisition target?
The RR share price jumped sharply last week as speculation spread that the company could become an attractive target from private equity firms. It is easy to see why a PE firm could attract Rolls-Royce. First, it has a comfortable market share in the aviation industry, where it competes with the likes of Safran and General Electric.
Second, the firm has a diversified business since it makes money from civil aviation, energy, and military contracts. As we saw during the pandemic, the defence and energy business helped offset the aviation division's collapse.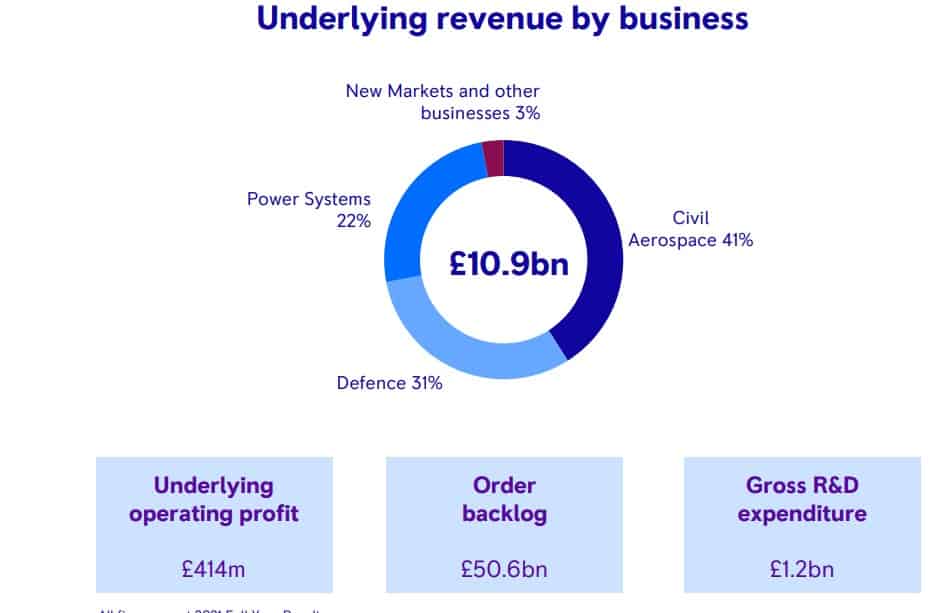 Third, Rolls-Royce management has shed some unprofitable businesses, such as its ITP Aero and nuclear controls business. These asset sales helped the firm to boost its balance sheet. Most importantly, analysts believe that the company is undervalued. For example, data shows that the average target for the Rolls-Royce share price is 147p, higher than the current 198p.
Still, a potential acquisition is unlikely to happen, considering the importance of the company to the UK economy. As such, there is a likelihood that regulators will oppose such a deal. For example, they are already probing the Meggitt and Ultra Electronics deal.
A bullish case for Rolls-Royce's share price can be made. For example, the impact of the titanium shortage has already been priced in, and the aviation industry will be strong despite the ongoing price increase. Further, the company is increasing its clean energy solutions with investments in hydrogen, nuclear, and energy storage. Most importantly, its defence business will do well as governments boost their spending.
Rolls-Royce share price forecast
This month, the RR share price dropped to an important support level at 83p. This was a notable level since it was slightly below the July 2021 low. However, a closer look shows that the shares have dropped below the 50-day moving average as investors reflected on the chances of a buyout offer. It has also moved below the key support at 100p, which was the lowest level on July 20th last year.
Therefore, while the Rolls-Royce stock price has some bullish catalysts, it is likely to resume the downward trend in the near term. Therefore, the key level to watch will be at 87p. Besides, it appears like the stock has formed an inverted cup and handle pattern.