Coinbase stock increased 8% last week following the sustained recovery in cryptocurrencies. However, COIN still has a lot of ground to make up. Since its stock market debut in April, Coinbase Global Inc (NASDAQ: COIN) has shown investors a negative return of -15%. Not to mention, at $278.44, the stock is around 35% below its opening day high of $429.54. Although, if you are investing in COIN as a Bitcoin proxy, so far, it's working out almost perfectly.
As you would expect, Coinbase stock is highly correlated to the price of Bitcoin (BTC/USD). Although, over the last four months, COIN has outperformed Bitcoin's (BTC/USD) 20.50% loss. However, this highlights a serious issue. Coinbase is reliant on the volatile crypto market. And whilst all exchanges are tied to the products they list, even the Nasdaq stocks are less lively than crypto. Furthermore, if the correlation remains constant, it would suggest that Bitcoin will need to increase by more than 60% for the investors that paid the opening day COIN high to break even. Now, of course, this isn't an exact science, and Coinbase lists more than 50 cryptocurrencies. However, Coinbase is unlikely to see serious gains unless the crypto market moves materially higher. And for that to happen, we should assume that Bitcoin will need to go up.
COIN price Forecast
Putting crypto prices aside for a moment, we see that COIN has been trending broadly higher recently. Following the weakness in July, the price has gained close to 40%. Furthermore, the price action has formed a rising trend channel which has supported the rally.
If Coinbase continues on this path, it should test the top end of the parallel trading channel, which meets a series of highs from April at around $307. I would consider this a significant resistance level, and on that basis, a close above $307.00 opens the door for the price to move substantially higher.
Of course, this bullish view depends on the fate of the cryptocurrency market and therefore, caution is warranted. If the Coinbase stock price slips below trend support at $253.50, it will also have lost the 50-day moving average at $253.90. In that event, the positive outlook would turn sharply negative and invalidate the bullish view.
Coinbase stock price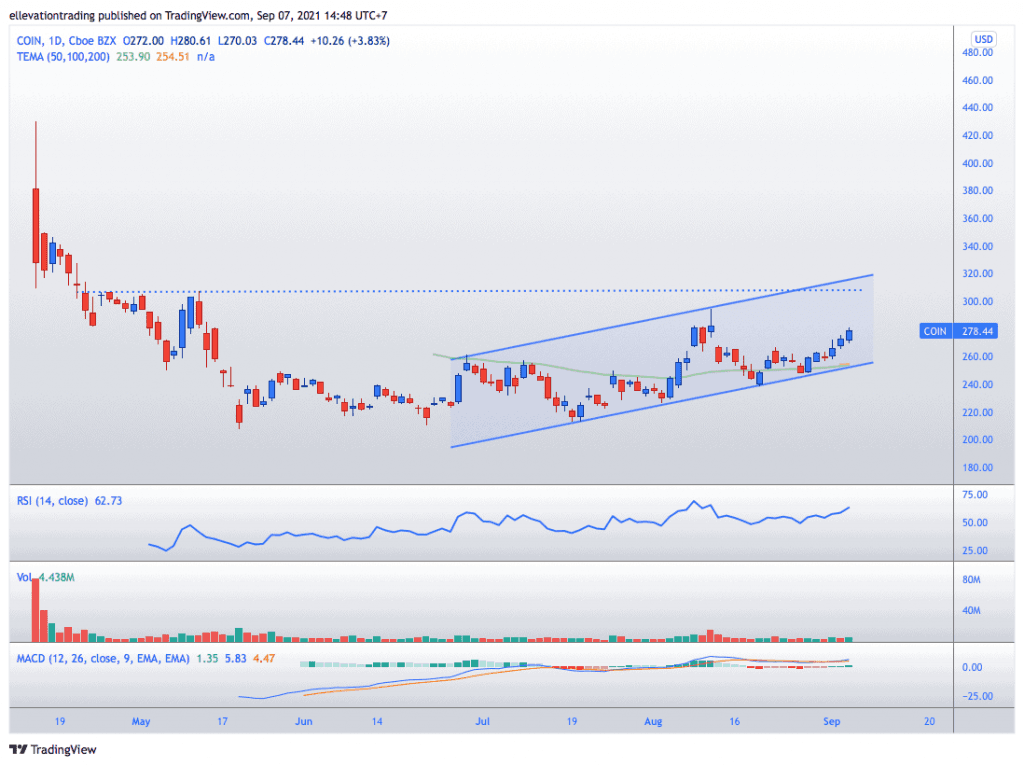 Coinbase Stock Price vs Bitcoin Price
For more market insights, follow Elliott on Twitter.