The HIVE price exploded to a record price of $3.4125 on Friday as it joined the growing list of altcoins experiencing insane upside moves. Hive (HIVE) is surging on huge trading volumes as investors rush to join altcoin season 2. The network's market cap has grown from around $380 million at the start of the week to around $1.1 billion this morning, ranking HIVE the 105th most-valuable cryptocurrency, ahead of Zilliqa.
What is Hive?
Hive is a decentralised network for sharing information, which stores vast amounts of content. The services include: allowing content creators to monetise rewards, micro-loans and polling systems. Hive's 3-second block times and fee-less transactions have been causing a buzz on social media and generating hundreds of tweets every hour. As a result, the native HIVE token is performing incredibly well.
Price Analysis
The 4-hour price chart shows the HIVE price is experiencing a parabolic rally. However, the token has retraced around 20% from this morning highs as traders digest the scale of the recent move.
Despite the mild correction, the Relative Strength Index remains elevated at 87.47, indicating the price is extremely overbought at the current level. Therefore, I expect the reversal to continue in the near term. However, it's hard to say how far the price could come back. A logical support level is $1.8000, which offered resistance ahead of the impulse rally. In my opinion, buyers should emerge if the price heads towards the $1.8000 level.
On that basis, a prudent trading strategy would be to let the price work off the overbought condition and accumulate scale-down towards support. However, if the price falls below $1.8000, it would suggest lower prices and invalidate the 'buy the dip' thesis.
HIVE Price Chart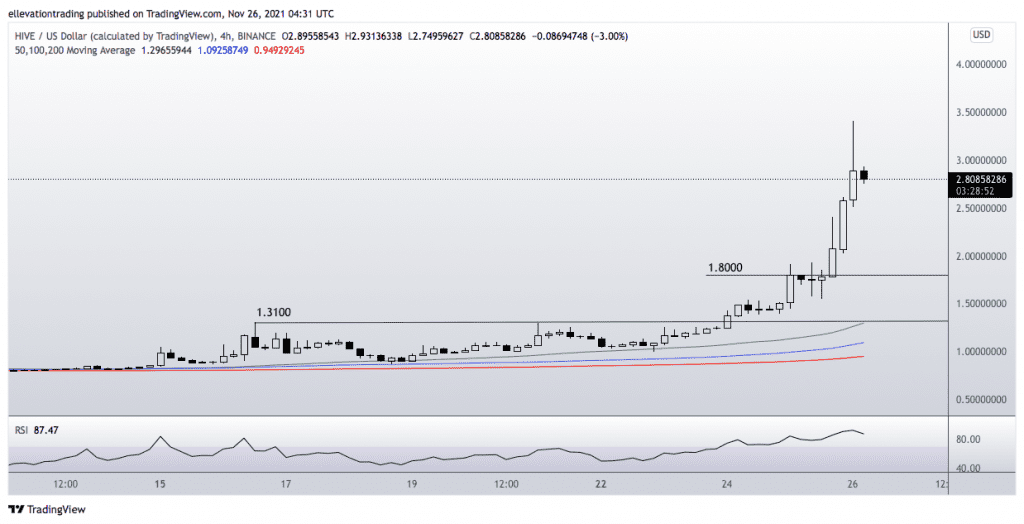 For more market insights, follow Elliott on Twitter.