What is Driving the 17% Slide in Bitcoin Prices?
Following the purchase of $21 million on Monday by the government of El Salvador, Bitcoin prices briefly shot up to $52,000. However, the steep 17% fall in Bitcoin prices on Tuesday has reversed all of Monday's gains. 
So what is driving the slump in Bitcoin prices? A Twitter account run by the 8BTC news outfit in China says that crypto miners have been selling off their BTC holdings massively in the past week. The total number quoted is 1,570 BTC, which at a trading price of $50,000 amounts to about $78.5million. This is according to data provided by an on-chain monitoring group OKLink. The sales are said to have occurred between September 3-5. However, these sales preceded the El Salvadorian government's purchase.
A more plausible explanation is that extreme greed has followed, and institutional players who bought at the most recent dip to $29,800 are now dumping hard on retail traders exhibiting FOMO behaviour that was triggered by the El Salvadorian purchase. This has been confirmed by the Fear and Greed Index. Data from the Bybt website seems to confirm this, as hundreds of millions of dollars worth of BTC and ETH long positions have been closed in the last two hours.
BTC/USD is now down to $46,900 as of writing.
Bitcoin Price Prediction
Despite the strong bounce off the 42500 support, Bitcoin price remains under heavy selling pressure. We could see a renewal of offers at 47499, targeting 46203 initially, before 43569 comes under the spotlight once more. A breakdown of this support clears the pathway towards 40751, with 37455 serving as an additional target to the south.
Conversely, only a break of 52672 allows for a further recovery on Bitcoin prices, but this must follow a bounce off any of the support areas mentioned as part of dip-buying moves by institutional players. This move must push prices above 47499 and 50000 before the barrier at 52672 comes under fresh onslaught. 
BTC/USD Daily Chart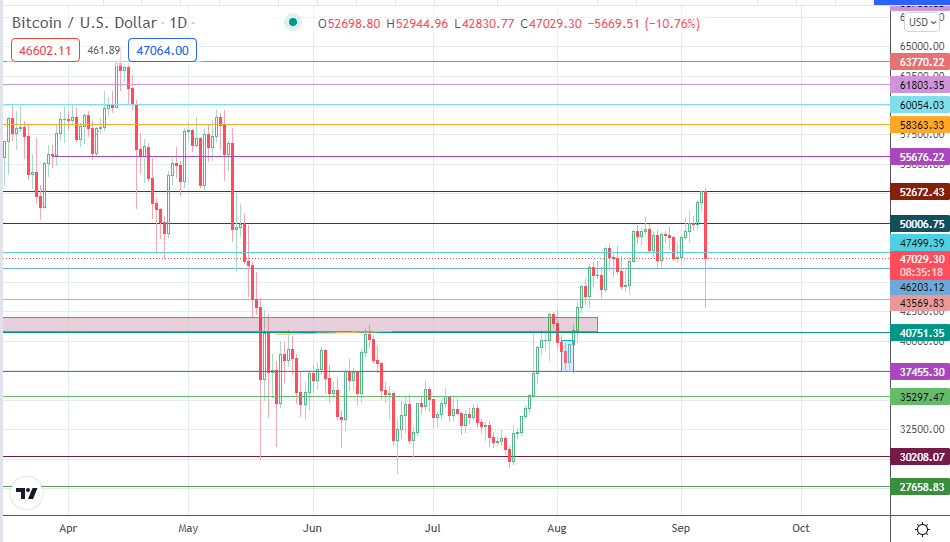 Follow Eno on Twitter.