The AUDIO price jumped 30%, hitting our price target perfectly just a few hours after releasing our last report. Since then, Audius (AUDIO) has retraced around 10%, which could lead to a new trade set-up soon. The AUDIO token is last at $2.748 (+5.06%) and a seven-day increase of +35%. The music-streaming platform's market cap is around $1.38 billion, ranking it the 90th most valuable cryptocurrency.
Our last report on Audius, released on the 2nd of November when the token was trading at $2.35, predicted: "Bullish Momentum Could Drive AUDIO Above $3.00". That same day, the price surged 29.8% to a high of $3.041. However, within 24-hours, the price was back at our $2.350 entry. But now, the AUDIO price is rising again and displaying signs of strength.
Audius Price Analysis
The daily chart shows that Audius is trading sideways to lower in a broad channel. The top of the channel at $3.040 aligns with our previous $3.000 target price. Furthermore, last week's failure to clear the channel's top reinforces its credentials as significant resistance. Therefore, a close above $3.040 constitutes a bullish breakout. In that event, $3.500 and potentially $4.000 are viable upside targets.
On that basis, if a daily candle closes above $3.040, I am bullish with a $3.500 price target, exiting the position if the price closes back below the trend.
However, if the price fails to hurdle resistance, it could return towards the bottom of the channel. If that happens, the 200-DMA at $1.750 offers significant support. If the price extends to the moving average and trend support, it provides another opportunity. In my opinion, buying Audius below $2.000, targeting the $3.040 resistance, could prove profitable. However, buyers should exit the trade if the AUDIO price closes below the 200-DMA at $1.750.
AUDIO Price Chart (Daily)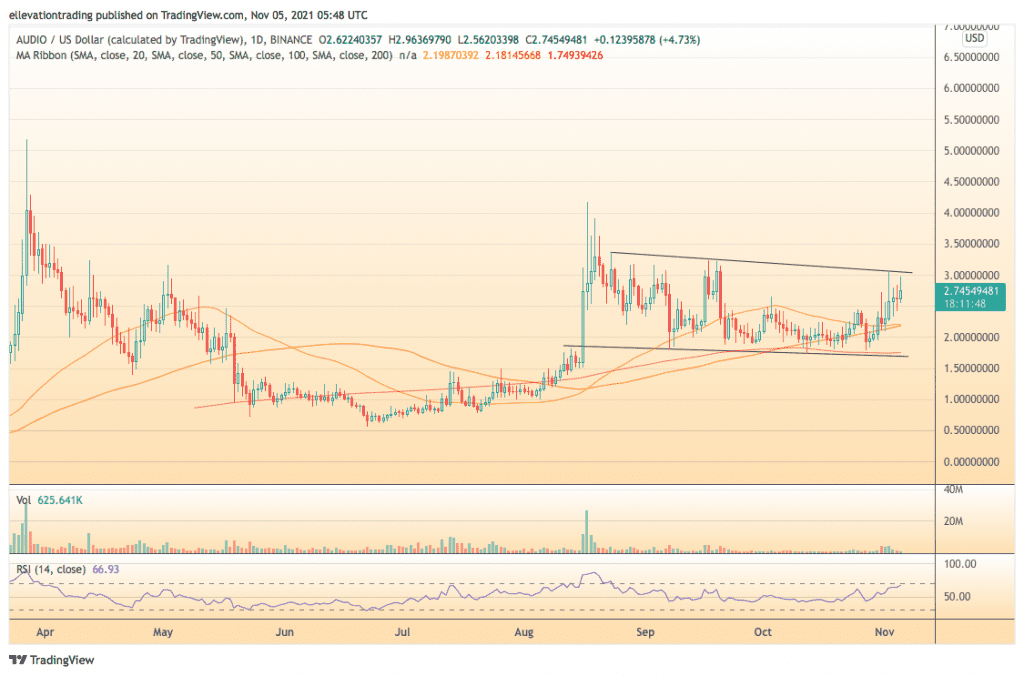 For more market insights, follow Elliott on Twitter.