This Thursday, the Walt Disney share price is down sharply after investors reacted negatively to the latest earnings report and subscriber numbers. Disney's second-quarter sales missed market estimates of $20.04 billion, as it registered at $19.25billion, despite beating the 2nd quarter earnings of last year that came in at $15.61 billion.
Adjusted earnings per share came in at $1.08. This missed the estimates of $1.19 per share, despite beating earnings of the same period a year earlier, which came in at $0.79. A $1billion reversal of revenue after some of its content licensing agreements were prematurely terminated. 
The disappointing numbers could still be redeemed by the growth in the Disney + service. According to the report, the Disney+ streaming service grew its subscriber base from 7.9m to 137.7m in the three months that ended 2 April. Chief Financial Officer of the company Christine McCarthy expects the streaming service to ramp up its subscriber base in the 2nd half of the year, even as the company targets to hit 230m – 240m subscribers in the 2024 fiscal year.
The initial drop in the Walt Disney share price is giving way to recovery, as the bulls aim to build on the positive outlook provided by the company to initiate a push to cover the down gap of the day. The Walt Disney share price is still trading lower by 0.48%.
Walt Disney Share Price Outlook
The intraday bounce from the 99.41 support (9-14 May 2020 lows) needs additional momentum to target the 111.17 resistance (6 May high). A break above this level opens the door for a challenge to the 118.72 resistance. Other barriers to the north exist at 128.78 and at 136.36 (26 April high).
On the other hand, a breakdown of the 99.41 support allows the bears to push towards the 91.82 pivot (12 March 2020 low). Below this level, additional support may come in at previous lows of 19 March 2020 (85.46) and at 80.26.
Walt Disney: Daily Chart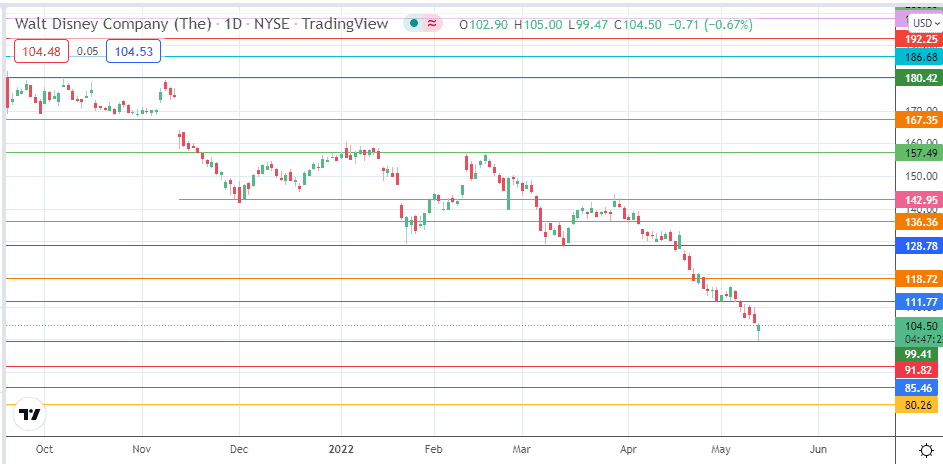 Follow Eno on Twitter.