An attack on NFT Marketplace Vulcan Forged, which saw more than 4.5 Million PYR stolen, sent the token price spiralling on Monday.
Forged Vulcan's native PYR token lost a third of its value after the NFT marketplace revealed hackers had made off with around $100 million worth of tokens. Vulcan Forged promised to replace the PYR tokens from funds held in its treasury and pledged to move to a centralized wallet setup. Furthermore, the team said it has provided exchanges with the rogue wallet address and hopes to identify a suspect soon.

PYR Price Battered
The Vulcan Forged Price reacted immediately to the news, as you would expect. The SPY token lost more than 30% intraday before bouncing to $24.00 (-18%). However, despite the rebound, selling pressure may resume when US traders emerge later today.
The most significant danger for longs is if the price breaks below the December 4th low of $16.30. In that event, an extension towards $10.00 looks possible.
On that basis, my advice to those thinking of buying PYR tokens is to sit tight until the current situation is resolved.
Vulcan Forged Price Chart (daily)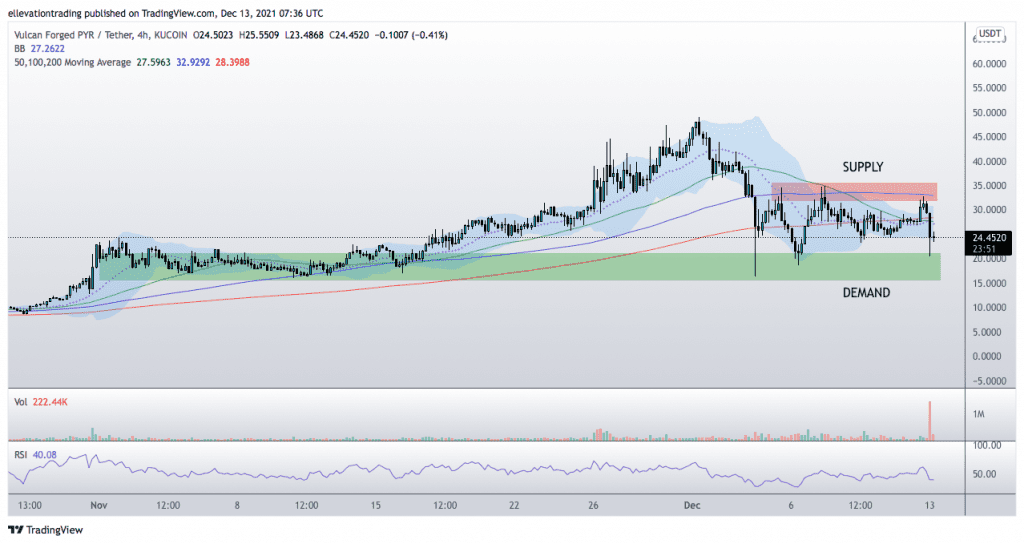 For more market insights, follow Elliott on Twitter.