The Vodafone Idea share price has started the week firmly on the backfoot, sliding 6% following Friday's fundraising announcement. At its highest last week, Vodafone Idea (NSE: IDEA) was almost double the price on August the 5th. However, after briefly trading above Rs. 9.00 on Thursday, the under-fire Telcom started to reverse. By this morning, IDEA was back below Rs. 8.00 and in danger of sliding even lower.
Over the last few weeks, the Vodafone Idea share price has made a remarkable recovery. Investors had gained confidence that the Indian government would outline measures to relieve the onerous Rs. 1.9 lakh crore of debt it holds. However, the cabinet refused to take up proposals, and the share price subsequently tanked. As a result, IDEA's technical outlook is once again deteriorating.
IDEA Key Technical levels
The daily chart some important price levels for traders to consider. Firstly, key support can be seen at Rs. 7.60. This price proved solid support in the second half of 2020 and was the catalyst for two rallies greater than 75%. Furthermore, the 50-day moving average at Rs. 7.59 reinforces the price support. On that basis, if IDEA closes below Rs. 7.59, an extension to the August 18th low of Rs. 5.90 looks possible. Moreover, if IDEA drops below Rs. 5.90, it may extend lower towards the 2020 low of around Rs. 2.50
Above the market, the 100-day moving average at Rs. 8.32 is the first level of resistance. Successful clearance of Rs. 8.32 should see the Vodafone Idea share price extend to Rs. 9.52, where the 200 DMA meets with trend resistance. This should be viewed as a crucial price point. Above Rs. 9.52 opens the door to the June high of Rs. 10.95. Furthermore, if the price can hurdle Rs. 10.95. january's Rs. 13.95 peak is achievable.
Vodafone Idea Share Price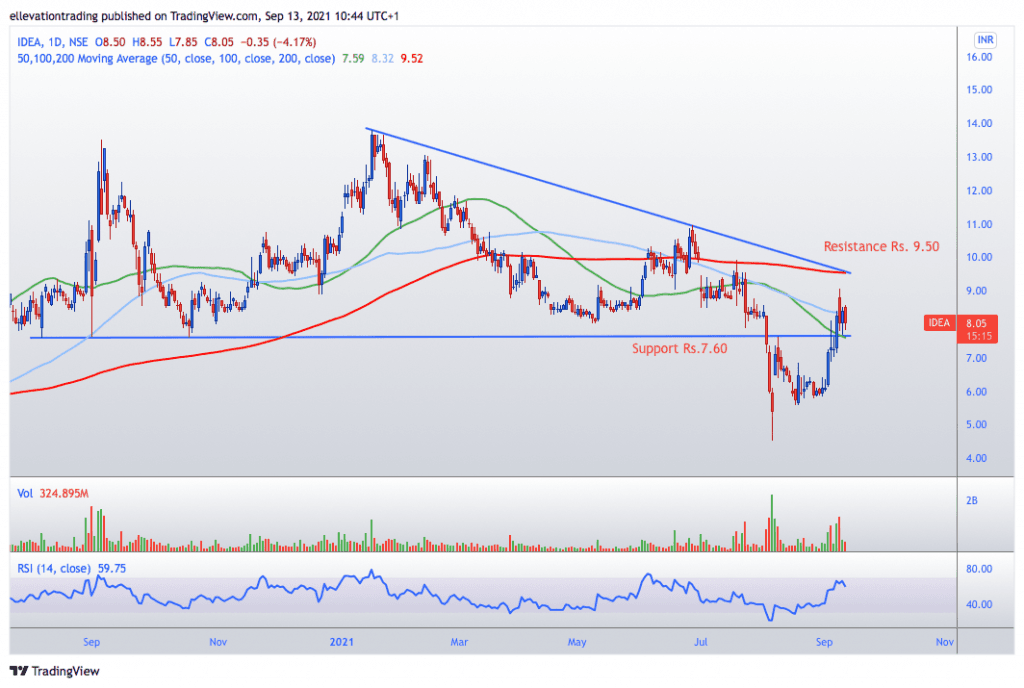 For more market insights, follow Elliott on Twitter.