The remarkable decline in the Virgin Galactic share price has faded in the past few weeks. The SPCE stock rallied by over 13% on Tuesday as demand for meme coins rose. It is trading at $10.87, which is the highest since January 13th this year. Other companies in the space exploration industry have also performed well. For example, the Ark Space and Exploration Innovation Fund (ARKX) has risen by 21% from its year-to-date low.
SPCE stock crawls back
After months of sell-off, the Virgin Galactic stock price has done well as investors cheer the company's decision to ramp up its flights this year. The management expects to start taking its customers to space later this year. But analysts believe that there is a possibility that the first flights could happen as late as 2023.
SPCE faces several challenges going forward. First, while its balance sheet is strong, the company could raise funds further. It ended the fourth quarter with $1.3 billion because of debt offering. Now, since it plans to ramp up the production of its fleet, there is a possibility that it will need more cash.
Second, the company faces the challenge of competition, considering that other well-capitalized companies are in the industry. The most notable ones are Blue Origin, which is backed by Jeff Bezos, and SpaceX, backed by Elon Musk.
Meanwhile, another risk for the Virgin Galactic share price is that the company's insiders are actively selling. As shown below, they have sold shares worth over $500 million in the past few quarters. This is a sign that they are not confident with the stock. One of the most notable people who sold the stock was Chamath Palihapitiya, who took the company public.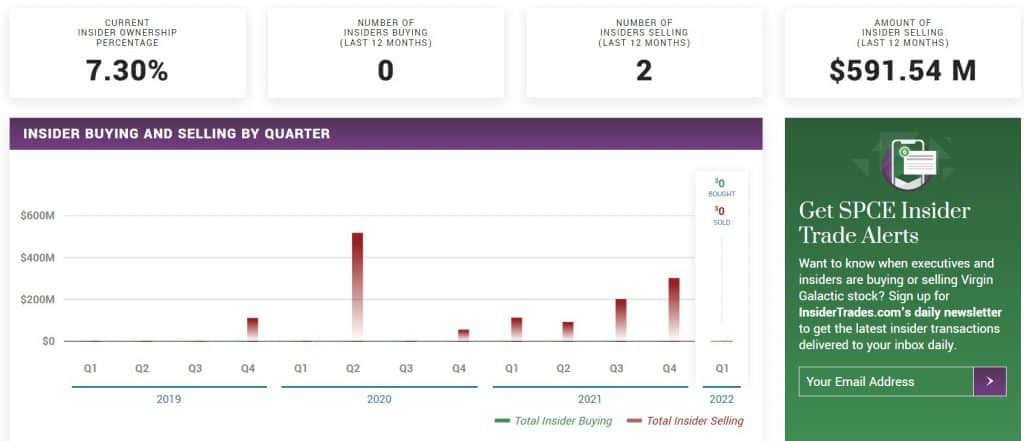 Further, analysts are bearish about the stock, with most of those who follow it lowering their outlook in the past few months. Still, there is a likelihood that retail investors will scoop the SPCE stock since they believe it is undervalued after it lost almost 90% of its total value. Besides, other meme stocks like AMC and GameStop have rallied recently.
Virgin Galactic share price forecast
The SPCE share price has darted lower in the past few months. By so doing, the shares formed a small descending channel shown in purple. Recently, it managed to move above the upper side of this channel. It also crossed the 25-day moving average. Therefore, with stocks being in an overall bullish trend, the next reference point for the Virgin Galactic stock price will be at $14.28, which was the lowest point on May 11th. This is in line with my previous estimate of the SPCE stock.