The Russian Ruble is trading slightly lower against the US Dollar but has recovered most of the losses it suffered this week, as investors and traders applaud the ongoing diplomacy efforts to de-escalate the tensions between Russia and Ukraine.
Russian assets are mostly higher this Friday, while the USD/RUB has only made mild gains following Thursday's trading session, where the Ruble had a solid showing to notch up gains of 1.57%. Higher oil prices are also serving as a tailwind for the Ruble.
Friday's session has been choppy, with the USD/RUB shifting from losses to gains after Russia said it is eager to talk with the US over the latter's security proposals, stating that a war with Ukraine was not in its plans.
The Ruble had lost ground earlier in the week, fuelled by investors' fears over possible US sanctions against Moscow. The US Dollar is also riding on strength it obtained from the strongest indication provided by the Fed in its statement on Wednesday about raising rates "soon".
The USD/RUB is set to close higher for the 5th straight week, but the price picture on the weekly chart indicates that the bull run is starting to stall.
USD/RUB Outlook
The weekly chart shows an active weekly candle that has assumed the stance of a pinbar after a strong rejection just short of the resistance at
80.669 (26 October 2020 high). This rejection has also forced price below the 79.931 support and has stopped above the 77.582 support line. This support remains intact and is the pivot that gives way if a correction happens. Any correction from current levels will first target 76.511 before 75.974 and 75.249 form the incremental barriers to the south.
On the other hand, a bounce on the 77.582 support followed by strong bullish momentum takes the pair on a retest of 79.932 before 80.669 comes into the picture as an additional upside target. 81.377 is another northbound target that enters the mix if the advance continues.
USD/RUB: Daily Chart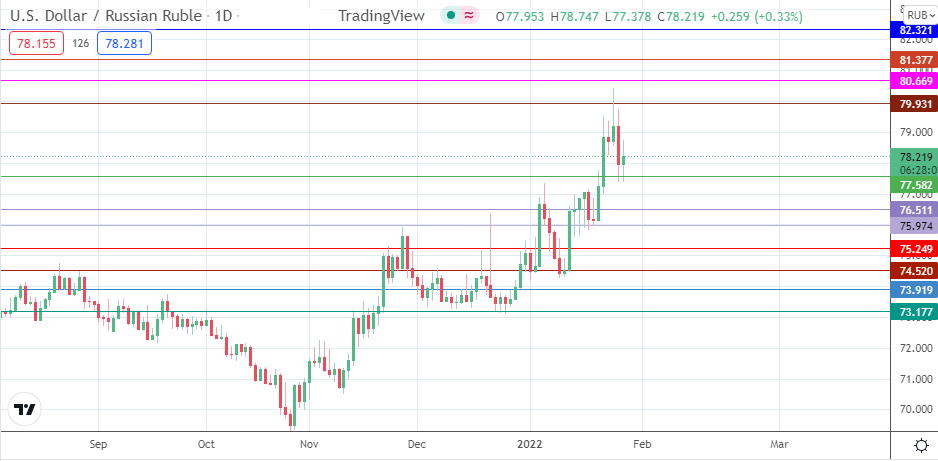 Follow Eno on Twitter.