In a battle of risk played out on Friday, the USD/NOK shed off some of its earlier gains of the session but retained a positive tone. This comes as crude oil prices on the Brent benchmark recovered from a lower market open to clear the $90 mark.
The USD/NOK ended 2021 in correction mode as crude oil prices soared, enabling the commodity-linked Norwegian Krone gain 2.8% in December 2021. However, ths pair has recovered a lot of this ground as the greenback has gained significant strength due to the market expectation of the Fed raising interest rates as early as March 2022.
Crude oil price on the Brent crude benchmark is currently trading higher this Friday, coming in at $90.84. This rise has allowed the bears on the USD/NOK to claw back some of their losses. The situation appears to have stalled the advance on the USD/NOK, as far as the price picture on the USD/NOK is concerned.
USD/NOK Price Outlook
A series of pinbar candles, all with similar highs at 9.04413, indicate the apparent stall of the price activity at the 8.96037 resistance. A pullback from this point targets 8.83680. 8.72735 and 8.60379 have the potential  to become additional downside targets if the decline extends further.
On the other hand, further ascent on the pair requires a break above 8.96037, targeting 9.10511. There is also the potential for a pitstop at 9.04413. 9.2000 (5/6 December highs) remains a viable target further north.
USD/NOK: Daily Chart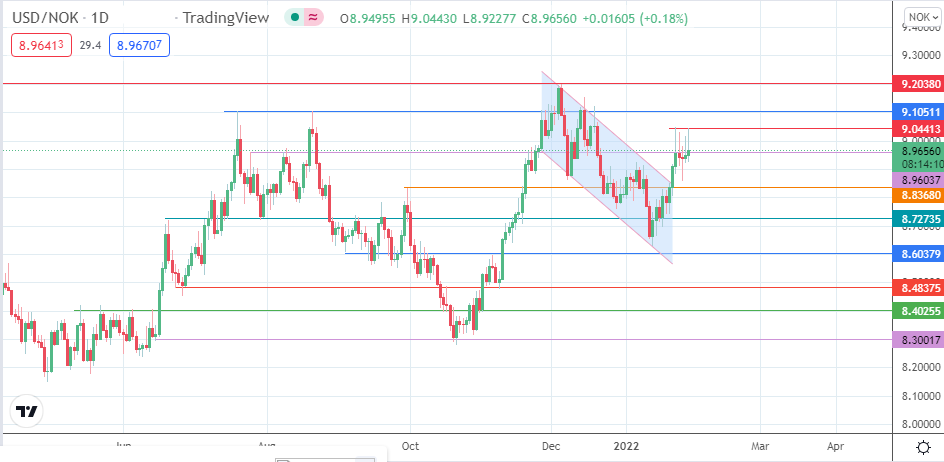 Follow Eno on Twitter.