The USD/JPY exchange rate and the Nikkei 225 index have pulled back as investors wait for the crucial Bank of Japan (BoJ) interest rate decision. The Nikkei index has plunged to a low of ¥25,666, which was lower than its 2022 high of near ¥30,000. Meanwhile, the USD to JPY rate plunged to a low of 127.10, the lowest level since June 2022.
BoJ interest rate decision
The USD/JPY and Nikkei 225 are on edge ahead of the BoJ interest rate decision scheduled for Wednesday. Economists believe that the bank will announce another policy shift in its first decision of the year. A key shift could be the end of its yield curve control, which has helped maintain its interest rates low for more than a decade.
In December, the BoJ announced that it would let the 10-year government bond rise above the 0.50% target. Since then, the bank has spent trillions defending the yield as it has moved close to the upper side of the curve. It purchased government bonds worth over $15.6 billion on Monday. In the past 30 days, it has spent over a third of the economy defending the yield curve.
So, how will the USD/JPY and the Nikkei 225 indices react to the latest BoJ interest rate decision? A major shift in policy by the BoJ could be bearish for the USD to JPY exchange rate and bullish for the Nikkei 225 index. However, the opposite could happen since the situation has already been priced in by investors. That situation is known as buy the rumor, and sell the news.
A hawkish tone by the BoJ will have impacts on key Nikkei 225 index stocks like Mizuho Bank, Shinsei Bank, Mitsubishi UFJ, and Nomura among others. Some of the best-performing Nikkei index stocks of 2023 are Tokyo Electric, Sony, TOTO, and Dainippon Screen Manufacturing.
USD/JPY forecast
My last USDJPY prediction was accurate as the pair continued crashing. The daily chart shows that the USD to JPY exchange rate has been in a strong bearish trend in the past few months. It has formed a descending channel that is shown in black. The pair is also about to form a death cross pattern, which is usually bearish. Therefore, I suspect that the pair will crash to about 120 after the BoJ decision.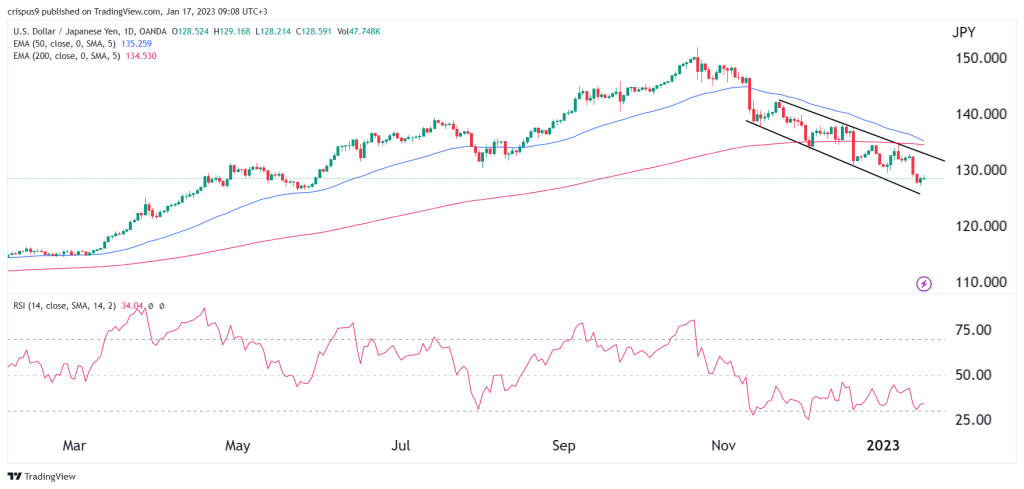 Nikkei 225 forecast
In my last note on Nikkei index, I warned that it would have a bearish breakout. At the time, I cited the rising wedge pattern that has been forming. In most periods, a rising wedge is usually a bearish sign. It has moved below all moving averages. The 200-day and 50-day moving averages made a bearish crossover. It has also formed a bearish pennant pattern. Therefore, there is a likelihood that the index will also have a bearish breakout after the BoJ decision.